'Saint Corona, Patron Saint of Pandemics!'
By foreign correspondent Eric Huang
+++++++++++
Editor's Note: in this moment of pandemic anxiety, we thought it might be nice to share some stories of plagues long passed, and their related cultures, as a tacit reminder that This Too Will Pass. 
Hope you are all well and managing to stay calm, and hope you enjoy the article! I would love to hear your thoughts in the comments section, and feel free to suggest other stories to cover!
+++++++++++
'Saint Corona, patron saint of pandemics!' claim Facebook posts and newspapers around the world. In Aachen Cathedra there is a reliquary shrine shaped like a domed chapel that houses bits and pieces of Saint Corona's body. In recent days it's been moved from back-room archives into the church itself, becoming the centre of a pilgrimage where the devout gather – 6 feet apart – to view pieces of bone and desiccated flesh inside a golden vessel and beseech for Saint Corona's intercession. What an irony that a 2nd-century saint evoked for protection against disease is the namesake of the very disease plaguing modern-day earth! 
Unfortunately, Saint Corona has never been associated with viruses or pandemics of any sort until this month. A look at official Church hagiographies, stories of recognized saints, tells a different – and far more interesting – story.
Part of an altarpiece representing Saint Corona by the Master of the Palazzo Venezia Madonna. Via 
Very little is written about Saint Corona. Her name means 'crown' in Latin, an allusion to the crown of martyrdom she was awarded. She's known as Stephanie to Eastern Christians; Stephanie is the Greek word for crown. The corona virus is called 'crown' because the infectious form of the virus has bulbous projections all around the exterior of its body, reminiscent of a crown.  
Sources agree that Saint Corona was born in Damascus, a city in Roman Syria, either in 161 BCE or 287 BCE. She was a Christian, and kept her faith a secret. Marcus Aurelius (or sometimes Antoninus Pius or Diocletian) was the emperor of the Roman Empire at the time, and the persecution of Christians practicing the illegal cult increased during his reign. The offense was punishable by death. 
No more is known about Corona except that she was married to a Roman solider. Her story is linked to that of another martyr, Victor, a Roman soldier stationed in Syria. Like Corona, Victoria was a secret Christian. When his cover was blown, Victor was subjected to a number of public tortures, including having his eyes gouged out. Corona, a witness to these tortures, defied the authorities and comforted Victor, revealing to all that she too was a practitioner of the illegal cult. Victor was beheaded, and Corona arrested, tried, and sentenced to death. Two palm trees were bent to the ground. Corona's arms and legs were tied to each tree. When the rope holding the trees to the ground were cut, Corona's body was ripped in two as the trees righted themselves. Sources differ as to the location of Victor and Corona's deaths – but all agree that she was sixteen when she died.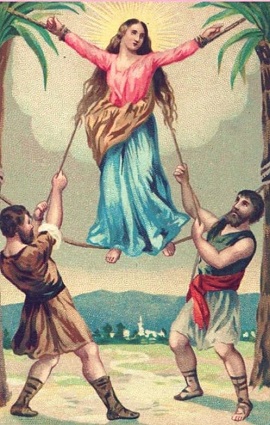 Illuminated miniature of the martyrdom of Saints Victor and Corona, on a full leaf from a Book of Hours, France (Paris), ca. 1480. Via 
A church in Anzù, a village in northern Italy – later a monastery complex – is named after Saints Victor and Corona. It was erected by Crusaders in the 12th century. 
 Corona also has several churches dedicated to her in Bavaria, and of course the Aachen Cathedral, one of the oldest in Europe, contains her relics which were moved from Italy to West Germany by Otto II, Holy Roman Emperor around the year 1000. 
None of the churches dedicated to Corona mention any link between the martyr and disease or pandemics. In fact, the only attribute associated with her is the procurement of money or wealth through magical means – which means, getting money you didn't earn, such as gambling. Saint Corona is prayed to for money because a Medieval treasurer hunter found a horde of gold and jewels after praying to her. This was hundreds of years after her death. Nearly one thousand years later, the first mention of Saint Corona as the patron saint of pandemics appeared on the Internet in a Reuter's article. 
Does it matter that Saint Corona wasn't associated with disease and pandemics until March 2020? Saints become patrons of an innumerable number of ailments, professions, ethnicities, animals – the list is endless! And this happens only after their deaths, most often years – centuries! – later. 
Saint Drogo, a Flemish nobleman born in 1105, is the patron saint of coffee, a drink whose origins can be traced to the 15th century, three hundred years after his death. 
The monk Saint Joseph of Cupertino is the patron saint of air travel and airplanes. He was the original flying nun. 
He died in Naples in 1663. The Wright Brothers' historic flight did not take place until 17 December 1903. Saint Isadore was the Archbishop of Seville.
He lived between the years 560 – 636. Because he was a renowned scholar, someone who spread knowledge across the known world, Pope John Paul II declared him the patron saint of computers, the Internet, and electronics. This was in 1997. 
The fact that people are now coming to Aachen Cathedral to pray to Saint Corona for protection from the pandemic, begging her to intercede for a cure means she has indeed become the patron saint of pandemics, despite not being recognized by the Church. Numerous such outsider cults exist around the world and have an uneasy co-existence with official dogma. The Catholic cult of Santa Muerte for example, surrounds Lady Death, and has tens of thousands of followers all over the Americas.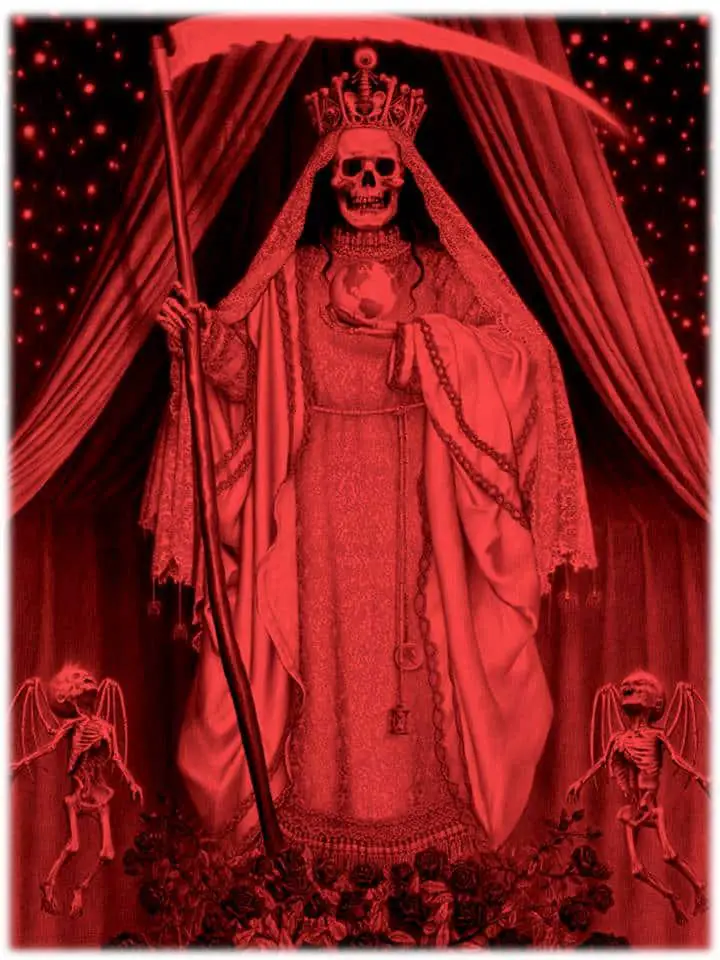 Saint Margaret is one of the best known saints, depicted in countless works of art. 
She has been stricken from official Catholic lists of saints as an apocryphal fabrication. (Her story involves being swallowed by a dragon – and surviving to become the patron saint of pregnancy!) Nevertheless, celebrations devoted to her take place all over the Mediterranean every July.
Saint Corona is the patron saint of pandemics now. Her association with the coronavirus is no more tenuous than Saint Margaret's association with giving birth! She has given the weary hope and she has spread far more rapidly than her namesake as Facebook, Twitter, and Instagram continue to multiply the news of her healing prowess like, well … like a disease. 
++++++++++++++ 
Eric Huang is a failed paleontologist from California who lives in London. He works in children's publishing and has been a longtime supporter of Morbid Anatomy. Eric is interested in forgotten histories, the natural world, and catholic art. You can follow Eric on Instagram at dinoboy89.
Become a patron to
Unlock 137 exclusive posts
Connect via private message