SH Figurarts Painting Pink to Blue Ranger day 3
Pledge $0 or more per month
Everyone
Pledge $0.01 or more per month
Patrons Only
Tier 1
$2 or more per month

∙ 0 patrons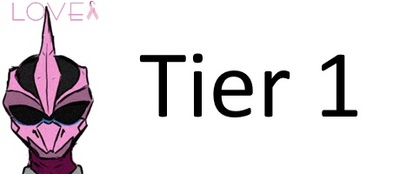 For the most basic of contributions you get access to my goggle drive full of 700+ GB (and growing) of content, download previous Toku Power Weekends after they expire from Twitch.
Tier 2
$5 or more per month

∙ 0 patrons
Everything from Tier 1 as well as get access to exclusive content not available on youtube like my Harry Potter and the 8 movies worth of credits movie.
Tier 3
$10 or more per month

∙ 1 patron
The $5 and $2 Rewards plus your name will be listed in the credits of all video, in most cases as most videos have very limited editing this means in the description and mentioned in the video but for those videos with heavy editing it will be at the end of the video itself as as well. Lastly at this level get access to my skyrim/Fallout/Etc mods still in development before they hit the Nexus.
Tier 4
$25 or more per month

∙ 0 patrons
For fans of my Toku Power Weekend rifts for this level get an episode of your choice riff done outside my normal Friday-Sunday 6:30 time slot.

Tier 5
$30 or more per month

∙ 0 patrons
The above rewards and at this level I will run a commercial for your site during Toku Saturday or Power Sunday (baring an objection to the material of course). However at this level you also qualify for "First Picks". any Patron at this level will be able to choose from the items I am liquidating when a review series is over or when I need to clear space up to the limit of your consecutive donations. IE If you donate 30 for for 3 months that's $90 total which is the total value of liquidated items you can claim (Shipping is separate however). In essence see something on my show you really like well at some point it will have to go on sale to make room for other things. Being a Patreon then is like putting the item on a mix of Back order and Layaway when it become available and you have donated it's value just pay shipping and it's yours, shipped right to your door.
Tier 6
$50 or more per month

∙ 0 patrons
For this level I'll riff something longer like a movie off schedule, if there is a particular movie you want to see me tear apart and it's not in the release schedule this is the way to get it done.

Tier 6b
$80 or more per month

∙ 0 patrons