Status Report – (Q3) September 2018
Hello and welcome to the new format of Status Report. 
I have decided that Status Reports will now come out every three months as opposed to every month because there can then be more to be more to talk about especially during the Academic Year when it appears there's less to talk about because I'm keeping it secretive and specific to University. 
As well as this, I will break down each sub heading to include relative topics. No more "main projects" and "additional work", but rather the name of the actual project I'm talking about such as "Cookie Jump" or "CSGO Level Design", and I'll also talk about video game related stuff I did outside of development, such as video game exhibitions or educational material I want to share with you. 
Let's get into it. 
BoxedIn! – LudumDare42 
LudumDare is a 72-hour game jam held several times a year and I entered their most recent game jam, LudumDare42. My entry for LD42 was Boxed In! a game where you play as a delivery centre worker – processing the boxes that arrive at your work station and delivering them to the correct conveyor belt.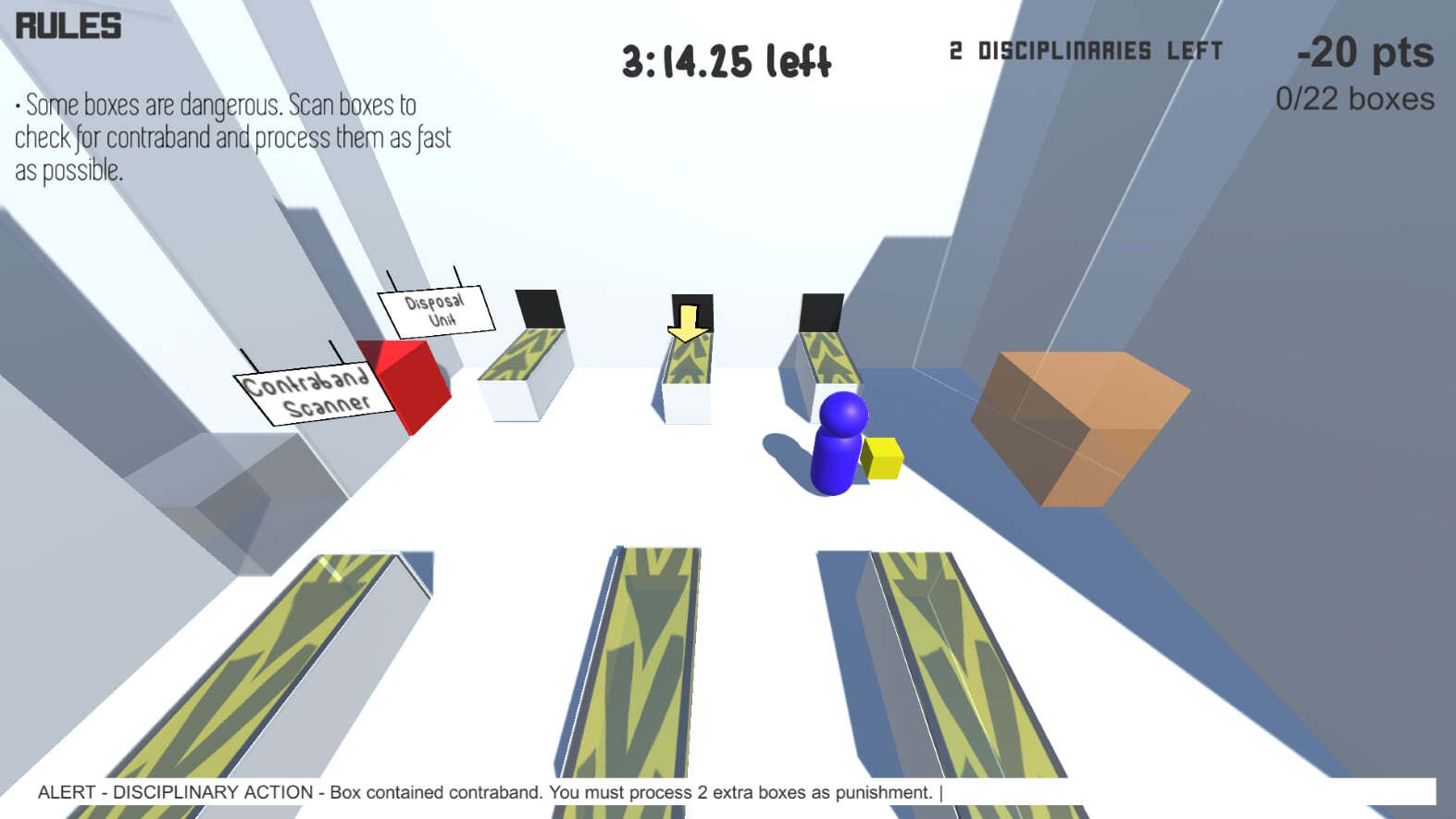 My most recent post was the post mortem for this game jam, so I'd recommend reading that if you wanted to know what I felt went right and wrong, but I feel the project was fun to play overall but had the issue of not including couch coop as I had originally intended. 
Asa a result of this, I've attempting to add network and local multiplayer to my build from LD42, and when I go back to University and can get a hold of 4 controllers, I will give this to people to play to see how it works in a group dynamic. I've also changed some of the colours and designs and stuff to make it more appealing.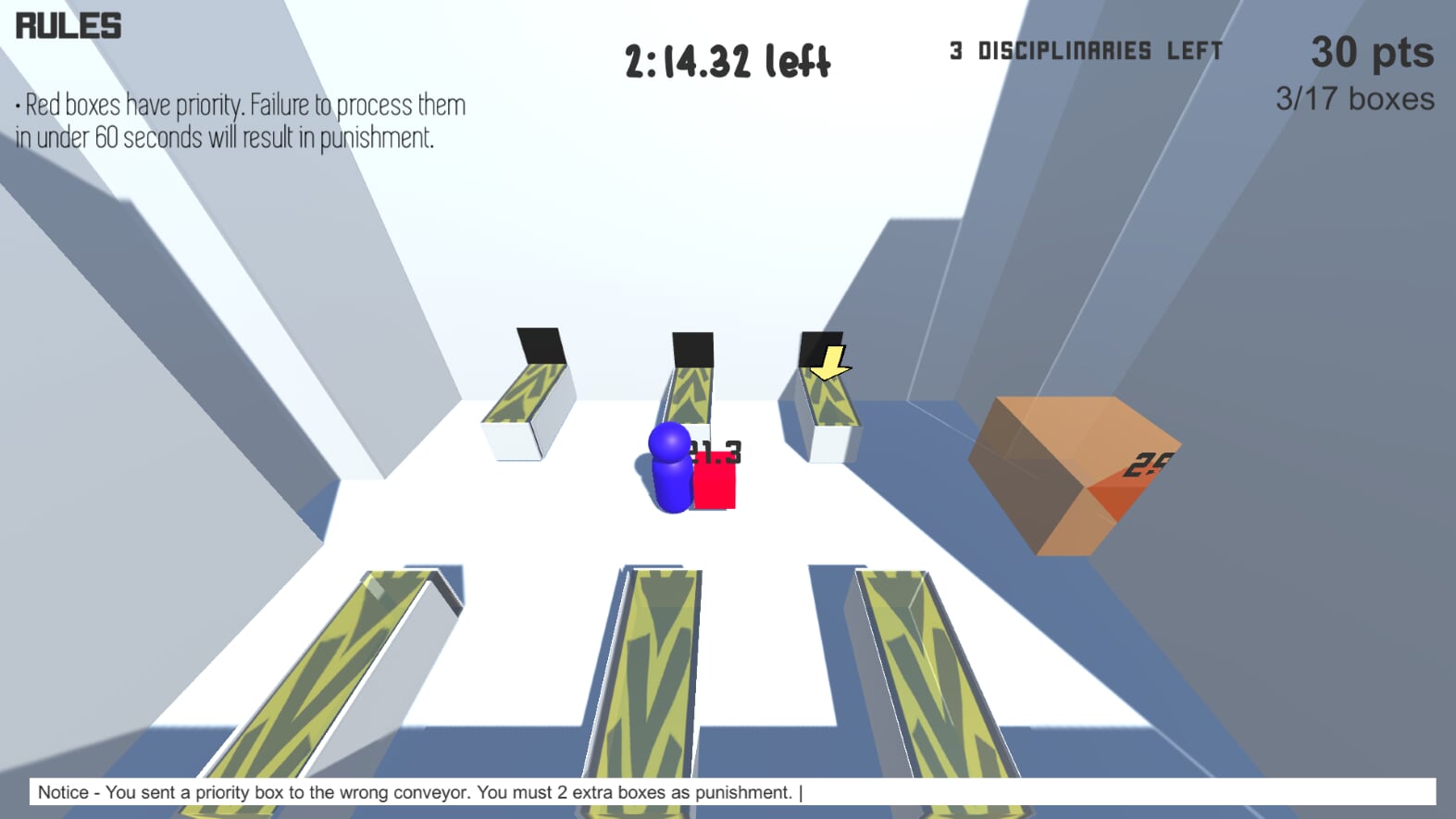 The post mortem can be read here. 
The link to play the game jam version is here. 
If you would like to help me playtest the game, you can sign up to my playtesting newsletter here. 
Video Games: Play, Design, Disrupt (V&A Museum Exhibition, 2018)
The Victoria and Albert (V&A) Museum in London has just opened an exhibition on video games called 'Video Games: Play, Design, Disrupt' and it's open till February 24th, 2019. The exhibition has artefacts from the development of several notable games and the games chosen were specifically chosen to reflect the vast differences there are in video games.
It had art games (The Graveyard by Tale of Tales), games made by one person (Consume Me by Jenny Jiao Hsia), Triple A games from a few teams like Naughty Dog and Nintendo, teams that worked remotely (Kentucky Route Zero by Cardboard Computer) and well you get the idea, it had a good variety of video games to show how diverse this industry is. 
They also had a room in which it talked about video games reflecting and teaching about serious topics. Games like Mafia 3 with its take on racism, it had a mobile game that involved the serious side of mobile development (child miners, demanding consumers, factory worker suicides, etc.) and a programming language that was written in Arabic to show how hard it is to code if you're not fluent in English, as well as several other games on different topics and a video screen showing game developers and journalists takes on these topics on display. 
There was a cinema that showed the varying side of video games: The construction work people put into Minecraft, the League of Legends World Championship Finals, the fan art from Overwatch, etc. and an arcade room with unique arcade cabinets, a dungeon crawler game that involved moving a green dot up a line of LEDs and a bunch of unique and quirky games. 
It was an amazing exhibition and I feel you should really go if you have the chance as it's something I want everyone to experience and hopefully they'll host more similar exhibitions in the future. 
Tickets can be brought from the V&A Website here. 
Counter-Strike: Global Offensive 
I was so busy working on other projects that I never finished my latest update for my map. I made some major changes from the current version that is available on the workshop and I hope I get around to finishing this update and pushing it to the workshop. 
Main changes include expanding mid to be wider, moving B further away from mid, changing the courtyard that makes up B to appear a part of the greater palace and making the palace less industrial and more traditional looking, same with the underpass style t entrance to the site. I don't want to go into too much detail because I want people to experience it, but I changed a lot and I hope you enjoy it if/when it comes out. 
New logo/motif 
So, I recently finished the second series of American Crime Story, and because the Medusa Head makes up the Versace Brand, I have a strong attachment to Latin America and I think it looks cool, I decided to adapt the Sol de Mayo as my brand symbol/motif. So, from now on expect it to be in pretty much everything I produce. 
That's it for this status report! 
Next one will come out in December, as usual you'll get 48 hours early access if you're a Patreon supporter. 
I'm not sure what you should be expecting in the next one as University starts soon and so it will probably be a bunch of cool "what I made at University" stuff and whatever changes I made to my various prototypes and gamejam games. 
See you then!
Become a patron to
Connect via private message