Stock Market Trend Forecast Into January 2021, US Election Matrix Forecast Final Update
Will the November 3rd election earthquake trigger a stock market Tsunami or just a few inconsequential waves lapping on the market shore? Here we stand just a few days away from the US presidential election with the liberal MSM in a state of electoral fever as their preferred candidate is way ahead on the polls looking set to win, just as their favoured candidate Hillary Clinton in 2016 was way head of the polls so unlike 2016 there is an edge to the frenzy of their activity given the awareness that the polls tend to be wrong, skewed against conservative voters and opinions. However, 2020 is even more chaotic than 2016, as this year there is the backdrop of the chinese virus raging across the US and especially in many US swing states that is contributing towards new cases of infection soaring to new plandemic highs with deaths already having broken above 230,000! Near double all of the US lives lost in all of the wars since 194 that acts as a continuing noose around the US economy, though that has so far not been enough to full fill that which the perma stock market doom merchants have been proclaiming for a more than a decade, an end to the stocks bull market.
The stock has largely marked time in a tight trading range with all wondering if Trump being 10%+ behind in the polls can manage to pull off another election miracle as he did in 2016. 
STOCK MARKET BIG PICTURE
The starting point for this analysis is to remind my Patrons of the BIG PICTURE, the general trend trajectory for AI stocks as illustrated by my following concluding graph from June 2020. (Machine Intelligence Quantum AI Stocks Mega-Trend Forecast 2020 to 2035!)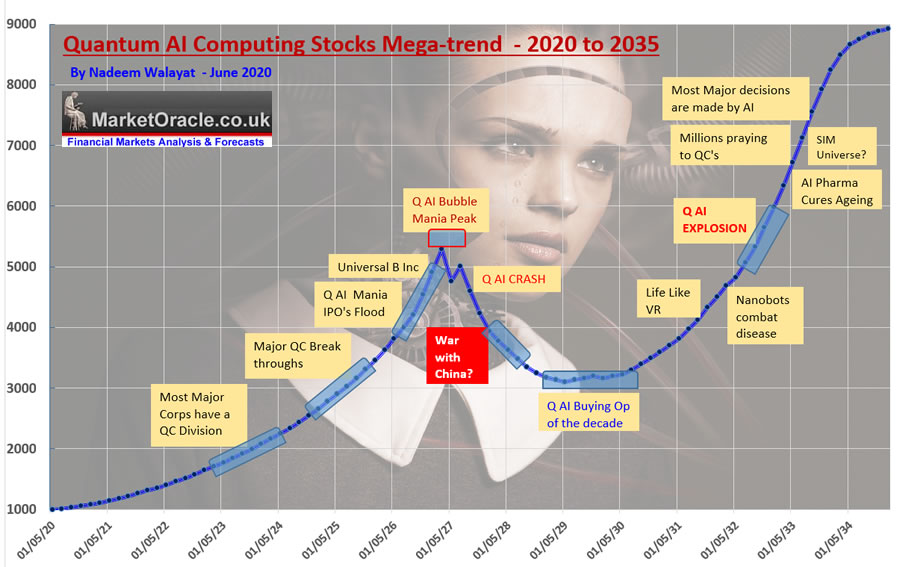 Which would roughly convert into the Dow trading at 100k by the Late 2030's.
THAT IS THE BIG PICTURE!
So the primary objective is to KEEP CALM AND REMAIN INVESTED IN AI STOCKS, a message I have been iterating since soon after the Dow bottomed in March 2009 (Stealth Bull Market Follows Stocks Bear Market Bottom at Dow 6,470)
"The greater the deviation from the bull market high then the greater the buying opportunity being presented"
At my last AI stocks update many stocks had run way ahead of valuations on my EC metric, for instance Amazon was trading at $3300 on an EC ratio of 148 (objective is to buy Amazon at levels below 100). Of course the revenues and profit bonanza from the lockdown's and the work from home demand surge should ensure that most AI stocks see their EC levels moderate as earnings reports come in, especially for the likes of Amazon and AMD which is literally on FIRE! KILLING Intel and now also giving Nvidia a run for its money! AMD is definitely NOT a stock that any investor should contemplate selling out of regardless of how high it trades because this stock is literally on FIRE!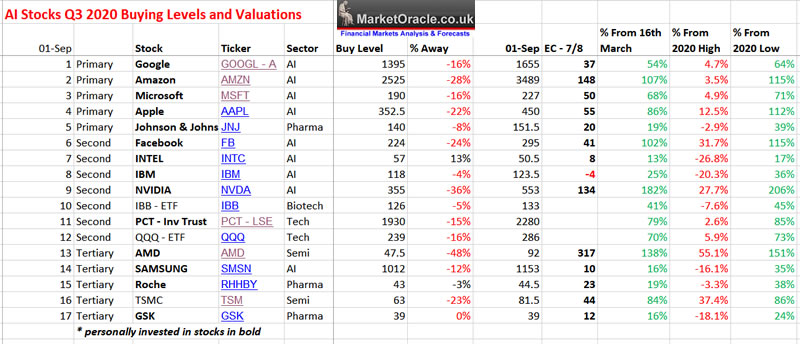 I will update the AI stocks buying levels in due course, but just a reminder to be aware of the big picture and not get lost in short-term noise that is the the US presidential election is, and which ever way the stocks trend over the next couple of months which are unlikely to deviate much to the downside against the bull market highs given the fundamentals of the AI Mega-trend.
This analysis continues from Part 1. So I won't be repeating or presenting updates to to that analysis other than as expected the US has headed into a higher third peak, whilst the death rate is currently moderating, which confirms that the virus is diminishing in significance in advance of the appearance of the first vaccines that 'should' start to appear in volume early 2021.
Part 1 - US and UK Coronavirus Pandemic 2nd and 3rd Waves Trend Implications for the Stock Market 
Stocks Correction
The Inflation Mega-trend - The Great CPI Con trick.
The Corona Depression Second Wave Current State
UK Government Coronavirus Second Wave Panic
US Pandemic Presidential Election Forecast Implications
Part 2 - Stock Market Trend Forecast into End December 2020, Final Election Forecast Matrix 
Stock Market Big Picture
Dow Short-term Analysis
Dow Long-term Trend Analysis
VIX Analysis
2020 vs 2016 and 2012
ELLIOTT WAVES
Seasonal Trend / Election Cycle
Dow Stock Market Trend Forecast Conclusion
US Presidential Election Forecast Matrix Final Update
AI Stocks - AMD is Killing Intel 
DJIA Stock Market Technical Trend Analysis
Dow Short-term Analysis
The stock markets recovery from the Chinese Coronavirus catastrophe has been spectacular. Remember the Dow traded down to a low of just 18,213 on 23rd of March 2020 and then over the next 6 months recovered to a high of 29,200, just 400 points shy of making a new all time high! That is a spectacular bull run! So given that we have entered the weakest period of the year (October) AND that there is an election on the 3rd of November then the least surprising thing should be that the stock market has entered into the correction. In fact the only surprising thing is that the Dow did not start correcting earlier in the month, instead it even tried to break towards a new post crash high Mid October, which was a little puzzling at the time as it implied the market was discounting a Trump election victory that was invisible to most including me. Nevertheless it was ringing the alarm bells that Trump could even win, why else is the stock market soaring.
So clearly the stock market and the polls and betting markets are gyrating towards trying to divine the outcome oft he US presidential election, where it looks like the stock markets early October was WRONG, hence the recent plunge to recent lows. Maybe it was wishful thinking amongst wall street traders exposed to too much Fox News and thus started to believe the hype, anyway reality has now started to dawn on market participants that Trump is not the favourite to win this election hence this weeks 900 point Dow nose dive.
Dow Long-term Trend Analysis
The stock market is having its first significant correction since the start of it's bull run following the corona crash into March 2020. Failure to hold support at 26,500 is eyeing a trend to next support at 25,000. Though MACD is oversold so implies limited downside. Of course price action is heavily influenced by election uncertainty.
TREND ANALYSIS: The Dow came within a whisker of trading at a new all time high in September before turning lower, this implies to expect a significant correction, i.e. the Dow could retrace as much as 50% of the advance off the March low, though which at this point in time is a low probability outcome.
RESISTANCE: There is heavy overhead resistance art 29,000 to 29,400 which means its going to take several assaults before a breakout to new all time highs, so unlikely this year.
SUPPORT: The Dow has broken immediate support at 26,500 below which is support at 61.8% 25,000 and then 50% at 23,700.
TRENDLINES: The Dow has gapped below trendline support so signals a change in trend i.e. it looks like the bull run is over for now, thus lower prices are more likely than not.
MACD: MACD has unwound its overbought state and is basically neutral, which means that any trend lower should be measured rather than severe.
VIX
VIX is spiking to levels inline with recent spikes so suggests that further downside should be limited, i.e. we may have reached max volatility. 
Stock Market 2020 vs 2016 and 2012
How does 2020 compare to the last 2 presidential elections in terms of stock market trend.
Well there is a tendency for stock markets to weaken from a September high into a post election low before running higher into the Christmas followed by a corrective dip into the new year.
Republican wins tend to be better for the markets than Democrat, so if the pattern repeats and Biden wins then we are likely to see a subdued stock market into Christmas, likely below the Mid October high as the market marks time ahead of inauguration day. So no all time high anytime soon. Whilst if Trump wins then it's off to the races, Dow 30k by Christmas!
ELLIOTT WAVES 
My commonsense interpretation of EWT resolves in a clear cut 5 wave advance into the Mid September peak with subsequent price action resolving in an ABC corrective decline.
The decline off the September high looks corrective thus an ABC which suggests that we should soon see an end to the downtrend, perhaps by the end of next week, that should sow the seeds for the next 5 wave advance to take us into 2021. So elliott wave matches very closely to what the 2020 vs 2016/12 analysis suggests i.e. an end to the decline soon followed by a post election rally that should set the stage for the Dow to rally into Christmas.
SEASONAL TREND / ELECTION CYCLE 
Stock market seasonal trend is usually for a weak October followed by strong November and December, which this year is being disrupted by the election. So where the election cycle is concerned the first few months of a new presidency tends to be subdued, following which the bull market settles in and continues it's business as usual. So we could be heading for a subdued 5 to 6 months.
What happens when an Incumbent Republican President loses ?
Answer - Little movement in price for the remainder of the year. Given that Biden looks like he is heading for a win then that suggests to expect sideways price action into the end of the year, which means we are unlikely to see a surge to new all time highs.
What happens when an Incumbent Republican President Wins ?
Answer - A strong bull run. So if Trump pulls off another election miracle and wins then the Dow should soar to a new all time high by the end of December.
If there is no clear Winner on November 3rd?
Stock markets going to drop like a stone, how much? Easily 10%. The worst outcome, though I see as a very low probability event.
Stock Market Implications for US Presidential Election
The stock market's impact on the UK Presidential election in terms of percent swing is pretty straightforward.
Q1. Are the stocks in a bull market ?
A: Yes, Add 1% swing in Trumps favour
Q2 - What is the deviation from 1st September when the election campaign proper began?
A: 26581 divided by 28,646 = 7.8% divided by 2 = 3.9%. Capped at 1.5%. Where in my update of a week ago on 23rd October it was 0.55%.
So basically the stock market trend of the past week acts to work against Trumps electoral chances for if he had little chance of winning a week ago, then the 7% drop during the past week has all but ended his electoral chances. Of course if the stock market had risen by 7% then that would have put Trump and Biden near neck and neck, but that is not what happened.
Whilst there will be some variance with Monday and Tuesday's trading, I doubt it's going to change the outcome now for what is likely to come to pass given that so much of the electorate has already voted early.
Formulating a Stock Market Trend Forecast
As I alluded to in my post of Monday 28th October, this analysis is resolving in a mixed stock market picture where clearly the big question mark is who is going to win on November 3rd? And worse if there is NO clear winner then that would result in a crash of sorts, perhaps a 10% drop perhaps more, though I see such an outcome as a low probability black swan event.
Whilst if Trump pulls off another election miracle and wins then it's off to the races, the Dow will surge higher, probably break to new all time highs above 30,000 before the end of December 2020. The problem is that Trump winning the election is not probable as my Election Matrix analysis concludes.
And then there in is the problem that a change in Presidency induces increased stock market uncertainty. So regardless of whether Biden turns out to be good for the stock market in the long-run after all both Trump and Biden will print trillions more dollars. However, in the immediate and short term Biden will be negative for stocks due to uncertainty. So probability favours a subdued stock market that ranges from a sideways trend into inauguration day to an outright downtrend. Which on the brightside would generate buying opportunities in our AI tech stocks.
On the upside there is light at the end of the covid tunnel, the VACCINE! That 'should' start materialising in significant quantity just as Biden takes office, so implies to look towards a strengthening economic and stock market prospects as the impact of the pandemic diminishes with each passing week, but until then we still have the third wave to contend with that could see America's total covid death toll double!
Thus this analysis is leaning towards stock market drift into the end of 2020 with limited downside as there is plenty of upside ahead in 2021i.e. an end to the pandemic and that Biden will print trillions of dollars just as Trump has. With a potential black swan bubbling in the background of there being no clear winner on November 3rd as we all know that unless Biden wins decidedly then Trump is not going to concede defeat, hence a stock market panic crash of 10% or so could take place. 
Dow Stock Market Forecast Conclusion
Therefore my the stock market forecast conclusion is that the Dow looks set to trade lower towards 25,000 early November before heading higher into Christmas for a likely lower third peak, before succumbing to relatively mild end of year selling into early January 2021 as the market marks time ahead of Biden taking office as illustrated by my trend forecast graph.
Risks to the Forecast 
That the Trump Show ends with a spectacular season finale, one where the election outcome is inconclusive or in a very close Biden win that Trump refuses to concede defeat to which would result in a stock market crash of sorts. How much? At least 10%. A low probability event but the last 4 years have literally played out like a dramatic TV show so never say never! 
US Presidential Forecast Matrix Final Update
The pandemic was supposed to play out with smaller successive waves after an initial first worst wave.
Unfortunately the Trump administrations handling of the pandemic has been disastrous to such an extent that America's pandemic resembles the Trump Tower escalator with each successive wave higher than the one before.
Thankfully increased medical intelligence about the virus has lowered the death rate somewhat though this may prove temporary when the number of daily cases starts overwhelming the healthcare system again.
And don't take this as me picking on the US for the UK has been similarly abysmally negligent in it's handling of the Pandemics 2nd wave which if left to run would exceed the first peak high by Mid November. With the UK death rate now running at 350 per day and doubling every 9 days. So the government instead of acting 5-6 weeks ago is now being forced to implement panic measures hence today's news of a NEW UK lockdown starting on bonfire night, the 5th of November. 
It's the economy stupid, and where the economy is concerned Covid ensures that Trump's odds of being re-elected were poor just on this one metric alone, what with number unemployed soaring by 10 million to 14 million, GDP 10% lower and a collapse in personal incomes, then the stock market taking a last week election dive, all of that is before taking into account the electoral impact of 235,000 american deaths! on route to what? 500,000 deaths by the end of winter? As Biden would say "Come on Man" Trump always had a poor chance of winning under such dire circumstances!
Therefore my final forecast conclusion remains unchanged in that I expect Biden to win on 49.1% of the vote with Trump losing on 46.4%, with the balance distributed amongst independant's.
However, it should be noted that Hillary lost to Trump 48.2% to 46.1% in 2016, though I HAVE factored in a 0.8% electoral college advantage to Trump in my Matrix, because at the end of the day it is the electoral college that determines who wins than the popular vote. In which respect I expect Biden to win over 300 electoral college votes, so unlike 2016, I am not expecting this election to be close.
What if there had been no Chinese Virus Pandemic?
Then Trump would easily have beaten Biden on 49.8% to 45.7%.
Could Trump pull off another election miracle like 2016?
We'll as the following video of what happened in 2016 illustrates that when one is dealing with intense delirium and intense MSM delusional bias, then yes it IS possible even if I and many others are unable to see how that could be possible this time round.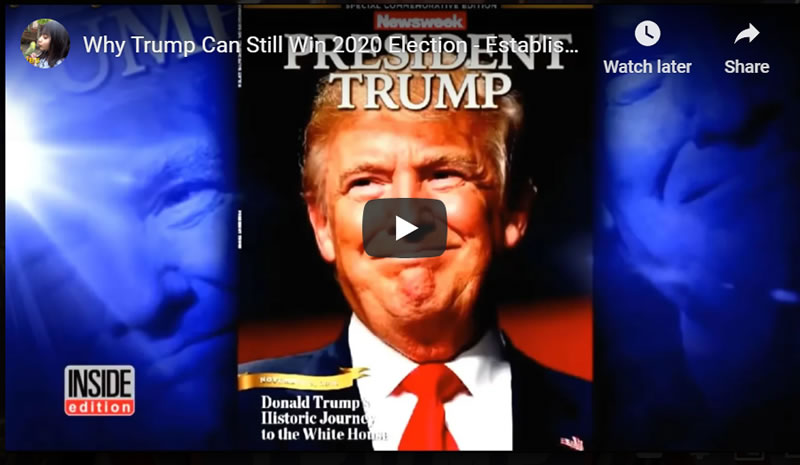 AMD Killing Intel, Nvidia Next?
Earlier this month we had another huge reminder of why Intel's stock price has been stagnating for the past 3 years whilst at the same time stickleback competitor AMD's stock price has soared into the stratosphere. 

It all comes down to AMD's Zen series of processors that began with Zen 1 in Mid 2017 that so far have matched or beat every expectation just as was the case with the October launch of AMD's Zen 3, 5000 series of processors that now not only beat Intel but crushes Intel's best retail CPU the 10 core 10900k launched only a few months ago when it is pitted against the similarly priced 5900x, AMD now even decidedly take the gaming crown away from Intel's flag ship processor where on average the 5900x beats the 10900k by a good 7% in gaming. And then AMD has their 16 core Intel killing 5950x CPU.
The following ALL CPUs market share graph illustrates how things look set to play out as AMD displaces Intel and becomes the worlds dominant x86 CPU supplier over the next 12 months whilst likely to beat Intel in the desktop CPU market before the end of this year!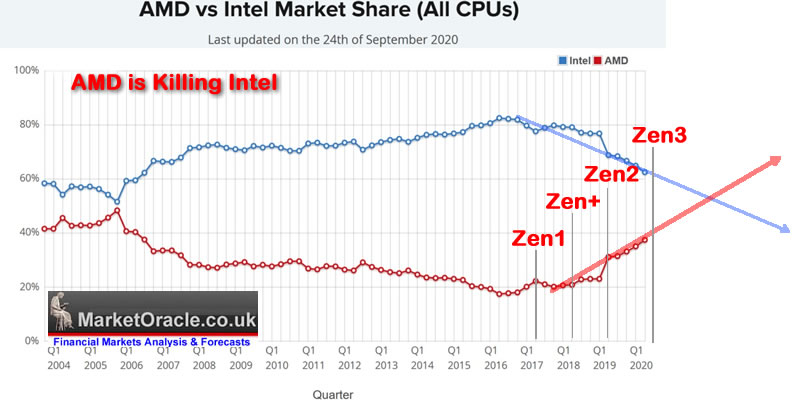 For more watch my 14 minute video of why AMD is Killing Intel with it's Zen series of processors.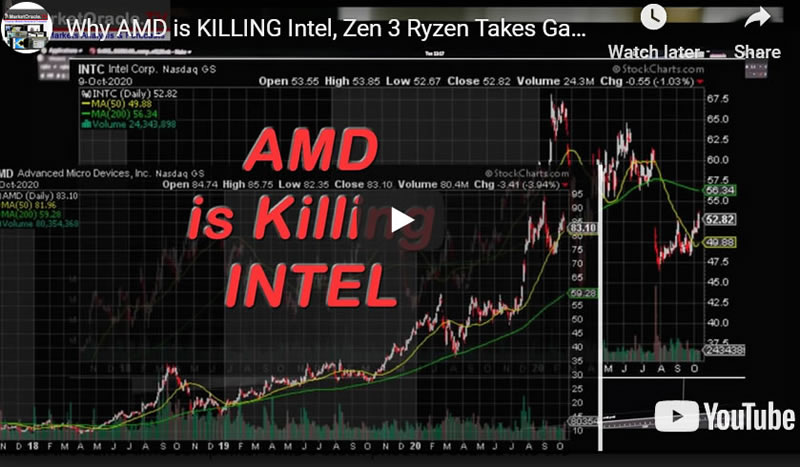 I will update AI Stocks buying levels in a future article.
Your analyst rapping up this analysis as October turns into November.
By Nadeem Walayat 
Copyright © 2005-2020 Marketoracle.co.uk (Market Oracle Ltd). All rights reserved.
Disclaimer: The above is a matter of opinion provided for general information purposes only and is not intended as investment advice. Information and analysis above are derived from sources and utilising methods believed to be reliable, but we cannot accept responsibility for any trading losses you may incur as a result of this analysis. Individuals should consult with their personal financial advisors before engaging in any trading activities.
---
Nadeem Walayat released this post 30 days early for patrons. Become a patron
By becoming a patron, you'll instantly unlock access to 57 exclusive posts
By becoming a patron, you'll instantly unlock access to 57 exclusive posts