Sweet Angel very first polaroid
As the main theme of this month, the character is Itsuka Kotori drom Date a Live (a very funny anime, you should watch it!) :)
Every single image is UNIQUE! There won't be another one that is the same as yours. The pose is different, the angle/background, the face: everything :)
I print a limited number of polaroid for every character, and every month I'm going to change it (theme).
Every polaroid will be signed and personalized with your nick/name and if you have special request just ask, I'll do my best :)
These 4 are the very first, so the most special at the same time.
I'll pack them in a super cute new envelope, trust me I'm sure you will like it ;)

In this level you will also have: 
► 1 signed A4 print (30x20 cm)
► fansign cosplay photo
► High res Cosplay Wallpaper for your desktop
► Exclusive WIP/Tutorial
► 30 minutes of Skype (group video chat) + 30 min group text chat once a month
► Fitness & beauty: extra contents
► Early access to my blog/social posts
► Photoshoots: backstage + preview (early access and/or exclusive)
► Be the first to know my next cosplay
► Monthly print giveaway
► Repost: interesting contents already shared online (maybe you missed them)
► Join to my private group on Facebook & telegram
Pledge $0 or more per month
Everyone
Pledge $0.01 or more per month
Patrons Only
Level 1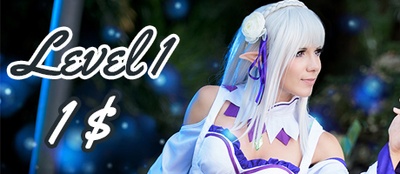 You can support me with 1$ or more. Select it and write the $ you want to pledge!
This tier has no rewards, it's just for who wants to support me without asking something back.
PICK A COSPLAY
~ Contact me before to pledge please ~ 
I should agree your proposal first 
Pick a cosplay for me!
You can choose a costume we both like and I'll order it from a good cosplay shop or a seamstress or I'll make it by myself.
Costume value: 400€ for a complete costume - I mean dress, wig, lenses, shoes, props.
You will have: 
► Thank you handwritten letter 
► 1 Polaroids
► 1 Fansign  
► First social network post about the cosplay with your name as credit
NOTE: please understand I have to order items online, this can take more than a month! Then I need to create the outfit and organise a photoset + wait for the edited photos. I'll keep you informed of everything, just be patient please! Of course you just need to pledge once even if it will take more time!