This last weekend, at Forlimpopoli, I met some of my patreon knights and they properly asked for their rewards. This Talia has born in a very interesting way, the knight asked Gaunt Noir (an artist friend of mine, working on his drawing just at my right) to join me in the "concept" process. So Gaunt sketched a reference for this picture, and I have drawn it to the final result. It has been a nice collaboration.
Questo weekend ero ospite al Comicspopoli, la fiera del fumetto di Forlimpopoli, e ho avuto il piacere di incontrare alcuni dei miei sostenitori di livello "knight" che mi hanno giustamente chiesto di realizzare per loro dei disegni su cartoncino. Questa Talia è nata in maniera molto interessante perché il sostenitore in questione ha chiesto a Gaunt Noir (un mio amico e collega, che lavorava ai suoi disegni proprio alla mia destra) di contribuire al "concept" del disegno. Così Gaunt ha realizzato uno sketch della posa sul quale mi sono basato per il risultato finale. È stata una collaborazione proficua. Per farvi capire: io non avrei mai pensato, lì su due piedi, di disegnare una Talia alla quale sfugge il gancio del top del costume mentre tenta di allacciarselo (o di toglierlo). Insomma è sempre molto "fecondo" quando due artisti collaborano, indipendentemente dal risultato.
Pledge $0 or more per month
Everyone
Pledge $0.01 or more per month
Patrons Only
Patreon FRIEND
Thanks! Any support is appreciated! Supporting me with 1$+ means:
1) access to high resolution/high definition versions of my "public" works. Every time I'll post a new illustration elsewhere (facebook, my blog etc.), I'll add the same illustration to my Patreon blog too, accessibile only to my 1$+ supporters, and here you'll be able to download the HD version (at least 1700x2500pxs 300dpi).
2) access to "Drizzit Classics" webcomic strips and other exclusive webcomics (only the Italian version is available, though). I've published here on Patreon a remake of the first glorious strips of my most popular webcomic, Drizzit. Those strips will be always accessible only to my 1$+ pledgers! Furthermore, in future I will post other webcomics only for my Patreon supporters.

Grazie! Ogni contributo è apprezzato! Supportarmi con un minimo di 1$ significa:
1) avere accesso alle versioni alta risoluzione/alta definizione dei miei lavori "pubblici". Ogni volta che pubblicherò un'illustrazione da qualsiasi altra parte (facebook, my blog etc.), la posterò anche qui sul blog di Patreon, e sarà accessibile solo ai miei supporters da 1$+, che potranno così scaricare la versione HD (di solito 300dpi e almeno 1700x1500pxs), e usarla come sfondo del cellulare, del tablet o di qualsiasi altra cosa.
2) avere accesso alle strisce di "Drizzit Classics" e altri fumetti esclusivi. Ho pubblicato qui su Patreon il remake delle prime strisce del mio webcomic più famoso, Drizzit. Queste strisce saranno sempre accessibili solo ai miei sostenitori da 1$+! In aggiunta, in futuro pubblicherò altri webcomic che saranno accessibili solo ai miei sostenitori.
Patreon KNIGHT
If you're supporting me with at least 5$/month you'll have all the previous tiers rewards, plus:
- access to exclusive and unpublished digital illustrations!
Yes, wonderful new illustrations and works created for being posted only here on Patreon! With this level tier you'll gain access to all the blog material, with few exceptions.
- access to the monthly poll. You will gain access to the monthly pin-up polls for deciding who will be the next Emperor pin-up and who will appear in the upcoming digital illustrations.

Supportandomi con almeno 5$/mese otterrai tutte le ricompense dei livelli precedenti, più:
- accesso a esclusive e inedite illustrazioni digitali!
Esatto! Illustrazioni e altri lavori completamente nuovi creati apposta e solo per Patreon! Praticamente, con questo livello di pledge, avrai accesso a tutto il materiale postato sul blog, con pochissime eccezioni.
- accesso alle votazioni mensili. Avrai accesso al "pin-up poll" mensile, per decidere chi sarà la prossima pin-up Emperor e quali saranno le protagoniste delle prossime illustrazioni digitali!
Patreon KING
If you're supporting me with at least 15$/month you'll have all the previous tiers rewards, plus:
- a 40% discount when claiming an old reward on my digital shop on Gumroad, where you'll find all my old Patreon rewards (published at least 1 year ago). At the start of every month I'll give you a discount code, the discount will allow you to buy the old rewards at the same price of a King's pledge.
- exclusive naked/uncensured versions of some of my illustrations. Created in High Resolution (1700x2500px 300dpi) they will be sent directly to you by email. This is a very special gift I'll make ONLY to my supporters from 15$+! 
Note: King's rewards will be sent by email at the beginning of the upcoming next month (es. April rewards are sent at the beginning of May)!
Supportandomi con almeno 15$/mese otterrai tutte le ricompense dei livelli precedenti, più:
- Sconto del 40% nel riscattare le vecchie rewards presso il mio digital shop su Gumroad! Presso il mio negozio digitale troverai tutte le vecchie ricompense Patreon (fino a quella pubblicata un anno fa). All'inizio di ogni mese, ti fornirò un codice sconto che ti permetterà di acquistarle ognuna allo stesso costo di una pledge mensile di livello King.
- versioni senza veli/non censurate di alcune mie illustrazioni, create in alta risoluzione (1700x2500px 300dpi) e spedite direttamente tramite email. Questo è un regalo davvero speciale che farò SOLAMENTE ai miei supporters da 15$+!
Attenzione: le ricompense digitali King vengono inviate via messaggio privato a tutti i sostenitori all'inizio del mese successivo (es. le ricompense King di Aprile sono spedite all'inizio di Maggio)!
PATREON WIZARD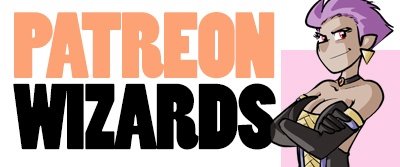 With a 30$ monthly support you'll get:
All the previous tiers rewards, plus:
- possibility to ask me for a full colored illustration when we'll met at conventions, comics stores and other events during the current month. 
Note: this is limited 1 time for convention, check the next event in which I will be hosted! This pledge tier is limited to 10/month.
Con un supporto mensile di 30$ riceverai:
tutte le ricompense dei livelli precedenti e inoltre:
- la possibilità di riscattare un disegno a colori presso le fiere e i negozi di fumetti dove sarò presente nel mese corrente.
Nota bene: si potrà comunque riscattare un solo disegno per evento, qui trovate la lista delle prossime fiere dove sarò ospite! Questo livello di pledge è limitato a 10 sostenitori al mese.
Patreon EMPEROR
With a 50$ monthly support you'll get:
All the previous tiers rewards, plus:
- receive an "analogic" illustration (ink and colors on real paper!) of one of my comics' main character! Done with my hands and sent to you by traditional mail! Please note that every month I'll made a maximum total of 10 illustrations, no more.  
Con un supporto mensile di 50$ riceverai:
tutte le ricompense dei livelli precedenti e inoltre:
- ricevere un'illustrazione "analogica" (inchiostro e colori su carta vera!) di uno dei personaggi principali del mio fumetto! Realizzata solo per te, ti verrà spedita direttamente a casa per posta! Attenzione: ogni mese creerò al massimo 10 disegni, non di più!