This was a little piece primarily for Tapastic, but it's a reach out to everyone that helps make Mallory Bash possible. Thanks, folks.
Pledge $0 or more per month
Everyone
Pledge $0.01 or more per month
Patrons Only
I'd Buy That For A Dollar!
$1 or more per month

∙ 1 patron
You're a wonderful human being, and you have now gained access to the Patron-only feed! You'll get early editions of every Mallory Bash comic episode one day before they go live across the web!

Bashers, Unite!
$3 or more per month

∙ 2 patrons
Access to the original scripts for each episode, as well as blog posts about ideas coming down the story pipeline for the comic!

Plus, you'll get in on monthly video conference workshops, where we'll talk about our work and give each other feedback!
The Privilege.
$10 or more per month

∙ 1 patron
You're lovely, you know. A shimmering diamond of grace and dignity, you are.

You get  access to the original PSD file! I also post each step: sketches, inking, flat color, and complete! AND you get an inked and signed caricature of yourself!
Become A Producer!
$20 or more per month

∙ 1 patron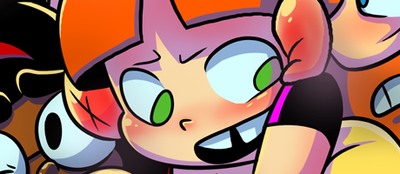 You'll be recognized for making my work possible!
You will be recognized as a producer in the credits for the Mallory Bash comic.
You'll also get to appear in the comic! A little cartoon you right on the page!
Plus all previous rewards, of course.