Pledge $0 or more per month
Everyone
Pledge $0.01 or more per month
Patrons Only
Dolla Dolla Bill Dream Club
$1 or more per month

∙ 0 patrons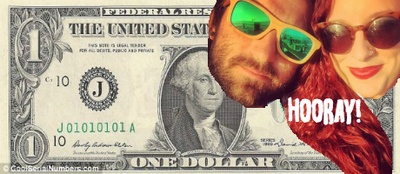 Hey, you! Thanks for joining the dolla dolla bill dream club, ya legend. We will do the following for ya:
-Your name (with an optional link to your blog or website, if you've got one) on our website in an upcoming post or new page.
You Got 5 On It
$5 or more per month

∙ 0 patrons
Luniz
would be so proud. And so are we! Thanks heaps for donating, you sweet human. Just for that, we're giving you:
-Free reign to email us with all your moving questions.
-One time trip planning assistance, (preferably to somewhere we've been).
10 Things We Love About You
$10 or more per month

∙ 1 patron
As an apology for being a part of such a cheesily named group, we're happy to offer you:
-30 second combined interpretive dance and air drumming to the song of your choice.
-A set of Travelin' Fools postcards (as soon as we make them, of course).
The Generous Tippers
$20 or more per month

∙ 0 patrons
In honor of you being such a generous soul, we will happily provide you with:
-One handmade postcard from wherever we're living every single month.
-Beers on us if & when you visit.
-One on one trip planning/moving abroad planning session.
Money Bag Madness
$50 or more per month

∙ 0 patrons
Hot holy damn, Bill Gates! Didn't even know you were on here. In addition to everything listed above, you'll also get:
-A liver in the case you really need a new one, though we hope you don't.
-Special dedication on the blog & any future merch.