Pledge $0 or more per month
Everyone
Pledge $0.01 or more per month
Patrons Only
Simple Thanks!
$1 or more per month

∙ 62 patrons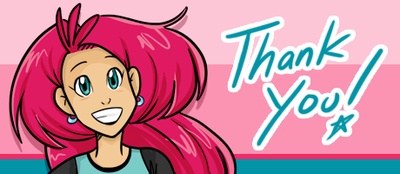 You'll receive my sincere thanks for helping me keep the Candi Comics site up and running! You're awesome. You should feel good about that. Because you're awesome.

I'll rough sketches and drawings from several projects I'm working on weekly.

In addition to making public YouTube Speedpaint Videos and Tutorials. 
Wallpapers & Coupons!
$5 or more per month

∙ 0 patrons
In addition to the stuff in previous tiers, you'll get a new monthly digital wallpaper and a 20% off discount code for Star's Etsy page.