Tomorrow's Comic Today: Subtle Humor
Well, not THAT subtle.
Pledge $0 or more per month
Everyone
Pledge $0.01 or more per month
Patrons Only
Drifter
$2 or more per month

∙ 30 patrons
You like the comic, and I really appreciate your patronage. As thanks you'll get:
All previous Itchy Feet ebooks, for free!
A 5% discount off every Itchy Feet print book!
My humble, honest thanks for your support. 
Globetrotter
$5 or more per month

∙ 11 patrons
You like Itchy Feet a
lot
, and I like
you
 a lot. For this you'll get the above rewards, plus:
A 10% discount off every Itchy Feet print book!
The week's comic a day early!
Video replays of the comic being drawn, from sketch to final export!
My insights into each comic's creation, from background stories to thoughts on form and style to fun facts to random nonsense!
Wanderluster
$10 or more per month

∙ 3 patrons
You
love
 Itchy Feet, but not as much as I love you. For your generosity you'll get all of the above rewards, plus:
A 20% discount off every Itchy Feet print book!
Your likeness in the Itchy Feet style! Send me a photo and/or a description of yourself and I'll draw you as a puffy little bean-shaped cartoon stick figure, for you to use however you like!
Itchy Feeter
$15 or more per month

∙ 9 of 15 patrons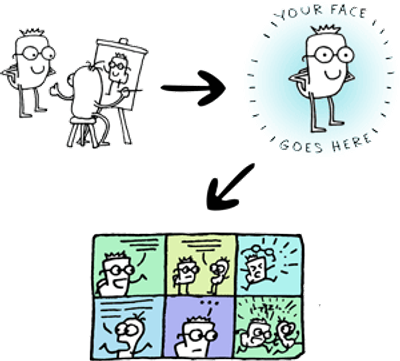 You're an Itchy Feet SuperFan, baby! That entitles you all of the above, plus the crème de la crème:
Your Itchy Feet-ized portrait will be made into a badge, shared across social media and displayed prominently on every page of the Itchy Feet site!
You'll receive a new, redrawn portrait every year on the anniversary of the day you became a patron!
If and when we achieve the Extra Monthly Comic goal, your caricatures will be the stars of these bonus comics!
World Conquerer
$1,000 or more per month

∙ 0 of 365 patrons
Excellent choice of reward, your majesty. It pairs very well with a 1945 Lafite. For your patronage, all of the above plus the following shall be bestowed upon you:
Once a year, every year, I will fly to wherever you are in the world dressed in a big foam Itchy Feet costume, and entertain you for a full day with song, dance, and bulbous cartoon stick-figure drawings. I will then prepare a sumptuous meal for you and whomever you choose, and we will spend the evening discussing matters of your choosing.