Turns and pirouettes with poi dance
This month's poi/dance vlog covers turns--from basic things like chaines to soutenus and a great exercise for learning pirouettes.
This also was one of the most trying and difficult videos I've recorded in a long time. After recording my narration I went outside to record all the b-roll. My camera turned out to have been sitting in the sun in my apartment all day and immediately began having problems with overheating. When my camera overheats it freezes and not even the on/off switch has any effect on it. I have to pull out the battery and reset the camera to get it to work again.
Because it was so hot out yesterday, this wasn't really a problem that went away. I would get 15-30 seconds of footage before the camera would sieze up. This really sucked because given that I was recording a vlog on doing turns, it meant I had to do a LOT of takes. What should have been a half hour of shooting ballooned into 4 hours and by the end of it I was ready to lose my lunch (I'm pretty good about not getting dizzy when dancing--but 4 hours is a slog).
When I brought it in to edit, I discovered I'd made a huge mistake in my script. I'd mixed up chaines, soutenu, and pique turns. It meant I had to cut a couple lines and re-record a couple others. Some days the gods of workflow are with you...and some days they really are not :-P
Pledge $0 or more per month
Everyone
Pledge $0.01 or more per month
Patrons Only
Good Karma!
$1 or more per month

∙ 31 patrons
Thank you so much for your support for my work! Your contributions help me to continue to create my videos and share the love of poi with the world. You rock!
Flow Curious
$2 or more per month

∙ 26 patrons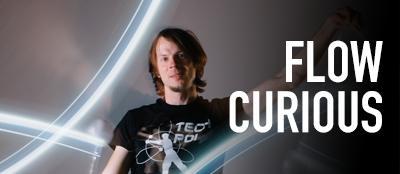 Input into the channel
Access to my Patreon feed
Ability to connect with other artists on my Community tab
My 10 Ways to Improve Your Poi Spinning PDF guide
Padawan
$5 or more per month

∙ 40 patrons
Get your name in the description of my videos
Early access to all my videos
Free access to my Intro to Poi Course
Everything in the Flow Curious level
Flow Jedi
$10 or more per month

∙ 15 patrons
Free access to all of my Online Courses
Early access to my scripts
Weekly fan check-in videos where I talk about what I'm up to
Everything in the first 2 levels
Flow Patron
$25 or more per month

∙ 3 patrons
Name credited at the end of my videos
Behind the scenes videos and tutorials for my video production techniques
Direct feedback--send me videos of your work and I'll give you pointers on your tricks and/or flow
Everything in the first 3 levels
Flow-anthropist
$35 or more per month

∙ 0 patrons
This money will sponsor the creation of closed captions in other languages--for every person that donates at this level I will pay to caption 3 videos per month from the archive in Spanish, German, Russian, and Hindi (the 4 countries in which I have the most viewers outside the English-speaking world) plus all my new videos. This helps my videos get to more people and gives people in these country a resource to use if they don't speak English.
Everything in the first 4 levels
Friends of the Channel
$40 or more per month

∙ 5 patrons
I'll post your company's logo along with a thank you immediately after the introduction to my video as well as listing your company's name and website in the description. Your logo will be see in the first minute of content!