A two summers' year - (New Zealand) part 1
Hello Patreon ! I feel I've been away for too long. 
I told a while ago you I would do more photo diaries :) I'm about to go on a trip to South America in a fortnight, where I'll try to give you some more regular updates on the trip (according to the wifi connections I can get over there !). I thought it would be great to get rid of that backlog of photo diaries I actually never posted..... It's more than time to collect and share all the New Zealand pictures. 
The thing is : despite the issues with my film camera, I shot so much, I need to cut it in several parts, cause it's gonna be like a biiiig pictures overload.  And maybe too much informations and stories. I dunno. It still feels really weird to look back at that trip - it's been such a bizarre parenthese. It already feels like it happened years ago. I never traveled that way before. Here you gonna see a mix of travel diaries, sketches, tourist pictures and art projects we made on the road !
Hello Patreon ! J'ai l'impression que ça fait une éternité que je n'ai pas posté !
Je vous avais prévenu, j'allais reprendre les carnets de voyage. D'ici deux semaines, je vais repartir en Amérique du Sud, d'où je vais essayer de poster plus régulièrement (enfin, selon les connexions wifi). Je me suis dit qu'il était plus que temps pour moi de collecter et trier vraiment les photos de la Nouvelle-Zélande, et poster tous ces journaux qui s'entassent. 
Malgré mes soucis avec mon argentique, j'ai vraiment pris beaucoup trop de photos. Beaucoup trop. Je vais devoir couper un peu ces posts en plusieurs parties, sinon ça va être un gros déferlement indigeste. Et peut être un peu trop d'infos et de textes. Je ne sais pas trop. C'est particulièrement bizarre de revenir sur ce voyage - c'était une étrange parenthèse. J'ai déjà l'impression que c'était il y a des siècles.  Je n'ai jamais voyagé de cette manière auparavant.  Je vais balancer ici un mélange de journal, croquis, photos de touristes et projets artistiques bricolés sur la route.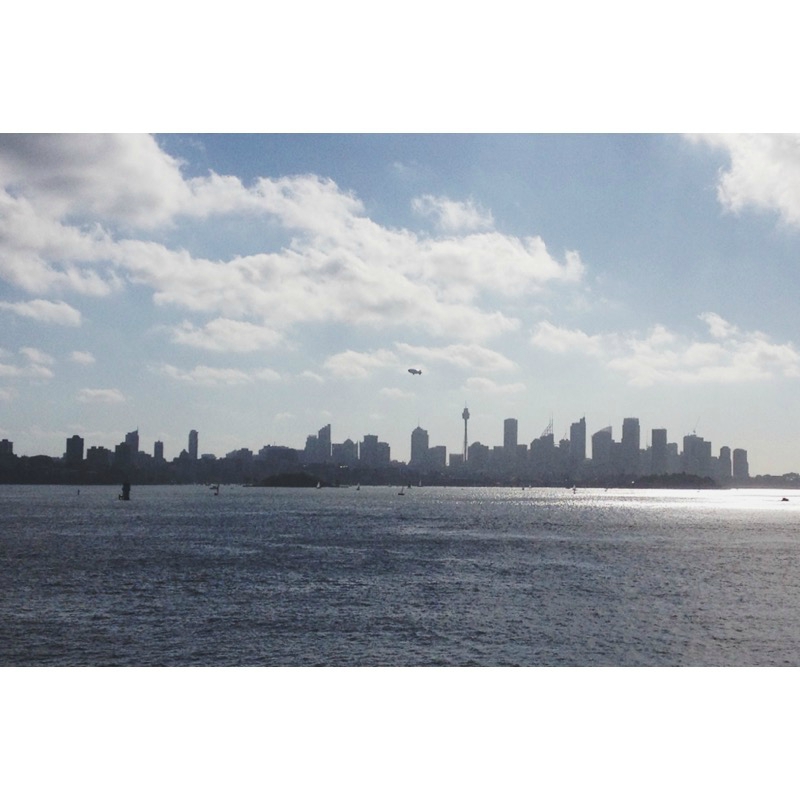 First, Sydney, Australia. With no other pictures than the ones from my phone, because I only shot film and we lost it all -_-
Well, Sydney, you are hot, your trees are crazy beautiful, you are impressively full of animals, and very very very expensive. Crows caw like stupid goats, there are ibis scavenging the dumpsters, apparently my shoes are delicious to fearless cockatoos (great band's name), streets smell like jasmin everywhere.
Première étape, Sydney, Australie. Pas d'autres photos que celles de mon téléphone, parce que j'ai tout pris à l'argentique et tout perdu -_-
 Malheureusement, nous n'avions pas réalisé à quel point la vie est CHERE là-bas... Une bonne partie du budget est parti en fumée en à peine une semaine. Il fait chaud, de plus en plus chaud, les arbres sont magnifiques (ce ne sont pas des arbres là-bas, mais des communautés !), les corbeaux font des bruits de chèvres stupides, il y a des perruches, des cacatoès téméraires qui mangent mes semelles, des dragons d'eau partout, des ibis qui font les poubelles comme des pigeons, des kookaburas aux cris si particuliers, des plantes partout, ça embaume le jasmin.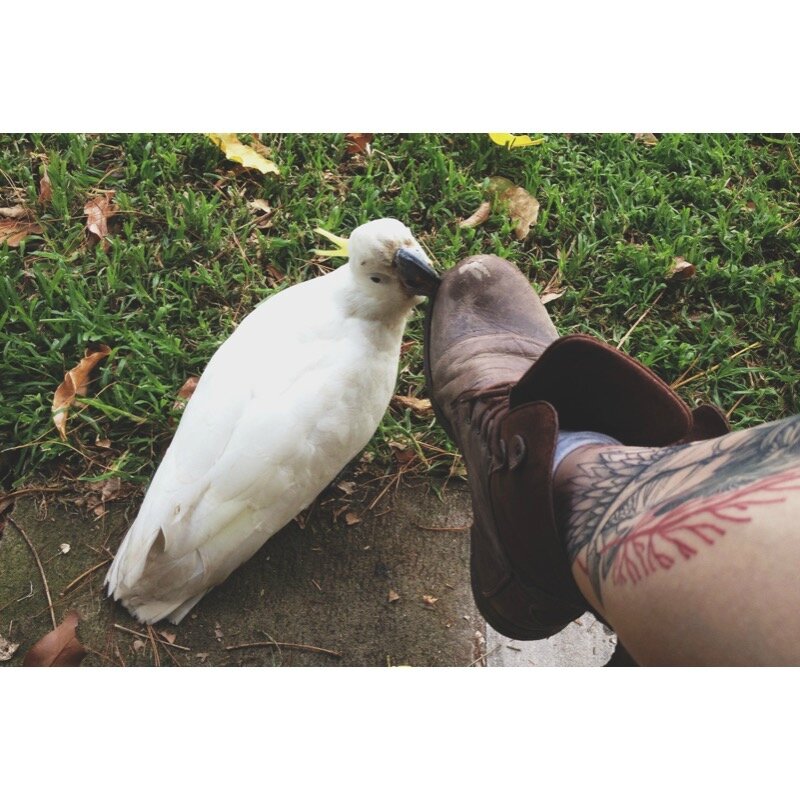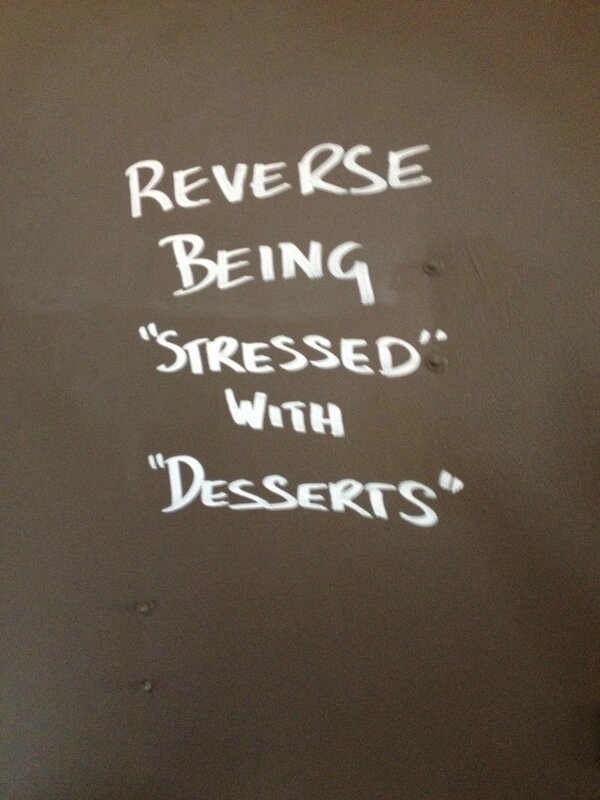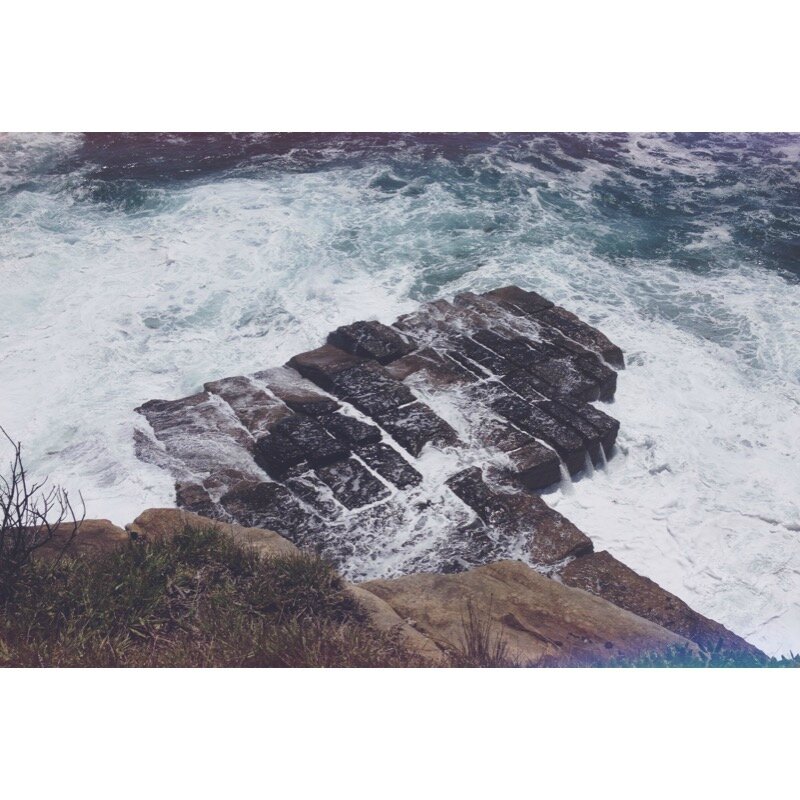 Jetlag is striking hard and I don't feel like I'm being really present in my body. A Starman reached the sky ★ and with him, a piece of heart of every queer and freak and alien. I couldn't expect a situation further than this to experiment the death of someone that touched so many people. I was 17, I cried listening to Rock'n'roll Suicide and his psycho-sexual voice. "Oh no love, you're not alone".
Then Alan Rickman. My whole teenagehood is mourning. 
C'est parfois un peu difficile de se sentir vraiment présent•e dans son corps avec le décalage horaire, mais les randonnées aident un peu. L'annonce de la mort de David Bowie me touche bien plus que j'aurais cru. La première fois que j'ai entendu "Rock'n'roll Suicide", sa voix si particulière, ses cris psycho-sexuels, j'avais 17 ans, j'ai pleuré, tout ça remonte soudain. Oh no love, you're not alone.
Peu après, Alan Rickman... Mon adolescence en deuil.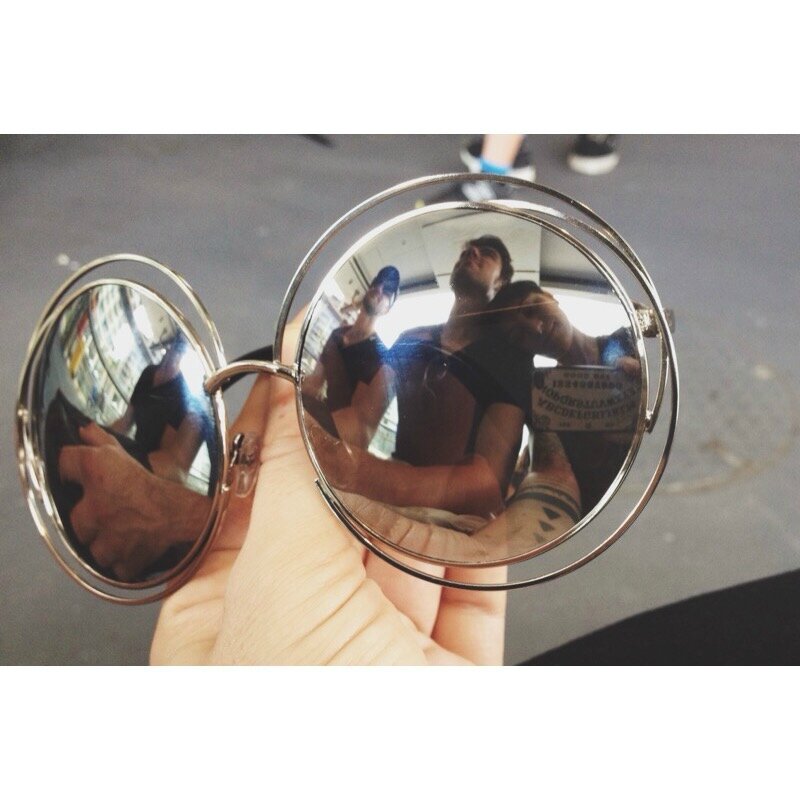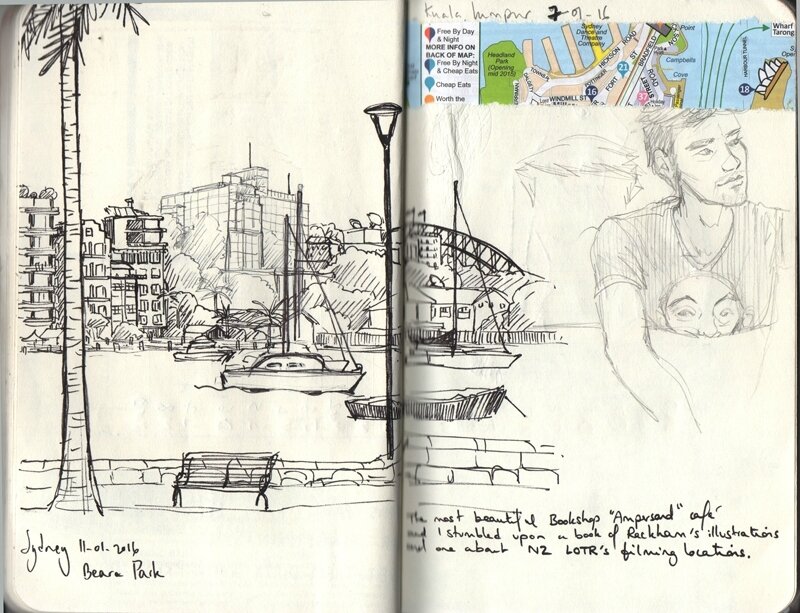 We got a bad heatstroke headache, cause we thought ourselves clever to go hiking on the Manly Coastal Track "early in the morning so the heat won't be too bad". The many "Manly Dental", "Manly life saving Club", "Manly Ferry ride", "Manly Cafe" made the day, though. It sounded like a never ending MRA joke. 
On s'est pris une bonne insolation, parce qu'on s'est cru malins d'aller marcher le matin, "avant que la chaleur ne soit trop forte", sur la Manly Coastal Track. Tous les "Manly Dental", "Manly Saving Club", "Manly Ferry ride" nous font rigoler toute la journée, ça sonne trop comme des titres de mauvais blogs masculinistes.
After that short week, we hop on the plane again, to Auckland, New Zealand, at last ! And I forgot my neck-brace in the plane. Parapraxis much eh ? 
Après une courte semaine, on reprend l'avion, direction Auckland, Nouvelle-Zélande, enfin ! J'ai perdu ma minerve, probablement dans l'avion. Un acte manqué, probablement. 
We're surviving off shortbreads and bagels, jumping from cafes to coffee shops to grab any free wifi - and we always end up in the same kind of asian coffee shop, with the same kind of loud teenagers chatting around. We miscalculated our arrival days, booked a backpackers hostel on the wrong days, and we can't find a van to rent or buy. Little panicky time, till we stumbled upon Aziz - nicest person we first met here, who's able to rent you right what we needed. 
On survit à coup de shortbreads et de bagels, sautant de cafés en cafés pour capter un peu de wifi gratuit - on finit toujours dans le même type d'établissement asiatique, avec les mêmes bandes de jeunes gens qui bavardent bruyamment. Petit moment de panique le premier jour, on a mal calculé nos dates d'arrivée, réservé un backpacker hotel sur des mauvaises dates, et on galère à trouver un van. Jusqu'à ce qu'on tombe sur Aziz, la gentillesse incarnée, qu'on surprend chez lui au saut du lit, en pyjama, avec sa petite fille... Et qui nous fournit pile ce dont on avait besoin pour le voyage. Aziz aime dire qu'il vit "près" de Remuera (le quartier modeste est juste à côté du grand quartier riche).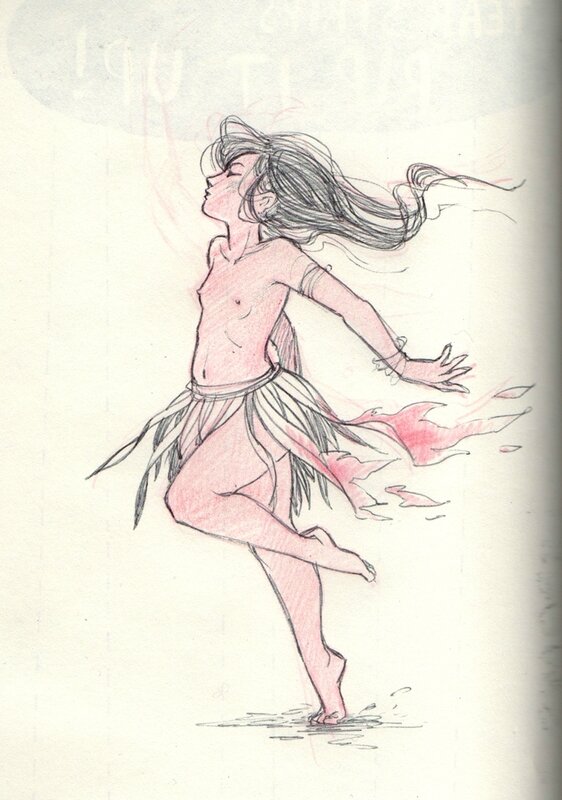 "Remuera" : the girl with the burning skirt
Auckland is so warm and lush - my body still doesn't make any sense of all this, even if it's not as bad as in Sydney. We don't like being in the city, the youth hostel is unwelcoming, loud, dirty and creepy ; but some random strolls took us through the park at night, and it's quite magical. 
Auckland - l'air est chaud, mon corps ne comprends toujours pas, même si c'est bien plus supportable que Sydney, et la végétation luxuriante. On n'aime pas trop être dans une grande ville, et l'auberge de jeunesse est dégueulasse, bruyante et creepy ; mais des balades au hasard nous mènent à travers de grands parcs, de nuit, où l'ambiance est magique.
Yes I'm melting over old couple holding hands, yes.
Here is the Van Fanel, who will carry us for the whole trip. 
Voilà donc le Van Fanel qui va nous accompagner et nous abriter tout au long du voyage.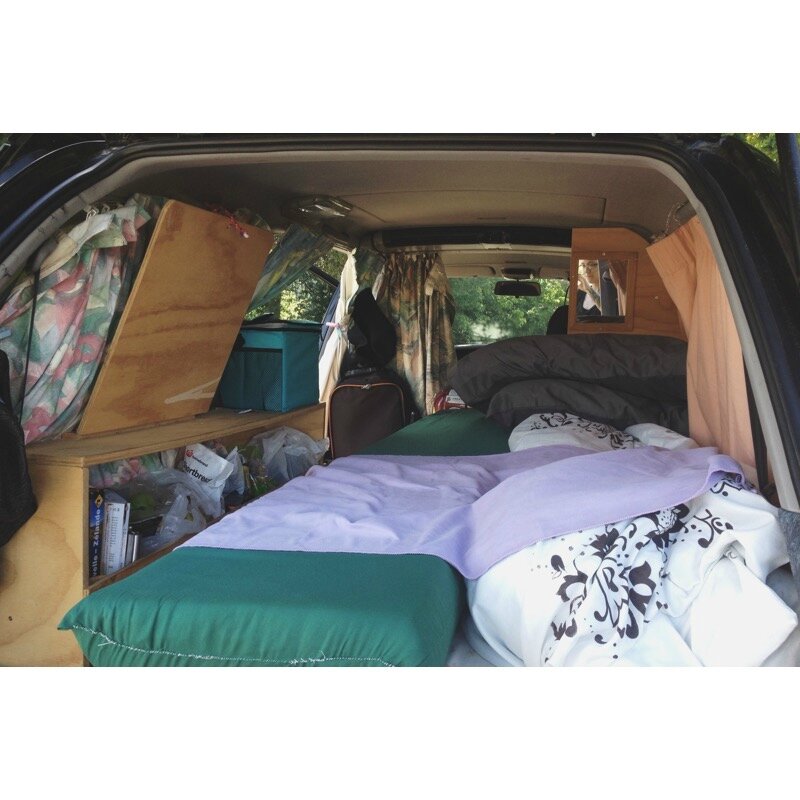 These mellow green hills landscapes make me feel like I'm traveling in Cornwall. The main road is easy to follow : there is only one. First stop at Huka Falls, close to Taupo Lake, to camp for the night.  
Le paysage de collines vertes et arrondies me donne l'impression d'être en Cornouailles :) La route principale est facile : en gros, il n'y en a qu'une. Premier stop à Huka Falls, près du lac Taupo, où l'on trouve un camp pour la nuit.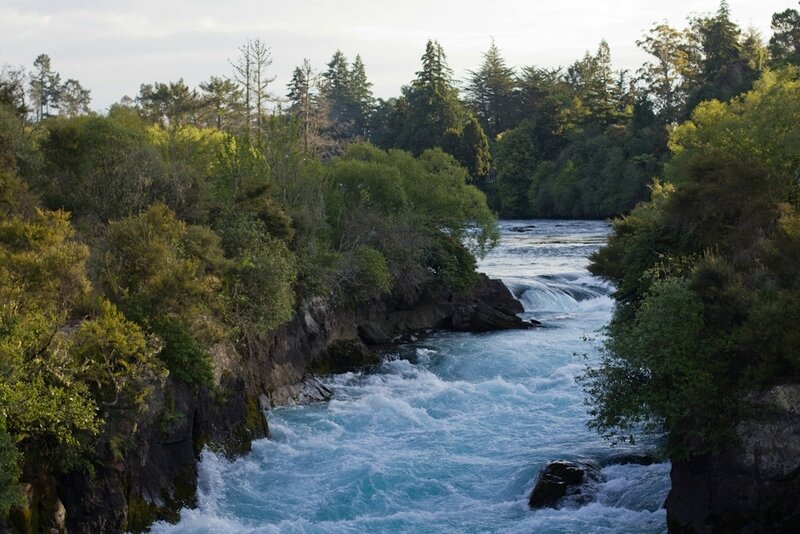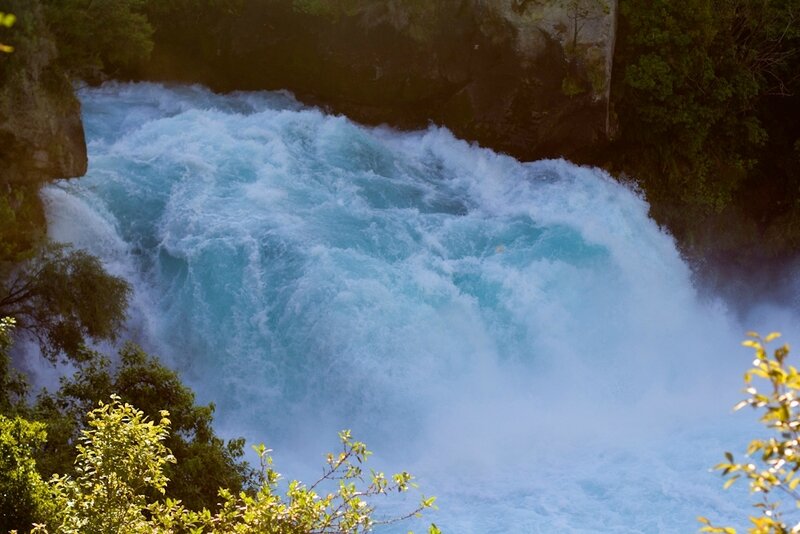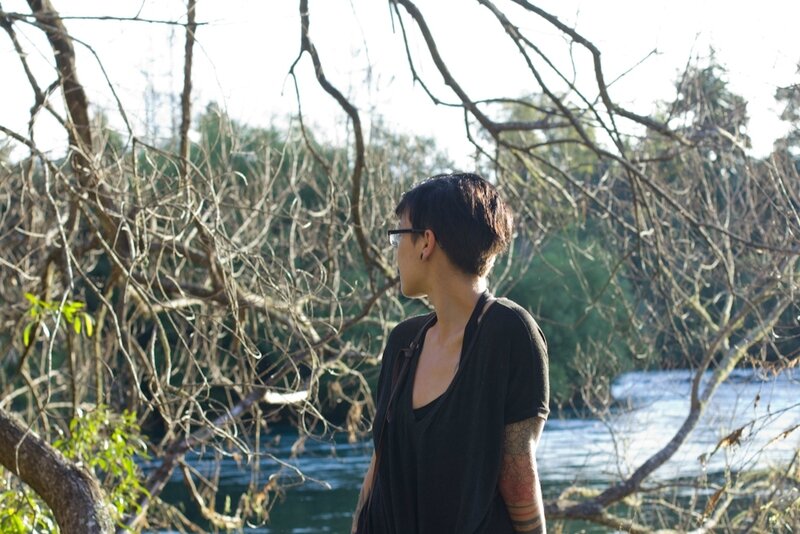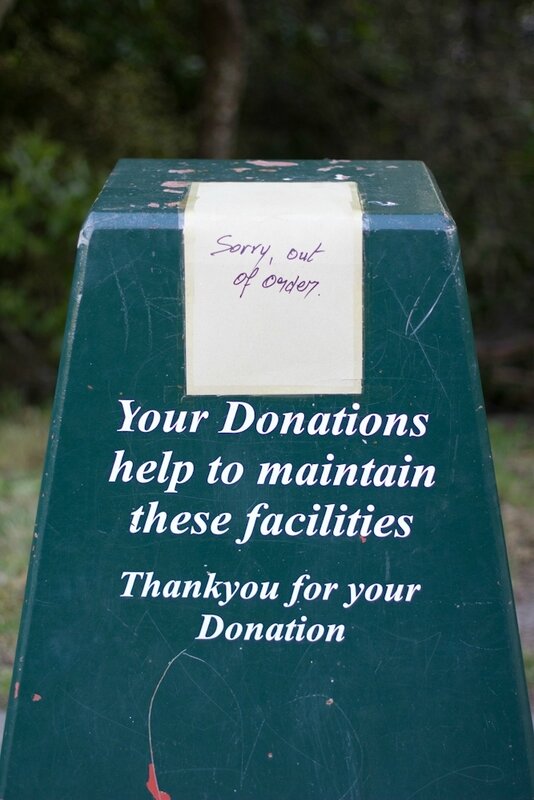 See you soon for Part 2 !
A bientôt pour la 2ème partie !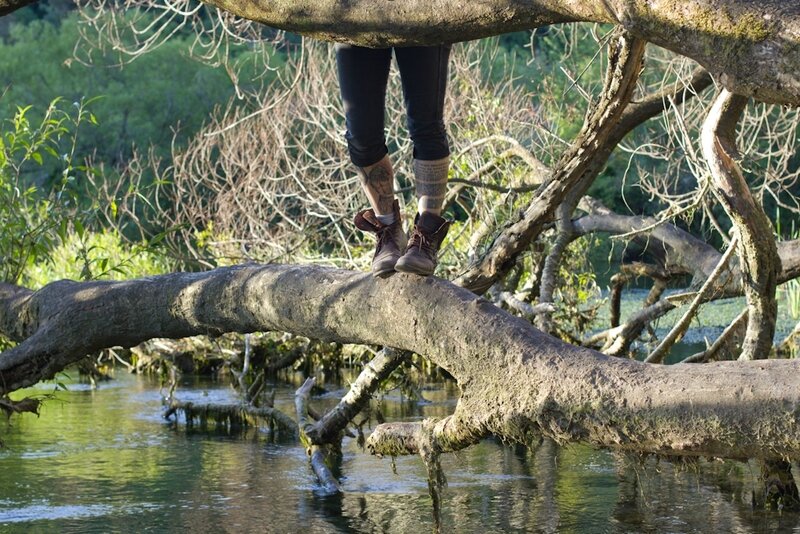 Read the rest :
Part 2 : Tongariro, Koitiata, Wellington

Part 3 : Pelorus, French Pass, Riwaka Resurgence

Part 4 : Greymouth, Fox Glacier, Hawea Lake

Part 5 : Manapouri,  Doubtful Sound, Lake Marian

Part 6 : Wanaka, Rob Roy Glacier
Part 7 : Christchurch, Lyttleton, Kaikoura
Part 8 : Blue Springs, Hobbiton
Part 9 : Matapouri, Waipoua Forest, Opononi
Part 10 : Orakei Korako, Kai Iwi Lakes, Rangitoto