A two summers' year - (New Zealand) part 6
WANAKA
(and the drama)
Here we are in Wanaka, eventually, stuffing ourselves with a giant brunch. Such a treat after weeks of porridge. I'm taking my time - I have no appointment today. I pop by Holy Skin Tattoo shop around 11h30 to introduce myself, and after a little chat, one of the tattoo artist drops «  Oh by the way, your customer is here! » WHAT ? 
Nous sommes arrivés à Wanaka, et nous nous offrons un énorme brunch. Quel bonheur après des semaines de porridge. Je traîne un peu - je n'ai pas de clients aujourd'hui. Nous arrivons tranquillement à Holy Skin, où je vais tatouer, vers 11h30, nous nous présentons, je discute un peu, et l'un des tatoueurs finit par me dire « Ah au fait, ta cliente est là! ».
WHAT ?!
In fact they fully booked me the whole week. I had no idea ! If I had knew I'd work so much in Wanaka... Starting with a typical fantail bird. I feel extraverted as hell, my words bag is overflowing. I guess I'm compensating after spending such silent weeks. Most of tattoo customers here are tourists or foreigners with working holidays visas from all countries. Goldy, Alex and Aaron are warm and welcoming. The heatwaves are striking, but the lake is just across the road and we go for a splash in between two tattoo appointments. I've know worst working conditions :) But my arms and neck ache already. 
En fait ils m'avaient bookée toute la semaine, bien chargé, je ne savais pas ! Si j'avais su que j'allais autant bosser à Wanaka... Un petit fantail, typique, pour démarrer. Je sens que je suis en mode épanchement, hyper bavarde - comme si mon sac de mot débordait. J'imagine que je compense les semaines passées silencieuses, maintenant que je suis au milieu de tellement de gens. La majorité des clients ici sont des touristes et/ou des pvtistes. Je tatoue des gens de tous les pays. Goldy, Alex et Aaron sont adorables et chaleureux. Il fait une chaleur d'enfer, mais le lac est de l'autre côté de la route et nous partons piquer une tête entre deux tattoos. Ça va j'ai connu pire comme conditions de travail :) Mais mes bras et ma nuque me font déjà très mal.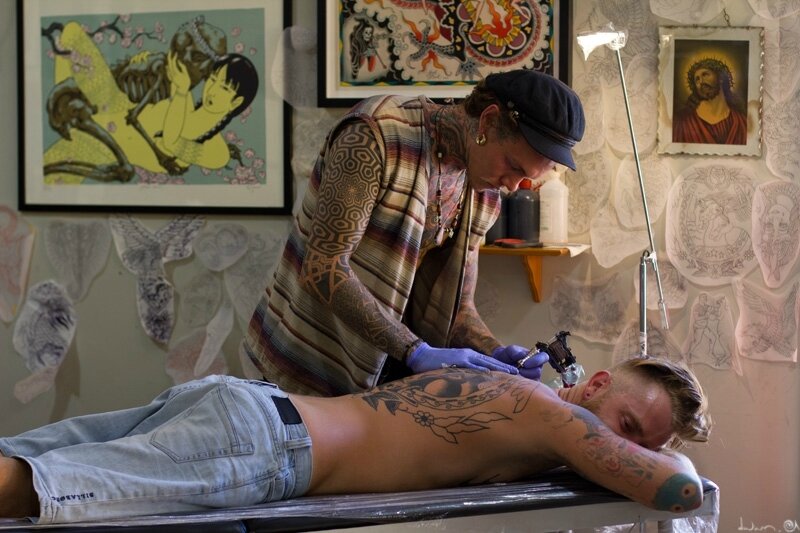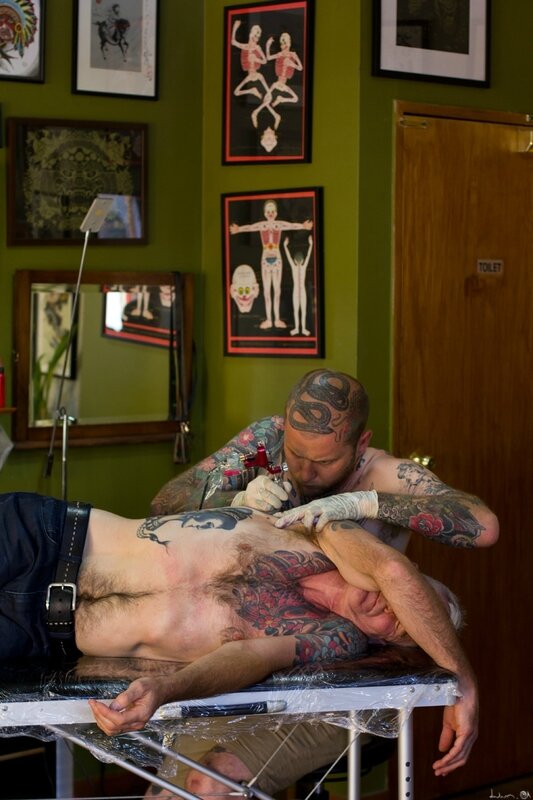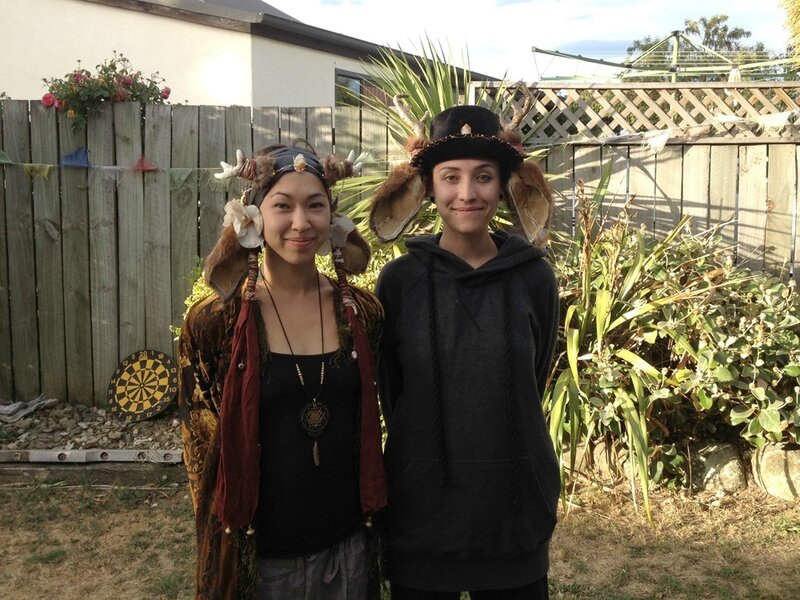 When it came to packing, before to go, it's been hard to sort everything out. Here is what we took with us : the analog little Fed2 that I use daily, a Nikonos V for underwater film photography experiments (analog as well, I love challenges), the usual Canon 550D with 50mm and 24-72mm for filming videos and portrait, a pair of binoculars and a silly disposable children cam for fun ; the video shoulder cross for stabilization, and an additional LED flashlight. Plus a reflector and a GoPro ! Add to these all the tattoo equipment, and there were no space for more than a handful of shirts :) 
Au moment de faire nos sacs, le choix a été un peu difficile. Voilà ce que l'on a emmené avec nous : le petit argentique Fed 2 que j'utilise quotidiennement, un Nikonos V pour des expériences de photos sous-marines (argentique aussi, j'aime les défis), mon habituel Canon 550D avec un 50mm et un 24-72mm pour les videos et portraits, une paire de jumelles et un petit appareil jetable pour le fun ; la crosse video pour la stabilisation, et une lumière flash LED additionnelle.  Ah, et aussi un réflecteur et une Go Pro que l'on m'a prêtée. Ajoutez à ça tout le matériel tattoo, et il ne restait plus de place que pour une poignée de tee-shirts :)
Staying in a small town for a few days, I finally gave my all the films I shot these last weeks to process. But I'm told that my shutter was broken all along. All my films are lost. Absolutely everything I shot with that analog camera since the beginning of the trip. Of course, I had tried to stop myself from shooting digital, and kept all the best pictures on film. I'm disheartened and guttered. 
Because my neuralgia pains are worsening quickly, Fennel drops me at a chiropractor cabinet before to leave for a mountain hike. Cabinet closed. I walk across town seeking another medical center, and on my way, I break down. I'm always trying to keep at bay that visceral fear of never recovering, of irremediably damaging myself and being definitely too disabled to draw, tattoo or move ; but there, added to the loss of my photo works, it all overwhelms me.
No way to get any appointment at the medical center. My customer for this morning doesn't show up. Therefore when Goldy offers me to take me to her secret favorite place, dress up and shoot some beautiful things to soothe away my worry, I do not hesitate. 
Etant enfin posée pour quelques jours dans une petite ville, j'ai pu déposer toutes mes pellicules shootées le long de ces 5 dernières semaines. Mais j'apprends alors que le shutter de mon appareil photo était cassé, depuis le début. Toutes les pellicules sont fichues. Absolument tout ce que j'ai photographié en argentique depuis le début du voyage. Bien sûr je m'étais réfrénée avec le numérique et j'avais fait en sorte de faire tous les meilleurs shots à l'argentique. Je suis complètement effondrée.
 Comme mes douleurs de névralgies empirent, du poignet à l'épaule, Fenouil me dépose avant de partir en randonnée devant le cabinet d'un ostéo. Qui s'avère fermé. Je traverse toute la ville à la recherche d'un centre médical, et sur le chemin, je craque - grosse crise de larme. J'essaie toujours de taire cette peur viscérale que je ne guérisse jamais, que cela continue d'empirer et que je finisse par m'abîmer irrémédiablement, trop handicapée pour dessiner, tatouer, et bouger ; mais ajouté à la perte de mon travail photo, tout cela remonte d'un coup. Je crois aussi que j'avais oublié cette douleur constante, sourde, ces dernières semaines.
Pas de rdv possible au Centre médicale. Je suis lasse. Ma cliente du matin ne vient pas au studio. Alors quand Goldy me texte pour me proposer de m'emmener à son endroit magique caché préféré, pour faire des photos pour me consoler, je fonce. J'ai besoin de me changer les idées.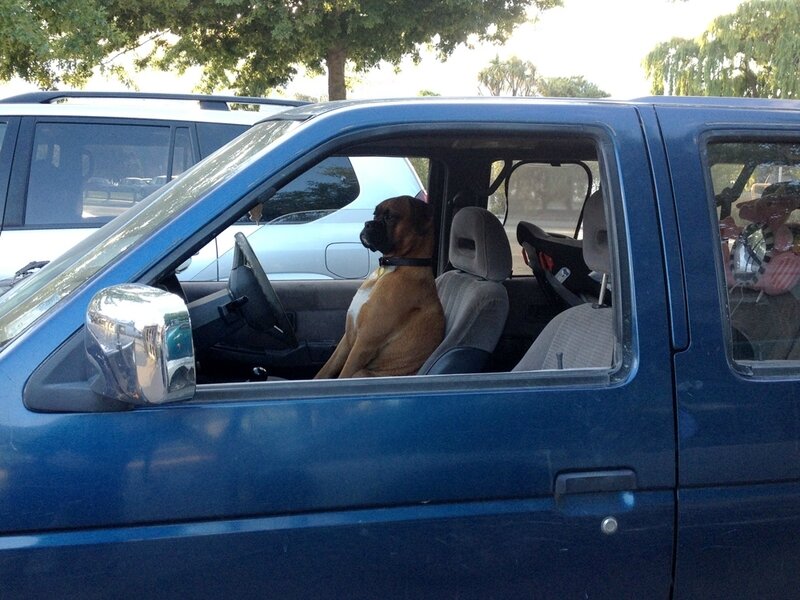 (Introduced for sport in the 19th century, deer became a pest in New Zealand's forests. Nowadays they are farmed for venison, and for the velvet from their antlers.) 
(Introduit pour la chasse au 19ème siècle, le cerf est rapidement devenu nuisible pour les forêts de Nouvelle-Zélande. De nos jours ils sont élevés pour la venaison et le velours de leurs bois.)
On our way on the gravel road, we met a tourist car upside-down, windshield crumbled. No one hurt, thanks goodness, but there is no cellphone coverage around here - therefore we turned back to be able to call for an ambulance. Goldy's efficiency and level-headedness is admirable. 
To reach the waterfall, we walk across a kale field, and a pasture, escorted by curious sheeps. The place is, indeed, phantasmagorical - we could vaguely see the waterfall from the road, but the whole magical green pool is totally hidden from the view, and reveals itself on the spot. Pollens are floating in the golden light, like a fairy tribe transmigrating away. The water is icy (what a surprise) and the picnic as copious as delicious. Goldy brought her fawn headdress and her golden Isis wings... And at that moment I realize I forgot my digital camera on my shelf at the tattoo shop. The curse keeps going. I want to slap myself in the face.
Sur le chemin, le long de la route de gravier, nous tombons nez à nez avec une voiture de touristes renversée, le pare-brise en miettes. Aucun d'eux n'est blessé, mais il n'y a aucun réseau ; nous faisons demi-tour pour pouvoir appeler des secours. Le bon sens et l'efficacité de Goldy est admirable. 
Pour atteindre la cascade, nous traversons un champ de kale, puis un pâturage, accompagné par les moutons curieux. En effet, ce lieu est fantastique - on pouvait vaguement apercevoir la cascade depuis la route, mais le bassin et le petit coin irréel est complètement masqué. Des pollens flottent un peu partout dans la lumière dorée, comme une tribu de fées en migration. L'eau est glaciale (surprise), le picnic aussi copieux que délicieux. Goldy ressort sa coiffe de faune et ses ailes d'Isis dorées… Et là je m'aperçoit que j'ai oublié mon appareil numérique sur mon étagère de tattoo au shop. La malédiction continue. Je me foutrais des baffes.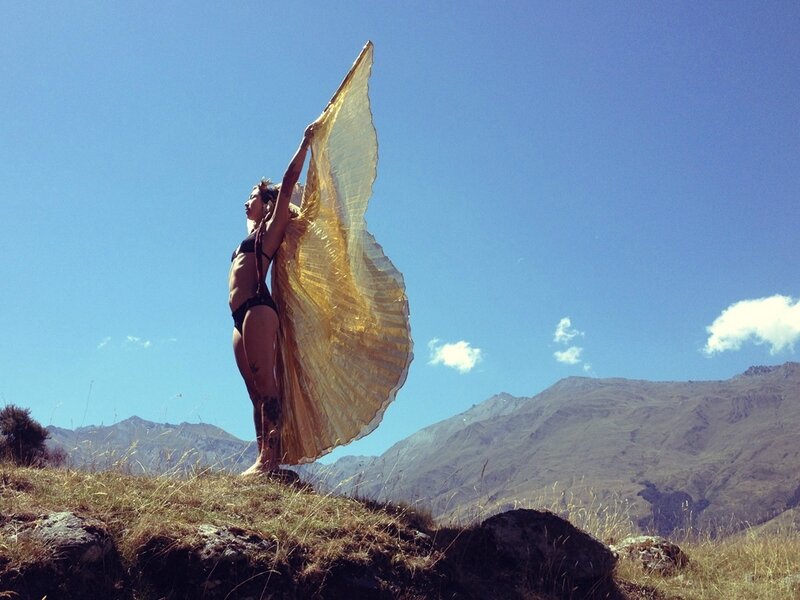 Anyway, that was a day of gratefulness (and cider, and light sunburn).
Quoi qu'il en soit, c'est un belle journée de gratitude (et de bon cidre, et de léger coup de soleil).
http://picbear.com/media/1183798135441425364_783674191
ROB ROY GLACIER
We wake up at 6am to try the Rob Roy Glacier hike trail (if you know me at all, being up that early betrays an awful amount of motivation). Although we didn't think the road would be so long, and so bad. Endless kilometers of gravel road, with the van vibrating and jolting madly, and in the back of my mind, the image of that upside-down car - it was on that same road. 
At least we made it to the Mt Aspiring National Park, with a beautiful view on the awakening glacier valley. Cows are grazing on the trail, there is another suspended bridge that kiwis seem to like so much, above an icy blue river (the weird intense blue of rivers and lakes here is due to fine particules carried away by the waters in the glacier valleys. It seems very unreal though 💠✨)
Nous nous levons à 6h pour tenter la ballade vers le Glacier Rob Roy. Nous n'avions pas réalisé que la route était si longue, et si mauvaise. Des kilomètres interminables de route de gravier, le van vibre et cahote violemment, et j'ai toujours l'image de la voiture renversée de la veille en arrière-pensée - c'était sur la même route. 
Enfin, nous arrivons au Mt Aspiring National Park, avec une belle vue sur la vallée glaciaire qui s'éveille. Les vaches paissent tranquillement sur le sentier, nous passons encore un pont suspendu dont les kiwis semblent friands, au dessus d'une rivière bleu glacé (ce sont les fines particules charriées par les rivières du glacier qui leur donnent ces teintes surnaturelles 💠✨).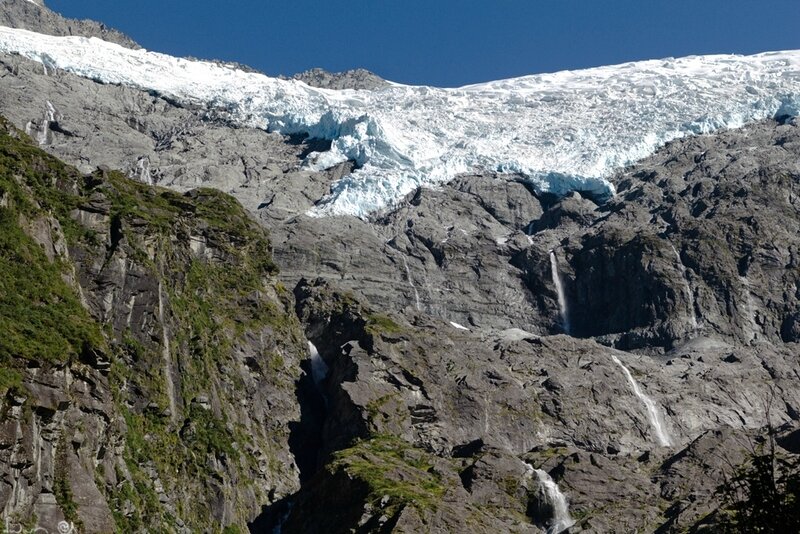 We climb for about an hour, perfectly alone, till the end of the glacier capping the summits, surrounded by steamy waterfalls and rainbows. We picnic there, in front of this impressive display ; the silence sometimes broken by the eerie cracks and creaks of the yawning glacier. The hike back is a bit more crowded (I'm happy we went so early), and we are back in Wanaka for 2pm, to get a hand-poke tattoo by Goldy. Indeed, hand-poke tattoos are quite longer to do, but a lot less painful too. And it's hypnotic. It's also a pleasure to be able to open up, professionally and personally, with another queer woman. 
It's Valentin day, and we celebrate it with our workmates with burritos and pizzas at the local food carts pod, and a hilarious nocturnal mini golf. 
C'est une grimpe d'une heure environ, nous sommes parfaitement seuls, jusqu'au bas du glacier qui encapuchonne les sommet, bordé de cascades vaporeuses et d'arc-en-ciels. Nous cassons une petite croûte devant cette vue impressionnante ; le silence est ponctué de craquèlements et grincements sinistres du glacier qui baille. Le trajet du retour est de plus en plus peuplé (nous avons bien fait de partir si tôt), et nous sommes revenus à Wanaka pour 14h. Je me fais tatouer par Goldy, qui pique uniquement en hand-poke, tout en l'interviewant. En effet, le hand-poke, c'est bien plus long, mais bien moins douloureux. Et hypnotique. Et c'est bon d'avoir une occasion d'échanger de manière professionnelle et très personnelle avec une autre femme queer. 
C'est la St Valentin, et nous fêtons ça entre collègues avec de pizzas et burritos au food-cart du coin, et en une hilarante partie de mini-golf nocturne.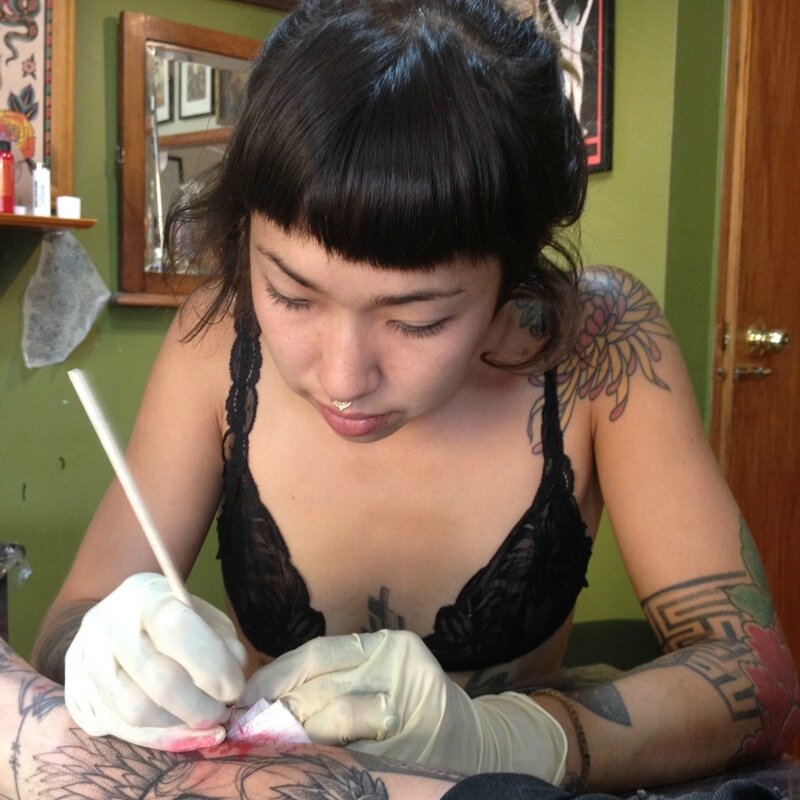 The Maōri name of New-Zealand, Aotearoa, means : the land of the long white cloud. Actually, clouds always seems very low to me. Climat ? Ozone lack ? Or just a weird feeling ? I don't know why. 
Le nom maōri de la Nouvelle-Zélande, Aotearoa, signifie : le pays du long nuage blanc. A vrai dire les nuages me paraissent particulièrement bas. Climat ? Manque d'ozone ? Ou juste une impression ? Je ne sais pas.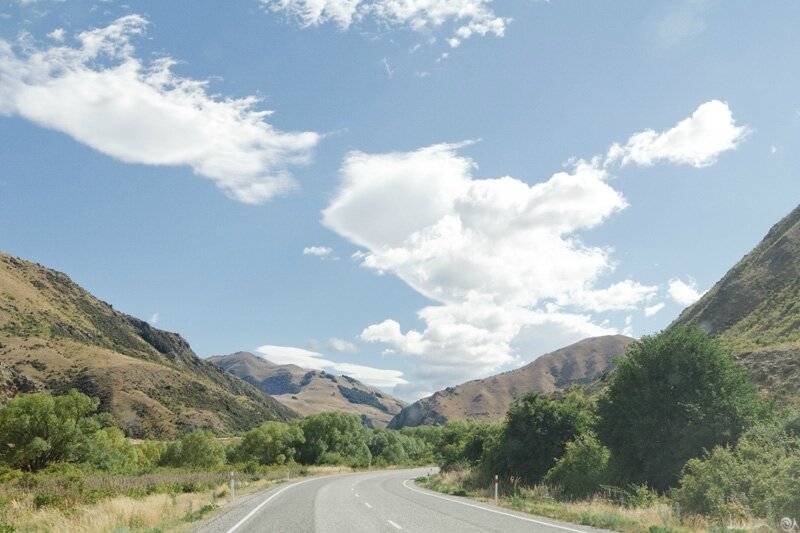 See you soon for the 7th part of this travel, Christchurch and Kaikoura, and THE SEALS !!!!! \*o*/
A bientôt pour la partie 7, Christchurch et Kaikoura, et LES PHOQUES !!!!!!! \*o*/
Read the rest : 
Part 1 : Sydney, Auckland, Huka Falls
Part 2 : Tongariro, Koitiata, Wellington
Part 3 : Pelorus, French Pass, Riwaka Resurgence
Part 4 : Greymouth, Fox Glacier, Hawea Lake
Part 5 : Manapouri,  Doubtful Sound, Lake Marian
Part 7 : Christchurch, Lyttleton, Kaikoura
Part 8 : Blue Springs, Hobbiton
Part 9 : Matapouri, Waipoua Forest, Opononi
Part 10 : Orakei Korako, Kai Iwi Lakes, Rangitoto