A two summers' year - (New Zealand) part 8
I shot so many pictures for Lulu (hahaha "only for Lulu" ¬.¬), that's gonna be probably one post for Hobbiton only, or almost :D
J'ai pris tellement de photos pour Lulu (hahaha "uniquement pour Lulu" bien sûr), cette partie va être principalement consacrée à Hobbiton.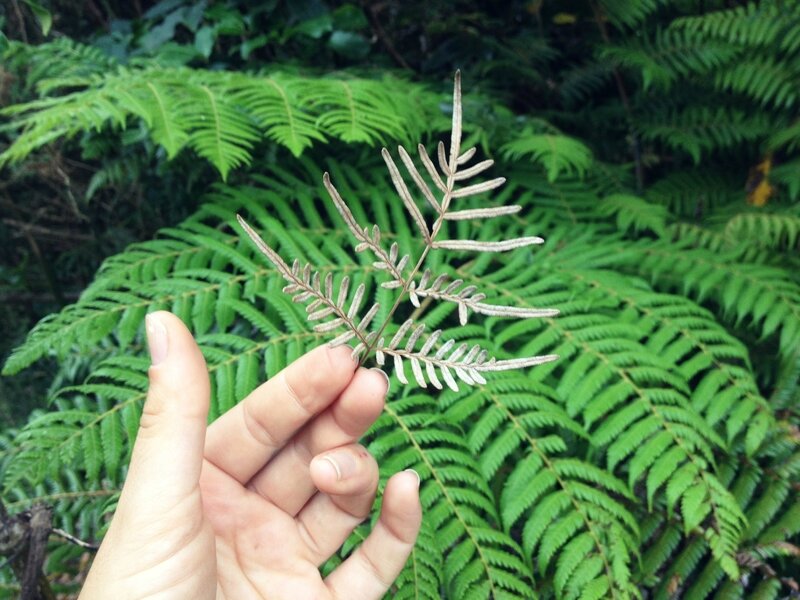 BLUE SPRINGS
Te Waihou river seems like a postal card fantasy : perfect turquoise blue, quiet, shallow stream,  with pale green aquatic plants waving lazily under the surface, surrounded by lush palm trees and silver ferns. The water is so perfectly clear we can see fishes swimming, and white butterflies flutter around one side to the other. Blue Springs' water takes 70 years to emerge from the ground, and is so pure they bottled it without any process. However, despite its irresistible beauty, the river temperature is constantly at 11°c. Which doesn't stop us. I even dived to try to capture a GO Pro mini-film. It's fascinating to let yourself go with the flow in between the weeds, frightening the fishes, with such a perfect visibility. I end up with a good headache though. 
La rivière Te Waihou paraît sortie d'un fantasme de carte postale : bleu turquoise parfait, au cours calme, peu profond, ponctué de bancs de plantes aquatiques vert pâle qui ondulent paresseusement, bordé de palmiers et de silver fern. L'eau est si parfaitement transparente que l'on voit passer les poissons, et des nuées de papillons blancs volètent d'une berge à l'autre. L'eau mets environ 70 ans à resurgir du sol à la source, et elle est mise en bouteille sans traitement tant elle est pure. Mais malgré sa beauté irrésistible, l'eau de la rivière, été comme hiver, est à 11°c. Ce qui évidemment ne nous arrête pas. Je plonge même la tête sous l'eau pour tenter de capter un mini film à la Go Pro. C'est fascinant de se laisser porter entre les bancs d'algues par le courant et d'effrayer les poissons, avec une visibilité si parfaite - je m'en tire avec un sacré mal de crâne. (et on rigole comme des ânes parce que le lieu où on s'arrête s'appelle Putaruru)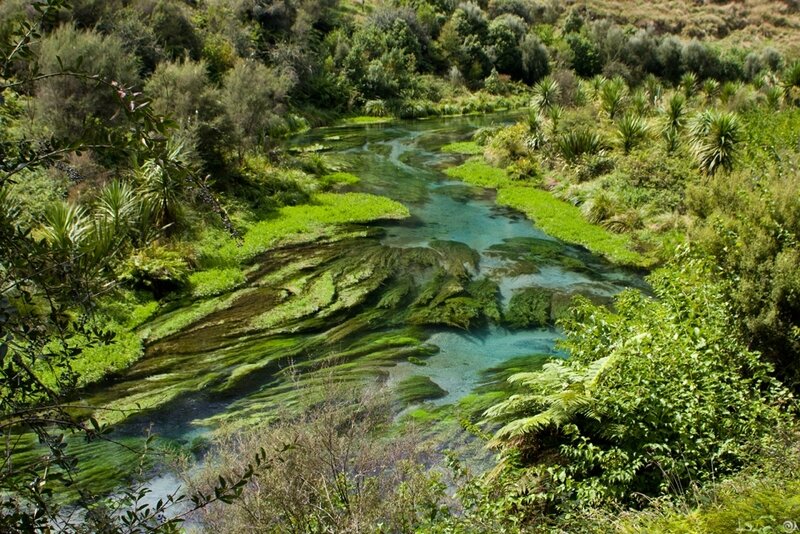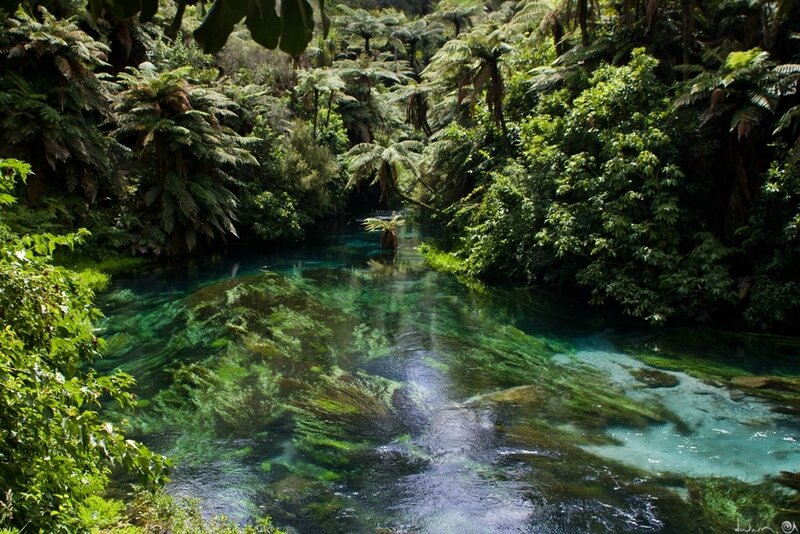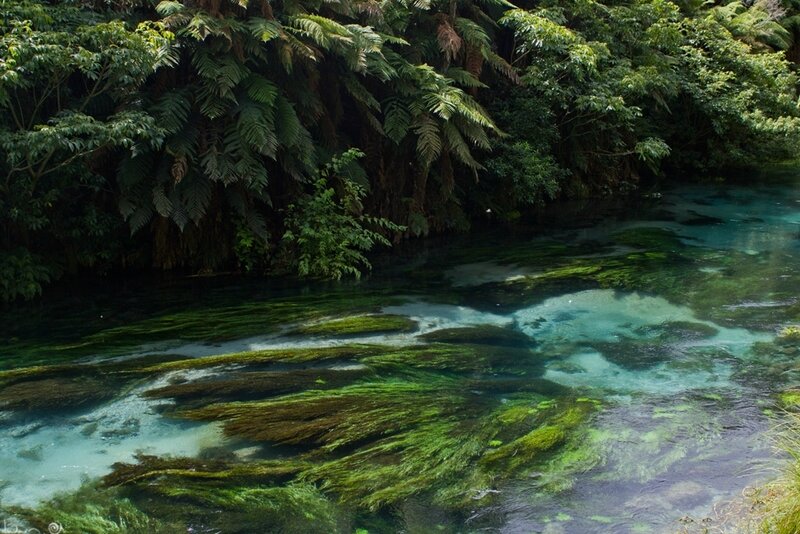 HOBBITON 
Yes. We went there.
Bah oui, on ne pouvait pas ne pas y aller...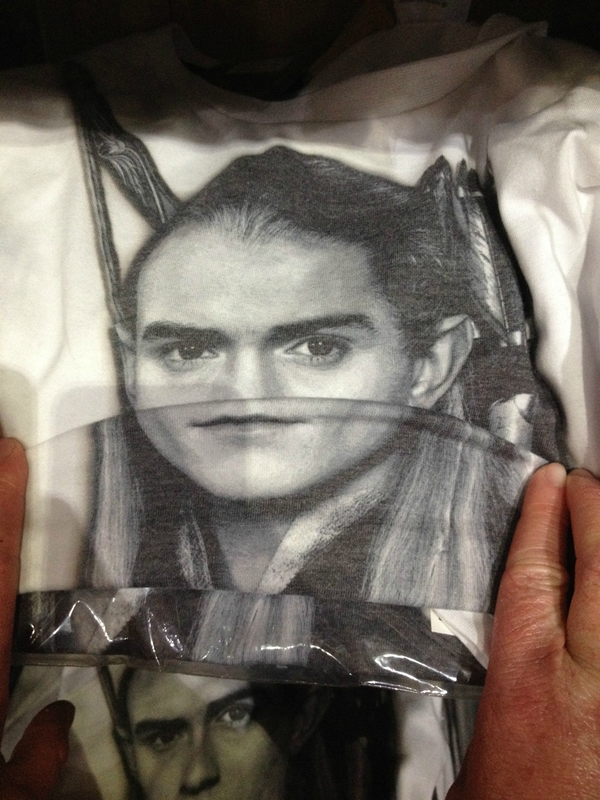 Our guides are lovely, and the trip with the bus pretty funny : the path is scattered by placid sheeps and the driver needs to honk at them all the time to make them move away ; and we're excited like a bunch of kids. Of course Lulu outshines herself as a true nerd, quoting the movie at each of the guide's question.  Everyone is in awe : the village is magical, and the fact that lots of the items are miniaturized adds to the loveliness of it all.  The quality and the diversity of any detail is mind-blowing : picnic tables with marmelade jars,  forgotten vest, cheese cellar's little windows, tiny laundry drying in the sun, bread carts, dried hanging herbs, fisher's bounty, dispatched tools, and so much greenery, everywhere ; flowers, gardens bursting with (real) vegetables, giant pumpkins... A little glass of ginger ale at The Green Dragon Inn to stay in the mood - the old pub is as charming indoors than outdoors, with contemptuous cats  basking in the soft light of the golden hour. 
Les guides sont adorables, et le petit passage en bus est plutôt marrant : le chemin est ponctué de moutons placides qu'il faut faire détaler à coup de klaxons, nous sommes excités comme des gosses, et la lumière de fin de journée est splendide. Evidemment Lulu se démarque en bonne geek en citant le film à chaque question de la guide, et tout le monde est enchanté - le village est vraiment magique, et le fait que la plupart des éléments soient en taille réduite ajoute à l'effet miniature adorable. La qualité et la diversité des détails est fascinante : tables de pique-niques avec petits pots de confiture, veston oublié, fenêtres de caves à fromage, petit linge qui sèche partout, stands de pains, herbes séchées, prises de pêcheurs, outils dispatchés, et tant de verdure, partout, de fleurs, de jardins potagers débordants de légumes (réels) aux citrouilles géantes. Le petite verre de ginger ale à l'auberge The Green Dragon ne dépareille pas l'ambiance - l'intérieur du vieux pub est tout aussi charmant et soigné, les chats méprisants, la lumière dorée parfaite.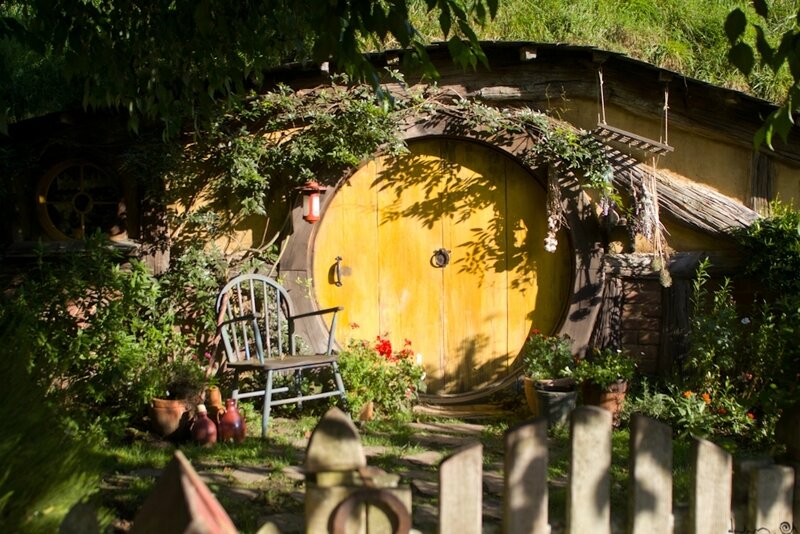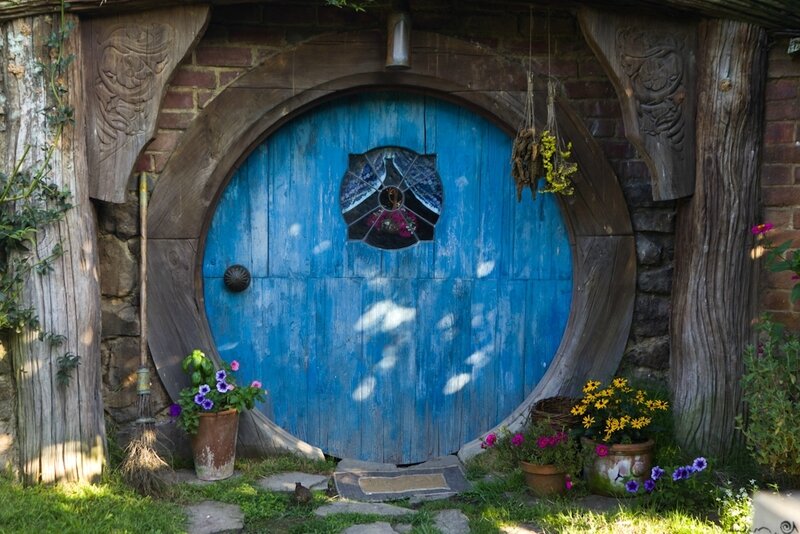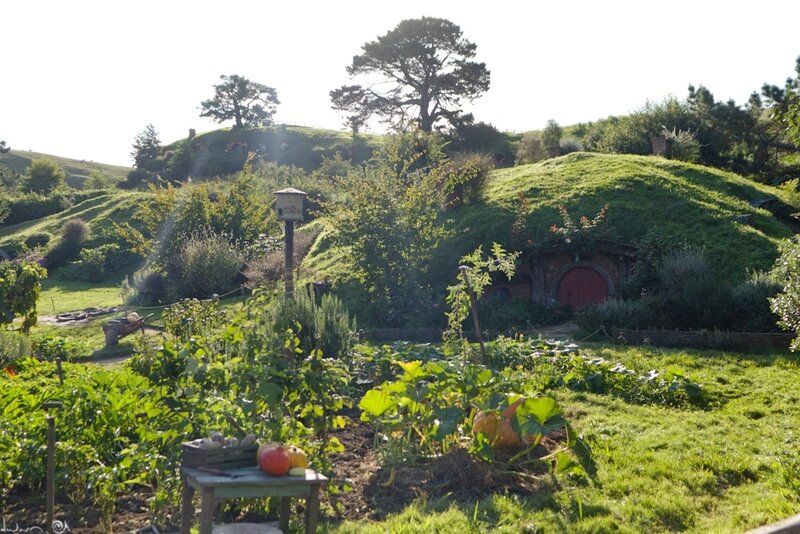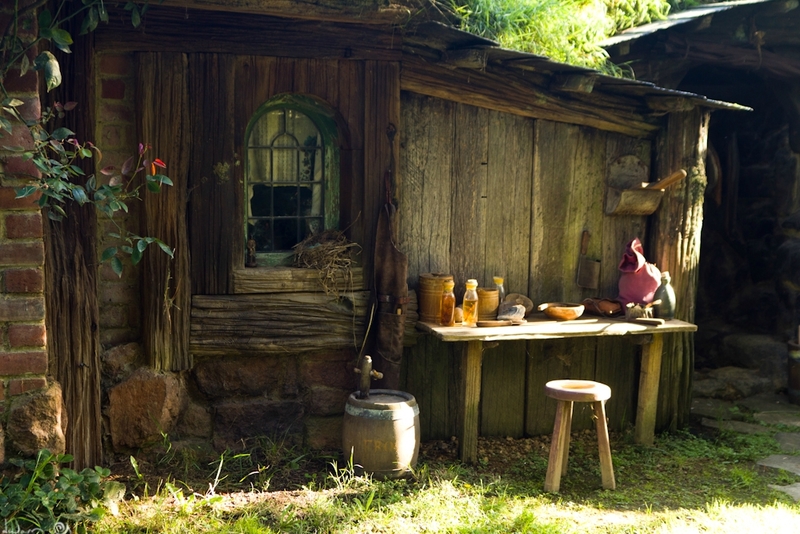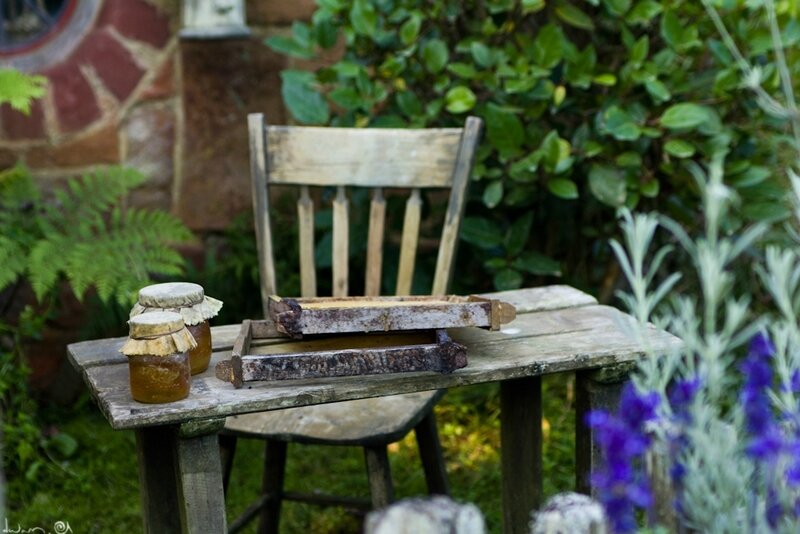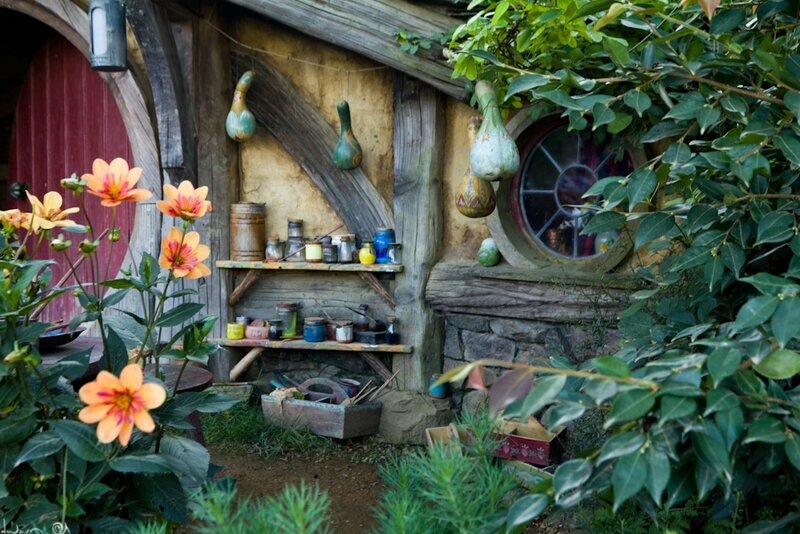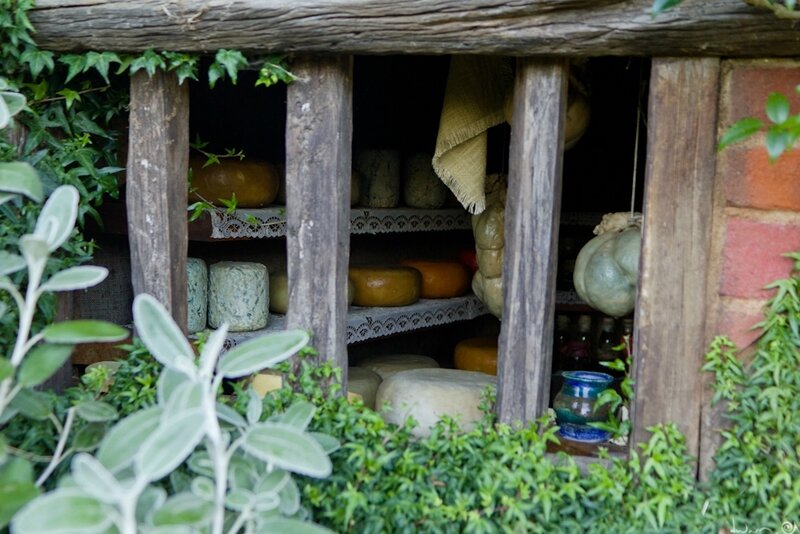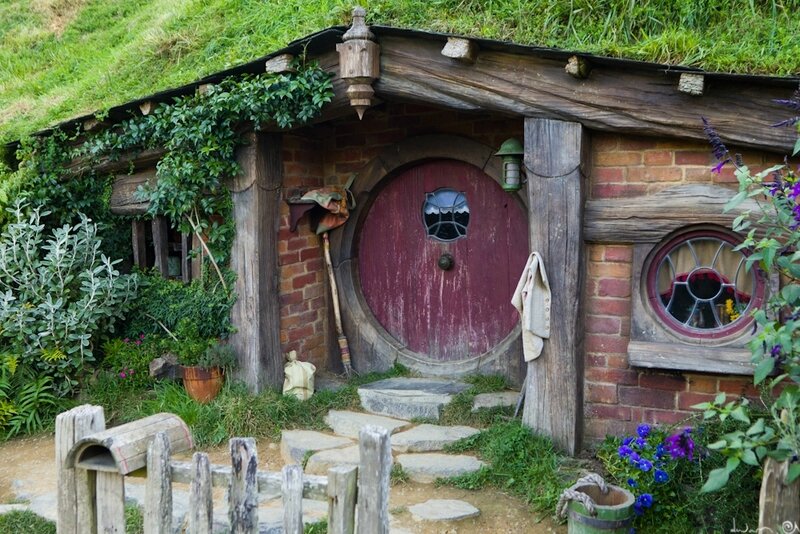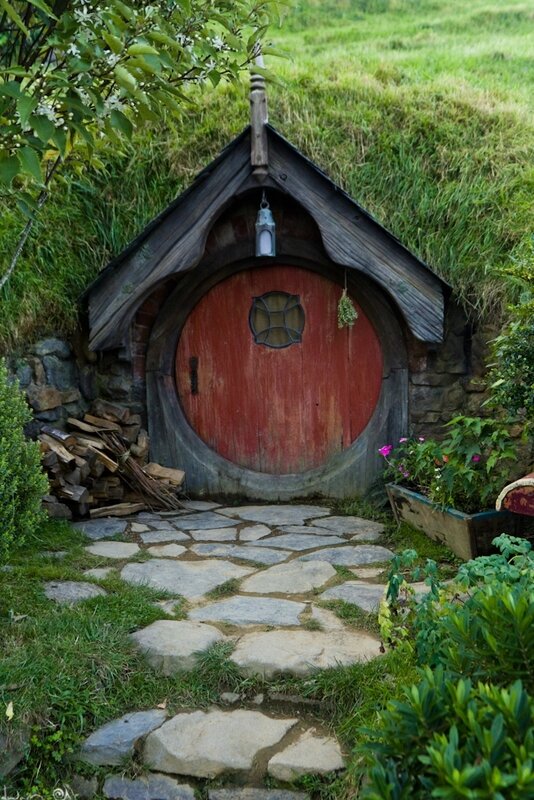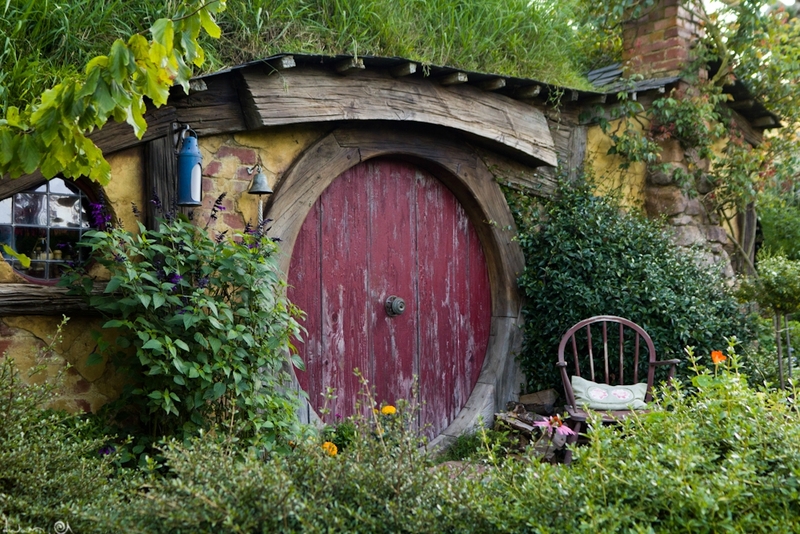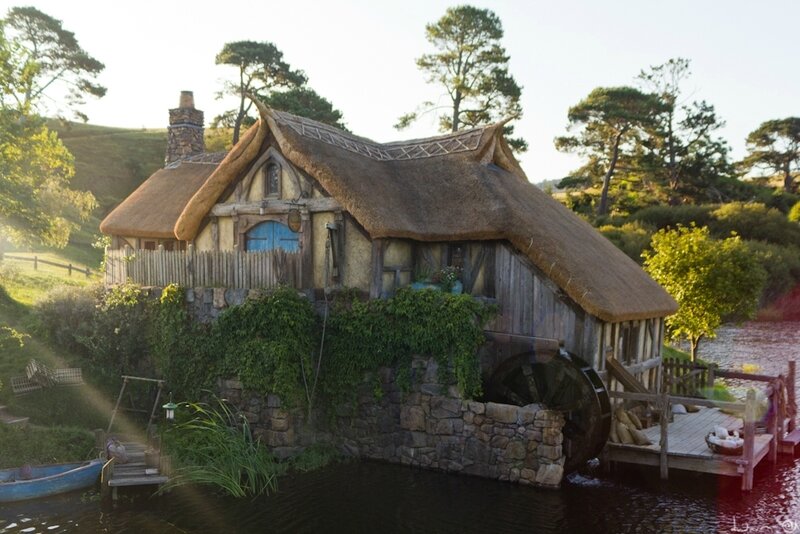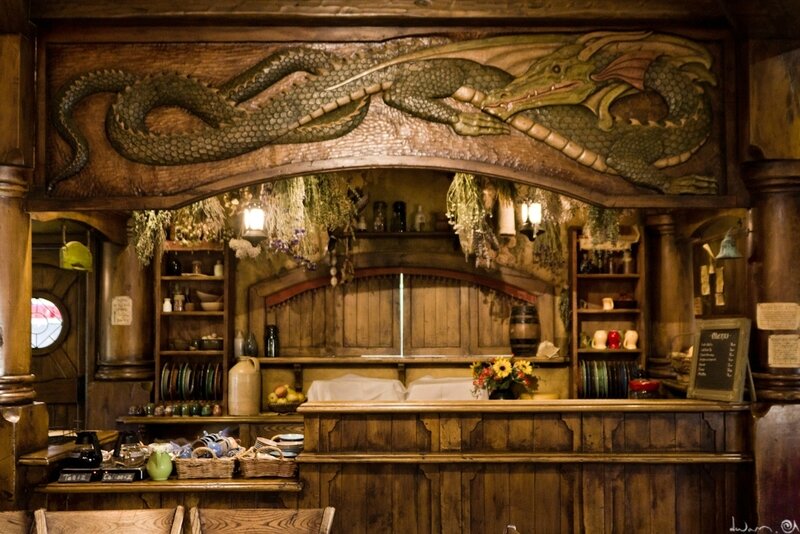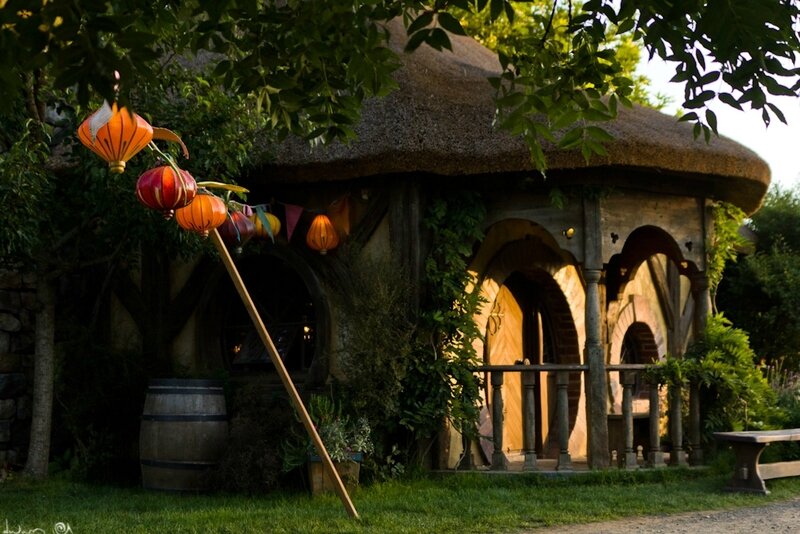 We found a cheap little campsite on a farm, for the night, but the night is wasted by the endless mooing of cattle from the nearby hills. Like every night we sleep in that tent above the car, I can hardly get any rest - too cold, too crowded, sore neck... Fatigue is piling up and my spirit gets down with it. I feel the end of the trip is near, and it's like if all my energy and enthusiasm are leaving me. 
Nous trouvons un petit camping super cheap à 5 minutes de là, mais la nuit est déchirée par les meuglements incessants des vaches d'une colline avoisinante. Comme chaque nuit dans la tente, je dors très mal - trop froid, trop serré, trop mal au cou. La fatigue s'accumule un peu trop et mon humeur s'en ressent. Je sens l'approche de la fin du voyage et c'est comme si toute mon énergie et mon enthousiasme me quittaient.
We still have a few days to explore so many gems in the North Island though ! See you soon for the penultimate part of these travel diaries. 
Nous avons encore quelques jours pour explorer les trésors de l'île du Nord, pourtant ! A bientôt pour cette avant-dernière partie du voyage. 
Read the rest :
Part 1 : Sydney, Auckland, Huka Falls
Part 2 : Tongariro, Koitiata, Wellington
Part 3 : Pelorus, French Pass, Riwaka Resurgence
Part 4 : Greymouth, Fox Glacier, Hawea Lake
Part 5 : Manapouri,  Doubtful Sound, Lake Marian
Part 6 : Wanaka, Rob Roy Glacier
Part 7 : Christchurch, Lyttleton, Kaikoura
Part 9 : Matapouri, Waipoua Forest, Opononi
Part 10 : Orakei Korako, Kai Iwi Lakes, Rangitoto