UK and US Entering Coronavirus Pandemic Storm Stage Triggering Market Panic Drops
"The Coronavirus is a like a bomb that just keeps exploding" says an Italian Doctor who warns if you don't get a grip early you soon lose control.
The UK and US continue to scramble to REACT to the unfolding Coronavirus pandemic as governments and health officials have effectively been sat on their asses for the WHOLE of February, DONE NOTHING! LEARNED NOTHING from China, LEARNED NOTHING from South Korea that I held up as a model for what the West should follow so as to prevent a catastrophic case fatality rate of as high as 3.5%! Whilst following South Korea's example offered a case fatality rate of about 0.64%, far less than China's as I covered in the following key articles:
This analysis updates the current state of the unfolding pandemic in the UK, US and world outside of China, comparing the actual trend trajectory against my forecasts in advance of my Coronavirus trend forecasts for April 2020 to give advance warning of what to expect in terms of market trends. 
A month ago I imagined that the likes of America's CDC and Britain's NHS would be better able to respond to the Coronavirus than China's police state, especially given that we had a good 6 weeks head start! Unfortunately with each passing week all I have seen is INACTION!
For instance in the UK the Cheltenham Horse Racing Festival that will likely be attended by 250,000 people has not been cancelled! This just shows how negligent the response of our governments has been! So despite Wednesdays UK Budget announcement of pumping an extra £30 billion into the economy to help mitigate the Coronavirus economic shock, coupled with Bank of England slashing interest rates from 0.75% to 0.25%, plus £250 billion being made available to the banking crime syndicate so as to prevent a financial crisis. All of this amounts to just half measures if events such as the Cheltenham festival continue to take place! That WILL be a BREEDING ground for the virus! hundreds, maybe thousands will become infected at this one festival who will go on and infect many thousands more, which suggests to expect explosive growth in the number of UK infected a week or so from now when people start showing symptoms.
The infections trend curves for the West were expected to be shallower and longer (green line) thus allowing for healthcare systems to be better able to cope with the seriously ill.
Unfortunately, as we are likely to find out that NO Coronavirus lessons have been learned, it's as though those in charge were completely oblivious to the Pandemic until this week. Thus the US and UK to a lesser extent look set to experience the red trend line, whilst all those singing China's praises at the moment fail to realise that China's pandemic will resume when they start to lift restrictions though with a less sharp peak (blue line). Which is why to expect a global recession for 2020, because the worst of the Coronavirus pain is yet to come i.e. we in the West are at the 2 month mark and following the red line trend trajectory so you can imagine how bad things are going to quickly get.
Whilst the the fools at the WHO have finally declared what has been blindingly obvious for some time that a global pandemic is underway!
Coronavirus Infections Outside China - 12th March 2020
The latest official infections data, which despite a proper record of Africa and the South Central America's numbers has the number of infected literally going parabolic, soaring by 7,200 to 45,411 to well above my trend forecast that projects to an official tally of 129,250 infections outside China by 31st March 2020.
Were this trend to continue into the end of March 2020 then the number of infected outside of China would total 358,000. An explosive rate of growth in numbers that at present is showing little signs of diminishing so does not bode well for what is to come for April 2020. Whilst the number of deaths could be estimated to be at least 2,300 based on a case fatality rate of 0.64% were the infections trend to persist into the end of March and probably closer to 11,000!.
US Coronavirus Infections Going Parabolic - 12th March 2020
My US trend forecast is for 13,000 infected by the end of March resulting in about 180 deaths. Though I have often warned that the actual number will turn out to be significantly higher because of lack of US action to take the Coronavirus seriously enough, where many are still shrugging it off as being not that much worse than the flu such as President Trump. Instead at best it is at least 15 times as deadly as the flu, and depending on quality of healthcare response could be 100 times as deadly. 
The latest infections data has the number of infected literally going parabolic, soaring by 355 to 1,329 to well above my trend forecast.
Were this trend to continue into the end of March 2020 then the number of infected in the US would rise to 26,300. So the US is in the very early stages of explosive growth in the numbers of infected which makes a mockery of President Trump's travel ban because it is TOO BLOODY LATE! The horse has already bolted! Instead the US should be busy testing citizens in their hundreds of thousands per day and quarantining those infected to SLOW down the spread because the numbers infected in the US are literally starting to EXPLODE on a parabolic curve! As I warned in my last analysis (Coronavirus Dow Stocks Bear Market - March and April 2020 Trend Forecast ) of the consequences of failure of the CDC to TEST patients likely already had 4000 people infected roaming the streets and shopping malls, stadiums and such infecting many others each day, and that was based on numbers 5 days ago since when the official number of infected for the US has probably more than doubled.
Whilst the trend now projects to 26,000 by the end of March, however the US being on a parabolic curve means that the number infected could easily exceed that number to total more than 40,000 infected! 
Similarly the number of actual deaths is now running at 4 times my forecast expectations that could project to 720 deaths by the end of March! So if you want to know why the stock market is plunging to new lows every other day than likely these are the numbers the stock analysts and traders are resolving to that they are attempting to discount..
UK Coronavirus Infected Numbers Going Parabolic - 12th March 
The UK government is finally starting to take the Coronavirus seriously adopting a series of panic response such as a £30 billion Coronavirus combating spending spree, trying to inflate an economy that is teetering on the brink of Coronavirus recession as global trade and consumer activity slows sharply.
The total number of infections recorded in the UK has now started to go parabolic, exceeding my trend trajectory by 173% due to increasing community spread. 
Though it has always been a case of reaction to events rather than taking proactive actions as illustrated by the fact that the Cheltenham Festival has gone ahead that in my opinion will result in hundreds of infections. That and there is no news on school closures which I was expecting to take place by now. So the UK government is still delaying taking action to prevent spread of the infection which ensures that the UK is heading for more than 5000 infected by the end of March, probably nearer to 8000.
Whilst the number of deaths is similarly running at about 170% of forecast that implies to expect about 150 deaths by the end of March.
The bottom line is that the actions being announced this week in the UK and US are too late to prevent a much worse pandemic than what should otherwise have been the case. So it is time to batten down the hatches and protect ourselves in which respect VITAMIN D can help lessen reparatory tract infections as I covered one of my recent videos.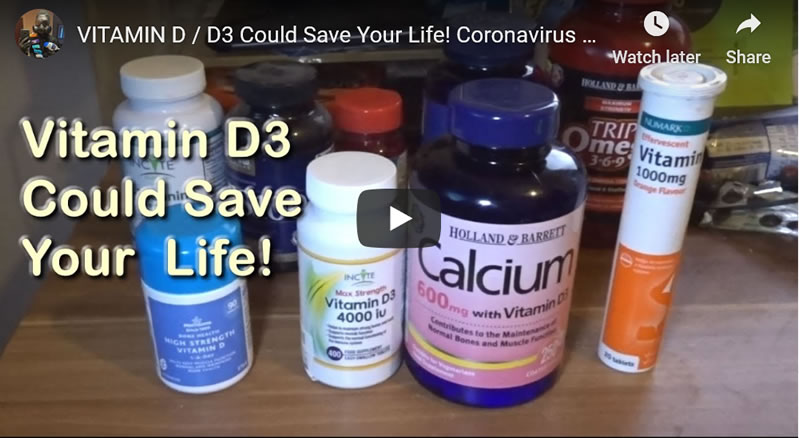 So perhaps the number 1 thing you could do right now to prepare yourselves to the coming Coronavirus storm is to bolster your immune systems by getting yourselves some Vitamin D3 from 25mcg (1000iu) strength upto 100mcg (4000iu). Also make sure you are buying D3 and not the less effective D2. Do that before entertaining other supplements and devices such as virus and bacteria killing UV-C lamps.
CoronaVirus Stocks Bear Market Trend Forecast Implications 
First a reminder of my stock market trend forecast going into April 2020 that expects PAIN going into late March before the markets start to discount recovery during April.
Coronavirus Dow Stocks Bear Market - March and April 2020 Trend Forecast 
Therefore my forecast conclusion is for the Dow to be targeting a VERY VOLATILE MOVE lower to between 22,500 and 23,00, with a risk of spikes or even flash crashes lower, that it could achieve any where from a matter of days to a couple of weeks, but definitely before the end of March.
After which I expect the Dow to enter into a volatile trading range as bargain hunting rally's give way to selling in the wake of more Coronavirus infection bad news as the markets basically attempt to ride out the worst of the Coronavirus storm as illustrated by my trend forecast graph. 
The bottom line is that the Stock market IS heading lower but that it will bottom WELL BEFORE we hear the worst of the Coronavirus Infections numbers in the news. Whilst the risks to the forecasts are to the downside, i.e. FLASH CRASH uncertainty. 
Normally I don't tend to do updates this soon after a trend forecast but the Dow has already fulfilled the downtrend objective, given huge day to day gyrations in the markets of the past 3 days! Worse still we have market conditions where an active trader just cannot SLEEP! Extremely difficult to trade because of huge pre-market open moves, for instance as of writing Dow futures are indicating 22,700. So even if I thought a short at 23,553 was a good risk vs reward bet, well the market has already moved over 800 points so it's buggered that potential trade! So if you tend to SLEEP, we'll when you wake up to catch the open it's likely already too late!
However, wild pre market moves lower can prove good for investing, i.e. for when Wall Street / Nasdaq open today given the futures we can expect to get much better prices for the likes of Google than last nights close of $1210, so easier to plan stock investment decisions for the following morning.
On the chart the Dow's traded down to 23,250. However, on the futures it's been below 22,700, which is where it's currently trading as of writing. 
The way I see it there are 2 competing factors here. 
1. TIME 
I expect the Dow to be weak for at least a couple of weeks from the 9th of March, so time gives the Dow plenty of scope to trade even lower. 
2. PRICE 
The Dow is heavily oversold, thus should be supported price wise, but the market is not being governed by technical's, it is being government by Coronavirus Pandemicmentals!
And therein lies the problem, for we are in for catastrophic infection and death numbers for the US and UK over the coming weeks that I am sure will result in seeing the blood drain from the faces of most of our politicians, many of whom continue to downplay the significance of what is about to unfold.
The next support level under 22,500 is 21,700. So all I can say at this point in time is that the downside is limited in price, as we are all about to head into the Coronavirus storm and we won't really know how bad things are going to get until we get towards the end of the March i.e. to what degree will the outbreaks shift towards the red curve than the green curve? Where my earlier analysis does not bode well for what is about to happen.
So once again batten down the hatches and try to look beyond the Coronavirus recession of 2020, to the sun lit uplands that the AI Mega-trend promises, where today we will once more see most of the top AI stocks trading at deep discounts to even their Q1 buying levels, let alone the crazy price highs of a few weeks ago. I for one will not be able to resist picking up more Google stock at prices well under $1200. 
Your analyst
Nadeem Walayat 
Copyright © 2005-2020 Marketoracle.co.uk (Market Oracle Ltd). All rights reserved.
Disclaimer: The above is a matter of opinion provided for general information purposes only and is not intended as investment advice. Information and analysis above are derived from sources and utilising methods believed to be reliable, but we cannot accept responsibility for any trading losses you may incur as a result of this analysis. Individuals should consult with their personal financial advisors before engaging in any trading activities.
---
Nadeem Walayat released this post 19 days early for patrons. Become a patron
By becoming a patron, you'll instantly unlock access to 55 exclusive posts
By becoming a patron, you'll instantly unlock access to 55 exclusive posts