UK House Prices Momentum General Election Results Forecast
Boris Johnson finally managed to persuade a frightened of the electorate Labour party to agree to hold a snap UK general election on the 12th of December 2019. An election that Johnson originally planned to hold Mid October ahead of the 31st October Brexit deadline, but extreme paralysis that has been the state of Westminster since June 2017 dragged out the painful process for another couple of months as Britain missed yet another Brexit deadline.
The latest poll of opinion polls (BBC) puts the the Tories on 41%, Labour on 29% and the Lib Dems on 15% with the trend in the Tories favour which the pollsters continue to go onto extrapolate into the Tories winning the election typically on a majority of over 70 seats as illustrated by https://www.electoralcalculus.co.uk
Only one problem, we've been here BEFORE! 
DEJA VU ! We have been here EXACTLY BEFORE ! As electoral calculus forecast from the day BEFORE the 2017 June 8th election illustrates that was typical of pollster forecasts.
So as Theresa May would say "Nothing has Changed, Nothing HAS CHANGED" Cut and paste opinion polling, cut and past forecasts, and likely a cut and past outcome! ALL of the opinion pollsters without exception got the 2017 general election very badly wrong, just as they had 2015 and 2010! Not to mention the EU referendum when on the night the polls called Yougov called it for REMAIN on 52% to 48% LEAVE.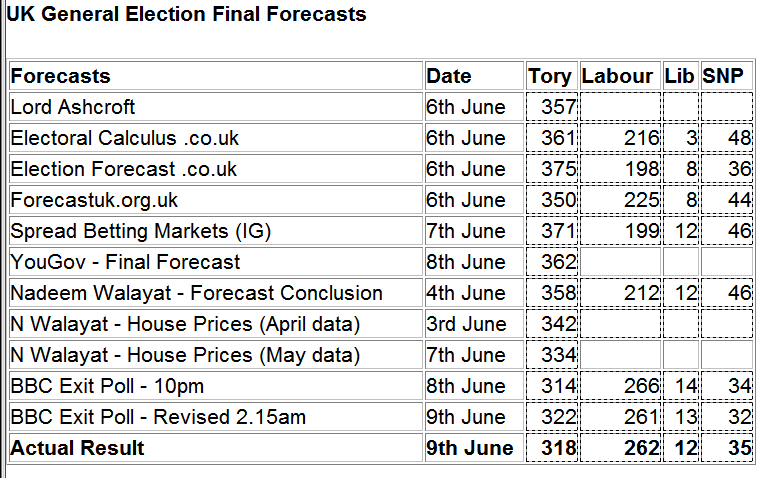 So just like 2017, 2019 is supposedly predictable, a definite shoe in for the Tories. Maybe they will get this one right, after all they have been wrong 4 times in a row, even a coin toss is right 50% of the time!
You know how it goes, if everyone's betting on one market direction than more likely than not the outcomes going to be in the opposite direction.
UK House Prices the Most Accurate Predictor of UK General Elections
My post post 2017 election analysis concluded in 9 key lessons learned for next time which reiterated UK house prices as being the most significant single predictor for UK general elections.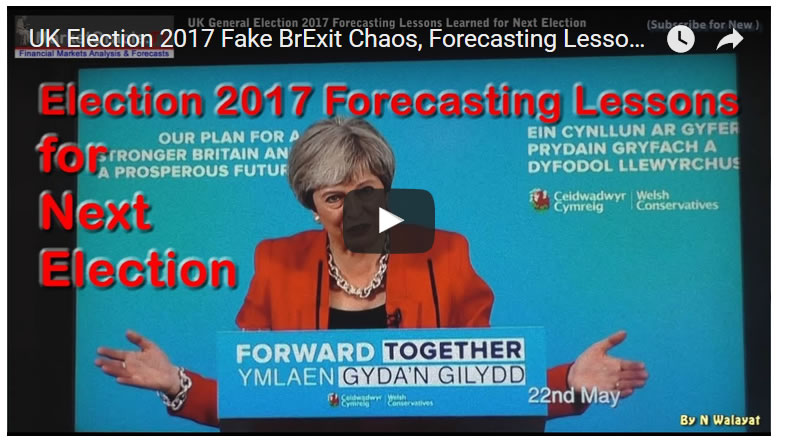 https://youtu.be/qL2sTLpeCGI (20 mins)
GE 2015
The polling establishment and the mainstream media had in unison proclaimed the 2015 general election was too close to call, one where the Labour and Conservative parties were neck and neck and where even if the Conservatives managed to pull a handful of seats ahead would still lose by default as they would not be able to form a majority even with Lib Dem support and therefore the Labour party appeared destined to win the 2015 general election, all of which was based on a year of opinion polls that consistently presented this consensus view right up until the polls closed!
As a reminder the consensus was for the Conservatives to win just 270 seats, where even the BBC's exit poll AFTER the polls closed at 10pm proved WRONG by forecasting the Conservatives would FAIL to win an outright majority on 316. 
Instead, the reality proved to be the exact opposite as instead of the Ed Milliband walking into No 10 we had David Cameron racing back to No 10 before the locks were changed and where this video explained in detail why the opinion pollsters got the UK general election 2015 so badly wrong which was contrary to my long-standing expectations for a probable Conservative outright election win.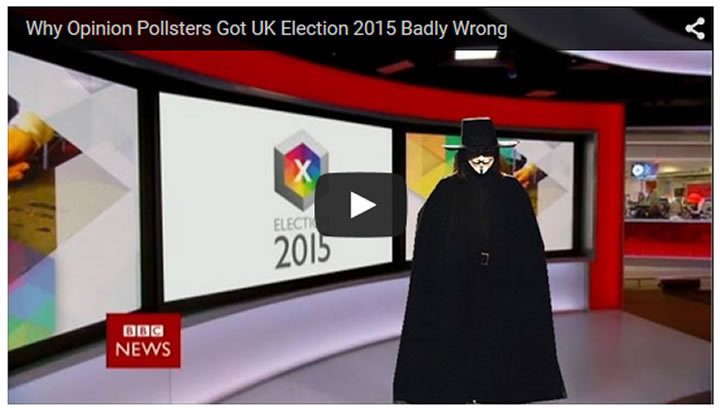 UK House Prices Accurately Forecast 2015 Election Result
My market skewed perception had accurately forecast the outcome of the UK General Election based on my house prices trend trajectory forecast a good 18 months BEFORE voting day!
30 Dec 2013 - UK House Prices Forecast 2014 to 2018, Inflation, Trend Trajectory and General Election 2015 
UK General Election Forecast 2015
In terms of the 'fixed' May 2015 general election, the implications of 10% per annum house price inflation for another 18 months, that builds on the housing bull market of the previous 12 months and on the embryonic bull market of 2012 are that probability strongly favours an outright Conservative election victory.
The following graph attempts to fine tune the outcome of the next general election by utilising the more conservative current house prices momentum of 8.5% which has many implications for strategies that political parties may be entertaining to skew the election results in their favour.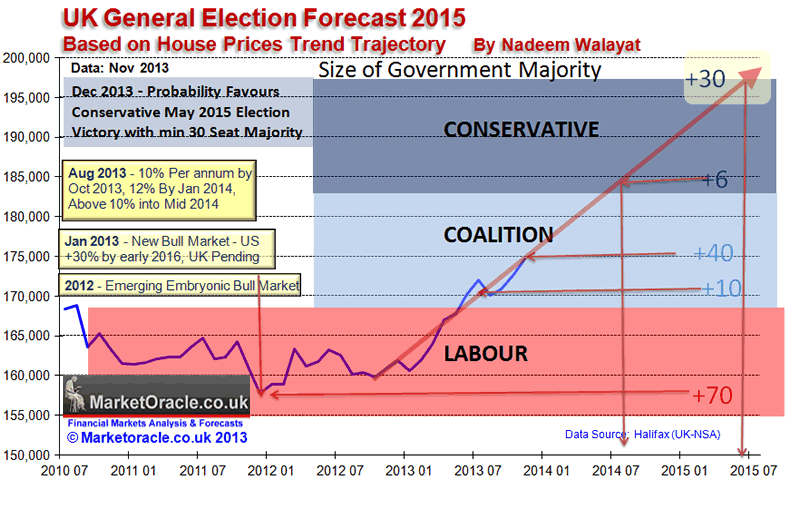 In conclusion a May 2015 general election at an average house price inflation rate of 8.5% would result in a Conservative overall majority of at least 30 seats. Therefore this is my minimum expectation as I expect UK house prices to start to average 10% per annum from early 2014 with my actual forecast converging towards average UK house prices breaking to a new all time high just prior to the May 2015 general election which would be a significant boost for housing market sentiment and thus the Conservative's election prospects.
UK General Election - 2017 
My UK house prices momentum analysis warned that expectations for a larger Tory majority was unlikely to materialise, instead the Tories were likely at best to gain as few as 10 seats.
UK House Prices Forecast General Election 2017 Conservative Seats Result  
UK House Prices General Election Forecast 
In terms of the forecast outcome, then it would have been marginally better to have the May house prices data which unfortunately won't be released until the 7th of June. However, indications from other indices such as Nationwide are that house prices were little changed for May. 
The key drivers of the house prices positive or negative wealth effect in this election are UK house prices over the following time periods.
The weighted average is in favour of the most recent data as having the most impact on voter behaviour.
Considering the 2 key UK house price momentum averages gong into the election of +2.6% for the year to date and +5.4% for the weighted average. Then these are net positives for the incumbent party i.e. the Conservative government 'should' increase its seats majority. 
However, house price momentum is FALLING so over the passage of time since the EU referendum the potential size of the increase in the Conservative majority has been gradually eroding i.e. it would have been much better for Theresa May to have called the election 6 months ago for say December or January when house prices momentum was rising towards 7% rather than for June 2017.
So the decline in house price momentum will result in a significant reduction in the size of the Conservative majority that will likely be nowhere near the likes of the 400+ seats that many in the mainstream press were bandying about just a couple of weeks ago!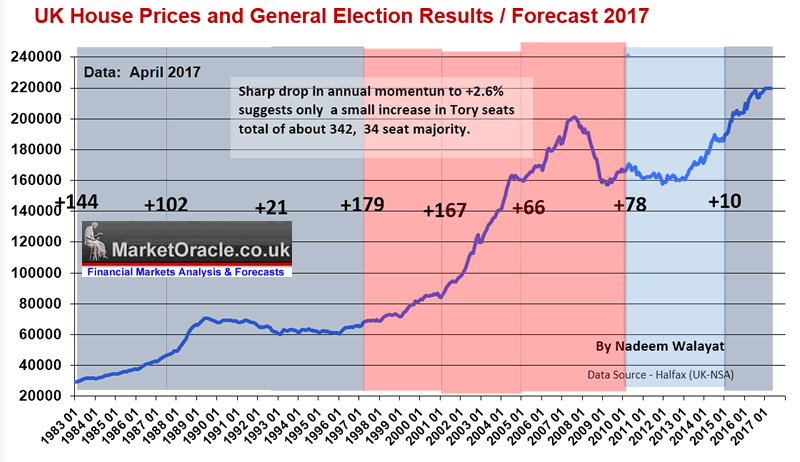 Therefore UK house prices momentum is forecasting barely a dozen seat increase the Conservatives seats total from 330 to about 342 seats that converts into a Commons majority of 34, which again is a far cry from the 100+ seat majority that some still persist on.
Forecasting the UK General Election 2019
So at the core of my extensive UK general election analysis is what the UK housing market is saying in terms of the probable outcome of the UK general election. Will Boris Johnson get his "Get Brexit Done" majority, or will Corbyn go into coalition with the Scottish Independence Fanatics who are hell bent on seeing Scotland commit suicide that would make issues such as the Northern Ireland border look like a picnic.
This is my first in a series of 6 pieces of in-depth analysis to conclude in a detailed seats per party forecast for the December 12th UK General Election that I aim to complete by the 3rd of December. 
UK General Election 2019 Analysis Schedule
UK House Prices Momentum General Election Forecast
Debt Fuelled Voter Spending Bribes 
UK economy Current State
Marginal Seats, Social Mood and Momentum
Opinion Polls and Betting Markets
UK General Election Forecast Conclusion and Market Opportunities.
It is now over a year since I last looked at UK house prices momentum ( November 15th 2018 Tory BrExit Chaos Cripples UK House Prices Bull Market - Momentum Analysis). Where whilst Westminister being paralysed as a consequence of Brexit chaos, nevertheless warned to ignore establishment fear propaganda at the time ahead of the then EU Exit date of 29th of March 2019, fear mongering right from the Bank of England downwards with Mark Carney literally warning of 35% CRASH in UK house prices during 2019. Instead momentum analysis concluded in expectations for a mild gain of about 3% for the year.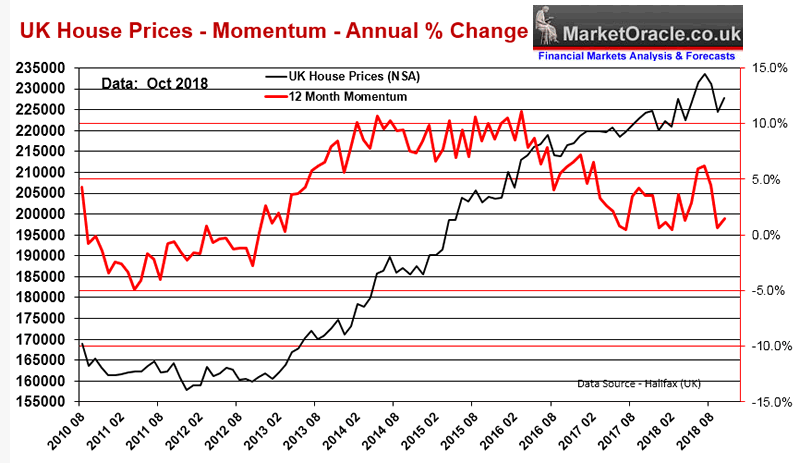 UK House Prices 2019 
Current UK house prices momentum coupled with the government and central banks hidden hand suggests to expect average UK house price inflation of about 3% for at least the first half of 2019 and likely for the whole of the year. Where the current trajectory is for UK house prices to peak at about 4% to coincide with BrExit day 29th March 2019 before dipping back towards zero over the subsequent months. Compare this to the likes of Bank of England Governor Mark Carney warning just a few weeks ago that UK house prices could fall by as much as 35% in a No deal BrExit! Regardless of what happens in terms of a deal or No deal BrExit a 35% drop is NOT going to happen! Most probable for 2019 is an average gain of about 3%, which I will fine tune further over the next few weeks.
So a year on, and all of the doom in the run up to the start of 2019 and since, the UK house prices graph shows that average prices have NOT CRAHED by 25%! But instead trended inline with my expectations towards a net gain of about 3% on release of December data. With house prices currently standing up on the year at +2.3%.
UK House Prices Momentum Update
UK house prices momentum since mid 2017 has settled into a trading range of between +5% and 0%. This pattern is highly revealing for it suggests the government and the Bank of England's hidden hand at work towards preventing UK house prices from going NEGATIVE on an annualised basis. As negative house prices, i.e. a bear market would trigger a further loss of confidence in the UK economy likely soon accompanied with an economic recession.
Therefore despite the chaos of BrExit, it is CLEAR that the Government and the Bank of England are determined to do their utmost towards preventing the UK economy from tipping over into a BrExit recession, towards which keeping UK house prices positive on an annualised basis is one of their primary mechanisms towards avoiding a BrExit recession which so far they have succeeded in doing.
UK House Prices General Election Forecast 
Going into the election we have falling momentum, at +1.9%, that could dip further on release of November data on the 6th of December to perhaps +1.4%, near half that of 2017. With a similar picture for the weighted average of +2.9% against +5.4% for 2017. 
In 2017 house prices momentum analysis resolved in a forecast of 330 to 342 seats, with the core projection of 334 seats. Which is set against an outcome of 318 seats for the Tories as clearly there were a number of factors at play during 2017 (Brexit Chaos) that are likely to repeat to some degree this general election which is why this analysis forms part of a series of 6 as lessons learned from 2017.
To further complicate matters this year was the mass sacking of Tory MP's by Boris Johnson which briefly took the number of Tory MP's down to 297. Though since 11 have been let back into the fold to thus stand at 308, with most of the rest stepping down, and perhaps 1 or 2 Tory rebels being able to fight and win. Thus the Tories are effectively starting from a base of 315 MP's.
This analysis resolves in the Tories marginally gaining seats at the general election, by increasing their number of MP's from 315 to about the half way point to 330 of 2017 (330-315) i.e. 322 seats. Which is a far cry from that which the opinion polls and betting markets are currently resolving to a range of between 342 to 376 seats.
Therefore the first and most important element of my UK General Election 2019 analysis concludes in a forecast for the Conservatives to win 322 seats, and thus fall short of an overall majority by 4 seats.
Whilst this analysis will continue in a further 5 pieces of in-depth analysis. However, I can safely say that my final forecast is unlikely to deviate by more than +/- 10 seats from where UK house price momentum analysis has concluded. Namely that it is highly probable that the Tories are heading for another minority government. 
Will Tories on 322 seats be enough to get Brexit done?
Well as Sin Fein don't take their 7 seats at Westminster, and then there are the speaker and deputy speakers who don't vote, so the Tories could just manage to have a working majority with as few as 321 MP's. Which is where they actually would stand if they won 322 seats.
Market Implications
This is not the outcome the markets are expecting and therefore the British Pound could take a hit. Whilst any FTSE reaction will likely prove short lived once the markets digest the fact that the Tories could just manage to weakly govern without the DUP.
Whilst the betting markets are expecting the Tories to get well over 340 seats as Betfair illustrates. That on 320-329 is currently offering a potential £7 profit for every £1 risked (£8 returned). Though remember gambling is GAMBLING!
Whilst the spread bookies such as SpreadEx are trading at 347. 
So the starting point of my extensive UK general election analysis is what the UK housing market us saying in terms of the probable outcome. Will Boris Johnson get his Get Brexit Done majority, or will Corbyn go into coalition with the Scottish Independence Fanatics who would make the Northern Ireland border look like a girls scout picnic compared to what would follow an Scottish Independence vote. So far we appear to be heading for a minority Conservative government.
My next analysis in this series will look at the debt fuelled spending voter bribes of both main parties and to what degree they are likely to convince the electorate, especially considering the Corbyn socialist revolution that has taken Labour 2017 spending bribes and then doubled them for 2019!
Your Analyst
Nadeem Walayat 
Copyright © 2005-2019 Marketoracle.co.uk (Market Oracle Ltd). All rights reserved.
Disclaimer: The above is a matter of opinion provided for general information purposes only and is not intended as investment advice. Information and analysis above are derived from sources and utilising methods believed to be reliable, but we cannot accept responsibility for any trading losses you may incur as a result of this analysis. Individuals should consult with their personal financial advisors before engaging in any trading activities.
By becoming a patron, you'll instantly unlock access to 61 exclusive posts
By becoming a patron, you'll instantly unlock access to 61 exclusive posts