Under Sink Storage. How to Build and Install a Full Extension Drawer.
The space under your sink is prime real estate for storage optimization. The method I used for installing this drawer is easy and will work with any cabinet you want to retrofit. The best part is that the slides for the drawer and the cabinet can be installed in the shop so you don't have to work in an awkward, painful position under the sink. Full how-to and plans ►►
http://bit.ly/20jkdio
Pledge $0 or more per month
Everyone
Pledge $0.01 or more per month
Patrons Only
Me-Mo's $2
$2 or more per month

∙ 252 patrons
At
$2 per month
 you are helping me produce the WWMM projects and plans.  You also get:
My sincere appreciation. I started WWMM with my focus on viewers and interacting with you helps me stay focused.
Access to my Patreon feed for exclusive WWMM news and announcements. 
If I am ahead of schedule, I'll also post my Friday project a day early.
The knowledge that your contribution has the pay-forward effect of reaching people who are unable to pledge and helping me to inspire them to make things. 
AD-FREE videos. Enjoy the exact same video the public sees on You Tube for free, but without ads, sponsored spots, or any other monetization. 
Music for Mere Mortals by Per Almered. Get an album with all the awesome music from the show! (You will see a download link in your activity feed every month.)
 An official, signed Woodworking for Mere Mortals Supporter Certificate you can print out and hang in your shop or office. (You will see a download link in the activity feed every month.)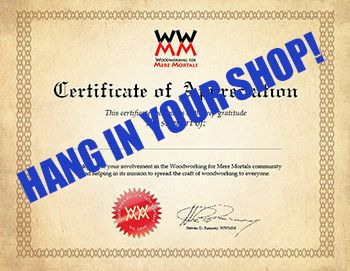 Me-Mo's $5
$5 or more per month

∙ 120 patrons
For $5 a month you get:
All of the previous level's rewards :)
Me-Mo's $10
$10 or more per month

∙ 15 patrons
 For
$10 a month
you get:
All of the previous level's rewards :)