US and UK Coronavirus Pandemic Projections and Trend Forecasts to End April 2020
This analysis seeks to conclude in detailed trend forecasts for US and UK Coronavirus Infections and deaths into the end of April 2020. The importance of which being to act as indicators for the primary driver for stock market trend since Mid February. Where as was the case with my preceding forecasts into the end of March, deviations against the Coronavirus trend warned of worse prospects for stock prices as the UK and US FAILED to follow the South Korean model of containing the pandemic, instead either proved completely incompetent in doing nothing despite having had well over a months advance warning of what to expect. Or perhaps by design so as to allow the virus to infect the general population as it was deemed to be impossible to prevent in the long-run given the movement of people, goods and services and so a quick sharp deadly shock was deemed to be the most cost effective solution. 
Whatever the thought process at work, the US and UK governments have now sown the seeds for a far worse Covid-19 Pandemic than I had originally imagined would transpire over a month ago, when for instance the UK had just 9 cases and no deaths! With the stock market indices still trading at new all time highs. Instead, the virus was repeatedly allowed to enter into our nations and grab a foot hold, silently, quietly infecting hundreds then thousands, all whilst the likes of the CDC delayed procuring tests that worked! With similar behaviour by Public Health England, why?
Was it because the dark pools of capital were busy placing short market bets because they understood the consequence of the governments failing to act competently would encourage an exponential curve for the pandemic?
Many big players definitely got VERY rich on the Corona Crash! Let's hope the clueless investigative journalists who did not see this trend coming are able to dig deep into what transpired in the lead up to Coronavirus Crisis, to find out exactly who got paid to do what? Of course in our crypto currency age it's going to be difficult to track the transactions. But make no mistake, THIS OUTBREAK IN THE UK AND US WAS NOT INEVITABLE! BUT THEY CHOSE NOT TO DO ANYTHING FOR A WHOLE MONTH! WHICH EVEN INCLUDED THE CDC SABOTAGING THEIR OWN TESTS! I am no conspiracy theorist but the evidence speaks for itself. 
The Dark pools of capital have once more been at work looking to capitalise on unfolding events that they have attempted to prod in the direction that generates the most profit after stealthily having gained market exposure during February, for instance by encouraging proponents of herd immunity to infect government decision making processes so as to maximise Coronavirus Infections and market chaos just as they had done in the lead up to the stocks bear market bottom of March 2009, by promoting fear whilst accumulating stocks, all whilst the perma clueless were busy propagandising Dow heading 50% lower.
15th March 2009 - Stealth Bull Market Follows Stocks Bear Market Bottom at Dow 6,470 
The bursting of the bubble after the pools of manipulated monies have taken their cash off the table has subsequently wiped out the value of the all stocks to bargain basement levels. However this now means that the unregulated hedge funds are at it again accumulating towards the NEXT mega STEALTH bull market. Why is it a stealth bull market ? Because everyone, and I MEAN literally everyone is CALLING THIS A BEAR MARKET RALLY TO AVOID BUYING INTO ! Everyone has given up. When in effect THIS IS HIGHLY PROBABLY THE MARKET BOTTOM !
This is how the rich get richer, ultimate ruthlessness. Even prepared to sacrifice millions in the pursuit of easy money trends and so the dark pools of capital saw an opportunity for huge profits if only the CDC and its kind failed to do their jobs, go to sleep for a month so that the virus could stealthily infect and spread to spark financial panic. Remember the $600 trillion derivatives market is ZERO SUM GAME! For every loser there is a winner, which given the 33% stock market crash then there are going to be a lot of BIG WNNERS out there! 
Who Sold it SHORT near the top and then WIll Buy it LONG near the bottom.
Existing Coronavirus Forecasts into End March 2020 
My existing forecasts were concluded at a time when there were literally a handful of cases in the UK and US which gave valuable insight into the relative strength or weaknesses of the US and UK actions towards containing Coronavirus outbreaks, my assumptions at the time were that the UK and US would learn lessons from China and South Korea's and so should ne primed for better outcomes. 
However, as you are likely aware by now that both nations have been found greatly lacking as became apparent with each passing day that the governments were basically sleep walking towards a Coronavirus apocalypse of sorts that manifested itself in an ever more severe stocks bear market that materialised long before the number of infections started to run into the thousands as forewarned by the Coronavirus deviation against the trend forecasts.
UK Coronavirus Infections Trend Trajectory Worse than Italy 
The total number of infections continues to exceed my trend forecast on a parabolic curve, exceeding my forecast by 350%. My original forecast as of 14th Feb 2020 was for the number of infections to target a parabolic trend from 9 at the time to 5000 by the end of March 2020. The actual trend trajectory now suggests that the UK is heading for more than 18,000 officially recorded infected numbers by the end of March.
Whilst the number of deaths at 233 exceeds my forecast by 1000%, which puts Britain on a worse trend trajectory than where Italy was at this stage barely 2 weeks ago! So does not bode well for what is about to transpire that I am sure will spark even more panic amongst the general population than the panic buying we have witnessed this past week as panic buyers have stripped supermarket shelves bare.
The current deaths tally now implies that the UK could be heading for over 1000 deaths by the end of March 2020!
So it looks like "Herd Immunity" is no longer on the menu, though following that plan up until the end of last week means that the damage has already been done. Where I now would not be surprised if Britain's death toll over the next 3 months exceeds 50,000! Never mind the chaos of having upwards of 1 million ill people ill all trying to get access to the NHS which would be in a state of collapse. 
ALL of which was avoidable as South Korea illustrates, not only that but Britain had advance warning from China, South Korea and then Italy of what was coming so had plenty of time to prepare for, instead Boris Johnson's government listened to mad scientists with their herd immunity doctrine.
Thus the UK Government has been giving advice to the elderly and weak to self quarantine themselves for the next 3 months, as I suspect the "herd Immunity" protocol has not really gone away, instead just watered down a little so as to make the death toll lower and more palatable to the general population than anything in the region of 400,000 to 1.4 million that the UK was heading towards. 
US Coronavirus Infections and Deaths Going Ballistic 
In determining how bad things are and how bad they are likely to get then I turn to my US trend forecast of 29th of February which modeled US being competent in handling the pandemic and thus resolving towards an outcome similar to that of South Korea rather than China's. Forecast expectations for a trend to 13,000 infected by the end of March resulting in about 180 deaths. Which was expected to deliver a bear market of sorts resulting in buying opportunities in my Top 14 AI sector stocks.
However with each passing day and Coronavirus trend update, I increasingly became alarmed by what was unfolding which was turning out to be many times worse than forecast primarily due to western arrogance that mature democracies were far more capable at handling a little bug than a totalitarian state such as China, but instead of acting DID NOTHING! Incredulous!
The latest data shows that both US infections and deaths are now going ballistic! on an infinitely steeper trend trajectory than forecast. With little sign that measures enacted to date are having any impact which does not bode well for rest of March and April.
In terms of trend trajectories, US Infections of 22813 are 700% of forecast (3280) by this time, which as I warned a week ago suggested to expect over 40,000 infected by the end of March. However what's even more worrying are the number of deaths, where 288 is now 600% of my forecast of where the US should be by now were it handling the pandemic in a competent manner, which now suggests to expect over 1200 deaths by the end of March! That's in less than 9 days time! And the trajectories suggest far worse for April.
And if that was not bad enough, today we had shocking news out of Italy being hit with 793 deaths in ONE DAY! A warning of what can happen even if a nation delays taking firm action for just a few days! Which both the US and UK are guilty of who basically did nothing for the whole month of FEBRUARY!
Herd Immunity and Flattening the Curve
The most probable reason why Britain and the US did nothing during February was due to both nations apparently following the "Herd Immunity" Protocol, which requires approx 60% of the population to become infected so that the virus is no longer able to spread to the remaining population as confirmed by the Chief Scientific Advisor to Boris Johnson's Government who publically stated this objective but refused to discuss the implied death toll.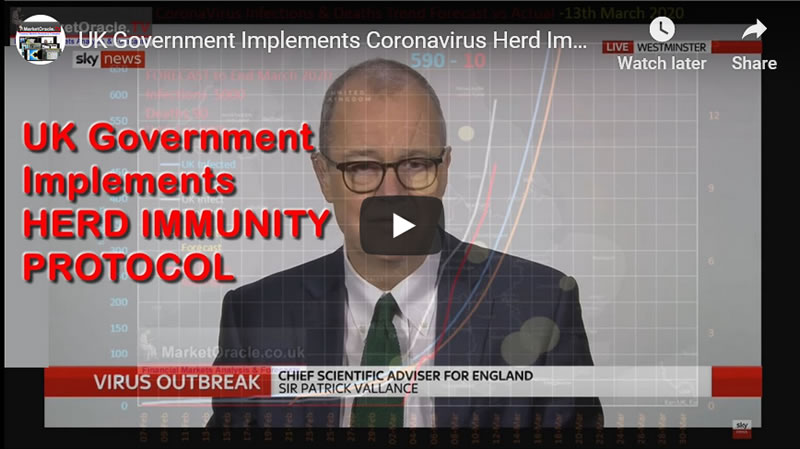 At even at a very conservative case fatality rate of 1% this would imply to expect 400,000 UK DEATHS! That is what likely the British government were planning for! Where an actual far higher case fatality rate of 3.5% would resolve to 1.4 million UK deaths! And this explains why the likes of the Cheltenham Festival went ahead UK schools remained open until the 20th of March.
The following graph illustrates various viral pandemic curves, where the red line is if little or no controls in terms of preventing spread of the virus are taken as was the case for the UK until the week beginning the 15th of March. With the Green line of what is achievable if significant measures are taken. Whilst the blue line is what is likely to happen in China, given that it nipped it's pandemic in the bud through use of extreme shutdown measures, which implies to expect the virus to return later this year in China, though at a much shallower trend trajectory and resulting peak, unless China aims to keep the country largely locked down until a vaccine or other effective treatments become available.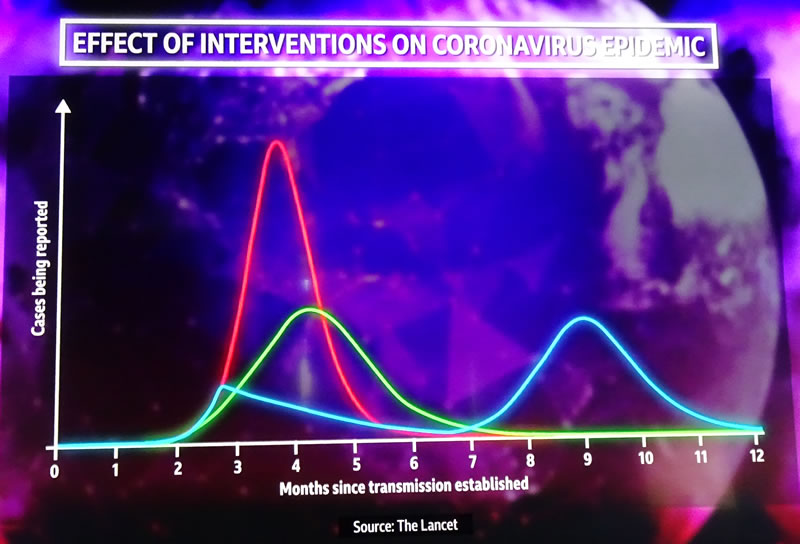 So given the news out of the UK and US this week, what is likely to happen next?
Well clearly if the trend continues then the UK and US are heading for a near total lock down which means the current exponential parabolic infections curves are unlikely to be sustained i.e. there is usually a 2-3 week lag between cause and effect of measures and the seriously ill showing up in hospitals.
What is the most probable outcome for the US and UK?
I think we are going to see a series of waves with diminishing peaks during the year as the government oscillates between lock downs and relaxed restrictions on the movement of people to manage the spread of the virus so that the healthcare system are better able to cope with the high numbers of seriously ill patients with the objective of building herd immunity in the general population, all without the heavy death toll that for Britain would have translated into at least 400,000 upto as many as 1.4 million deaths, with the US figures estimated at about 5 times Britains numbers, i.e. at least 2 million and to as high as 7.5 million.
So where this analysis is concerned we can discount the more extreme fear mongering projections that have become prevalent in the mainstream press such as the New York Times (https://www.nytimes.com/2020/03/13/us/coronavirus-deaths-estimate.html) reporting CDC projections resolving to between 200,000 to 1.7 million American deaths this year from Covid-19. As the governments are just not going to allow for such death tolls to take place hence each passing day we are seeing ever tighter restrictions on the movement of people being announced which are trending towards enforced lock downs Italy style! So as to PREVENT where the UK and US were heading.
In this respect the NHS has started sending out letters to to 1.5 million vulnerable people warning them to self isolate for the next 12 weeks, which gives a good indication of how long the current cycle of infections is likely to run for before it dissipates back into the 'safe' zone i.e. there are going to be a lot of infections taking place over the next 2 months then tapering off in the third month, with the actual number of infected likely to run at 40 times the official number of those testing positive in the UK and a similar number for the US as both nations are taking the controlled herd immunity approach rather than containment.
So take this as a warning that if you really want to avoid becoming one of the infected herd try to isolate yourselves for at least the next 2 to 3 months, to get through this initial Big Wave of infections that carries the highest risk of death due to inability of the healthcare systems to cope
Case Fatality Rate Analysis
Lack of testing is the Achilles heel for most western nations as manifested in the percentage that test positive. For the lower the % testing positive then the greater the likelihood a nation has a grip on the pandemic. In which respect Italy despite having conducted more tests than the US and UK combined, nevertheless the fact that 26% test positive illustrates that Italy is STILL not testing enough to identify and isolate. Which goes a long way to explain what Italy continues to experience.
Italy CFR and Infections Trend Analysis 
Italy is in full blown Coronavirus crisis mode that just posted a record 793 deaths! Higher than the worst that China reported (fake numbers). However, where Italy is concerned it's not all bad news, as momentum in the rate of new infections has been slowing for some time, which suggests that by early April Italy's rate of infections should have started to flatten out at about 130,000 infected. So whilst there is a lot more pain to come i.e. Italy's infections numbers are likely set to double once more, nevertheless there is light at the end of Italy's dark tunnel.
Still Italy's CFR of 9% is shockingly high! i.e. implies to expect over 12,500 deaths and it remains to be seen to what extent the CFR could worsen yet given that Italy's healthcare system already being overwhelmed let alone potentially face a more than doubling in the number of infected patients by Mid April.
So Italy is a warning of what to expect if a nation does not act quickly to contain and manage outbreaks South Korea style the consequences of which are that severe Panic actions are implemented to HALT the pandemic, such as shutting down the whole nation, and that there is a LAG of about 2 weeks between measures taken and results in slowing the progression of a parabolic pandemic. Thus Italy's total lock down actions this week will manifest in early April by which time the total infected in Italy could reach 130,000 before starting to flattening out towards 140,000. 
Thus the big question mark is can the US and UK avoid becoming Italy 2.0 for both have been slow to act where the UK 2 weeks from now could be seeing an CFR of 9% and the US 4 weeks from now. Or with advance warning act to pull off a miracle by resolving towards South Koreas 1% that so far rather than being the norm is turning out to be an outlier as most nations are resolving towards a CFR of between 3% and 6%.
In terms of infections trend, if the UK and US followed Italy's curve then the UK would start to flatten out in about 4 weeks time and the US in about 6 weeks time. So around Mid April for the UK and early May for the US. However in terms of the rates of infection, I am expecting both nations to be at an advantage to Italy and should in relative terms resolve to lower rates of infections. For they have NO excuse NOT listening to the messages screaming and crying out of Italy!
US and UK CFR by End April 2020.
The US AND France are on a similar trend trajectory of under testing, thus as I have been warning for a month now that the US has probably a huge pool of infected, circulating and doubling every 3 or 4 days. That I estimated 2 weeks ago to be about ten times the official number to total at least 4000. Where US current tally of 23,000 suggests that the actual number of infected could easily exceed 250,000, more than ten fold the recorded infected number due to the fact the US IS STILL NOT TESTING ENOUGH! 
110,000 tests to date is a mere pinprick, the US should be testing that number EVERY DAY!
Thus the current US CFR rate of 1.26% that many are cosying upto for comfort is NOT RELIABLE! Not when we look at Italy, France and the UK amongst which the US is most likely to emulate rather than South Koreas 1.17%
So people in the United States should not be lulled into any false sense of security by today's low CFR rate as it is purely as a consequence of continuing gross negligence in testing. The only advantage the US has time, maybe 2 weeks ahead of the UK and 4 weeks ahead of Italy, so at an advantage to act now to prevent catastrophe and avoid Italy's' fate, though with over 250,000 infected roaming the streets a lot of deaths are already baked into what happens over the next 2 weeks.
Therefore this analysis resolves in the US targeting a CFR rate of 4% when the US curve starts to flatten during early May. Though this means the CFR will be higher at the April 2020, probably at about 5%.
Whilst the UK's CFR of those tested rocketed from 1% to to 4.4% and given my earlier analysis is on a steeper trend trajectory than Italy! So implies a just as bad outcome as Italy! However the UK still has 2 weeks to ACT, and this week we saw the Government panic to act. Nevertheless the UK is heading for a CFR spike that could be as bad as Italy's 9% before it starts to flatten out and moderate towards the end of April as the UK has wasted valuable time and acted LATE, which will cost lives. So it is highly probable that UK's CFR by end of April will be at about 6.6%.
UK Coronavirus Trend forecast Into End April 2020
The UK government started the ball rolling in announcing a number of measures in attempts at slowing the parabolic curve that the pandemic was on, first of which was to close all schools as of Friday 20th March, which in my opinion was about 2 weeks later than they should have closed the schools. Still in terms of pandemic time line it is about 5 days ahead of when Italy closed all of their schools, so 'should' help resolve towards a better outcome.
The second announcement was to order all restaurants, pubs and clubs to close. Again a positive development and ahead of the curve in relation to where Italy was. However, just firmly asking the British people to stay at home has largely fallen on deaf ears as most have carried on as usual given the weekends mad rush to enjoy the sunshine by flocking to parks, countryside and seaside in their millions! Huge crowds busy mingling and infecting one another which does not bode well for what to expect in terms of infection numbers 1-2 weeks down the road.
So the key mistake that the UK has made is NOT to order a national lock down on the 20th of March. And with every day that Britain delays announcing a lock down is going to result in a steeper curve, thus Britain needs to announce a national lock down immediately as delaying it by 4 or 5 days will just put Britain precisely on the same track as Italy.
So I expect an IMMINENT UK national lock down. Which like earlier school closures than Italy should give the UK a small advantage in terms of pandemic outcomes. BUT first they have to actually announce the lock down which as of writing there is little sign of, perhaps the lock down will come Monday or Tuesday? Anyway each day delayed takes the UK one step closer to becoming Italy.
So the UK Government after following a policy of herd immunity has finally acted to subdue the inevitable surge that is already baked into what is to transpire over the next 2 weeks, so this weeks actions will impact on what to expect for April rather than for the remainder of March which is going to be pretty bad as the number of officially recorded infections are set to soar, with likely hidden infections running at least X30 the official numbers, which means there are going to be a lot of infected people out there hence the need to lock down.
The UK is literally sat at the very start of the stage where hospitals start to become quickly over run due to lack of capacity despite having had near 8 weeks to prepare, the NHS and government basically did nothing until they started to witness the catastrophic unfolding in Italy earlier this month. 
Whilst lack of action in preparing the NHS won't effect the numbers infected, other than the fact that the UK is not testing enough people thus the actual number of infected will likely be more than X20 the official number, I could guess at X30 i.e. today's 5000 resolves to about 150,000 infected, which translates into about 7,500 seriously ill patients of which 2,500 would be critically ill, all heading for the NHS that perhaps has beds for only 2,000 critically ill, given that the NHS is planning to be up and running with 5,000 critically ill and 30,000 high dependency beds by 15th of April! Instead they will likely need that number long before the end of this month!
So this suggests Britains case fatality rate of 4.4% is going to rocket upwards and beyond Italy's 8.8%. In fact the UK could be about to witness a shockingly high CFR of more than 10%! WORSE THAN THAT OF ITALY! Before it starts to moderate by mid April as more beds come on stream and likely the army is deployed.
So I expect the situation in the UK to become pretty disastrous by the end of March and remain so until around Mid April with a case fatality rate in the region of 9% of reported cases before slowly moderating into the end of April.
In terms of the number infected, well the UK is pretty much on a similar trend trajectory as Italy where the existing trend trajectory is for 17,000 by the end of March, which suggests that the UK is gong to trend to more than 100,000 by the end of April, and probably exceed Italy's total by a good 20,000 given that the temperatures are colder here with less sun, so the virus can survive for longer on surfaces. Therefore my final conclusion is that the UK is targeting a trend to 123,000 officially recorded infections by the end of April 2020, which on a CFR of 6.6% resolves to 8,100 deaths, that compares against today's figure of 233 with the trend trajectories as illustrated by my following forecast graph. 
This will likely result in herd immunity amongst 3.7 million people (30X official number testing positive), so quite some distance form the 40 million that the UK was previously heading towards. Which also confirms that there will be several more pulses of infections as lock downs are replaced but are likely to be less extreme as each subsequent wave will result in greater herd immunity and thus make it harder for the virus to spread, so this first wave is likely to be by far the worst in terms of the number of deaths as more people end up in hospital sooner as there is nothing had been done to slowdown the spread of the virus and no one had any immunity in the population to slow it's spread..
United States Coronavirus Trend forecast Into End April 2020.
The US has had a major advantage over the rest of the western world, which is that it has had a LOT MORE TIME TO PRPARE FOR THE PANDEMIC, Unfortunately the US only really started to actually act in any significant manner when the stock prices started to collapse early March. However, that still gave the US a good head start on the likes of the UK, which is reflected in the US's low CFR rate of 1.3%. 
Which suggests that the US DOES have a chance to get a grip on the pandemic and veer more towards South Korea then Italy or Britain where the pandemic is more less now baked in. 
Whilst federal government actions has been found lacking the state governments such as California and Florida have announced lock downs for all of their citizens this week, totaling 75 million americans, with likely more states to follow. Though the broadcast media reports that many people are flouting the lock downs. However this gradual ratcheting up of measures 'should' slow down the spread of the virus, and also suggest to expect a lower CFR.
The existing forecasts US trend trajectory into the End of March puts the US on 40,000 infections and 1200 deaths. However actions announced this week and more expected over the coming week are likely to dampen the parabolic curve that the US is currently on, slowing it's progress greatly by the end of April..
Therefore my US infections trend forecast is for the US experience approximately half that which Italy has experienced. Which translates into 531,000 officially recorded infections and 26,550 deaths resolving to a CFR of about 5% by the end of April as illustrated by my trend forecast graph.
As for the actual number of infected, well as is the case for the UK, then the real number of infected is likely to be many times the official number, at least X15 higher which by the end of April would imply 8 million infected in the US, and possibly as high as X30 or 16 million. Whilst the actual number today is probably between 350,000 and 700,000 which is why the UK abd US are on a parabolic curve due to the mass of hidden infected who will make their way into the official statistics over the coming week as more are TESTED! And whilst a death toll of 26,550 will be painful. However, my forecast conclusion is far removed from some of the prominent doom merchants out there that start at 200,000 and rise to 1.7 million deaths! 
Also I expect subsequent pulses to result in far fewer deaths as the pandemic waves are better managed.
Vaccines and Treatments
From what I understand it is relatively easy to make a vaccine, and so literally dozens of vaccines have already been made. However, it could take as long as a year for the testing to make sure the vaccine does not end up doing more harm than good, though I suspect we'll see at least one start being administered widely before the end of the year.
In the meantime there are promising noises around several possible treatments such as Hydrosychloroquine that could impact on reducing the consequences of future pulses.
CoronaVirus Forecast Stock Market Trend Implications 
My next analysis will convert the Coronavirus trend trajectories into probable stock market trend forecast that I aim to complete later this week.
In the meantime my primary message remains unchanged in that I view this coronavirus bear market as being TEMPORARY.
https://www.patreon.com/posts/coronavirus-dow-34721016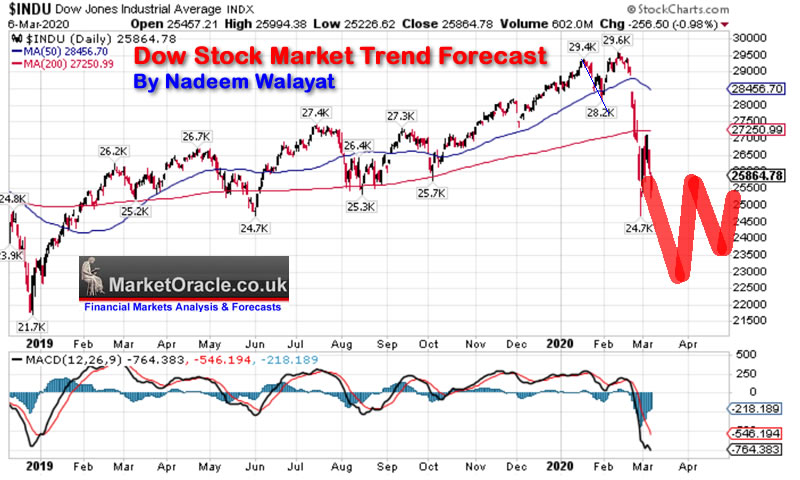 And thus a buying opportunity for AI sector stocks.
https://www.patreon.com/posts/us-and-uk-trend-34969504

Your analyst hopeful that the Coronavirus first wave will be contained to allow for treatments to be developed that will negate the seriousness of Covid-19 beyond the first wave..
Nadeem Walayat 
Copyright © 2005-2020 Marketoracle.co.uk (Market Oracle Ltd). All rights reserved.
Disclaimer: The above is a matter of opinion provided for general information purposes only and is not intended as investment advice. Information and analysis above are derived from sources and utilising methods believed to be reliable, but we cannot accept responsibility for any trading losses you may incur as a result of this analysis. Individuals should consult with their personal financial advisors before engaging in any trading activities.
---
Nadeem Walayat released this post 10 days early for patrons. Become a patron
By becoming a patron, you'll instantly unlock access to 59 exclusive posts
By becoming a patron, you'll instantly unlock access to 59 exclusive posts