US and UK Coronavirus Containment Incompetence Resulting Catastrophic Trend Trajectories
The answer as to why the stock market is delivering 10% blood baths virtually every other trading day since the western world were awoken to the full spectrum horrific consequences of the Coronavirus early March, after having ignored what took place first in China and then large chunks of Asia, likely due to a false sense of superiority. Whilst I have often voiced since early February that we won't find the answers to which way stocks are likely to trend by looking at the price charts. After all back in early Feb the stock market initially shrugged off Coronavirus China news and duly marched to new all time highs! And then continued to remain largely suspended in a state of denial until the cookie started to crumble early March and true panic set in far beyond anything anyone could have imagined at the time.
As this analysis will demonstrate the stock charts are chasing the Coronavirus trend trajectories that increasingly began screaming alarm with each passing day and more as we went from February into March with advance warnings that things are going get pretty grim into late March, whilst continuing to look for glimmers for hope that maybe the West can turn the Coronavirus tide, and thus the stock market resolve in the mother of all bounces back, we'll for the tech sector at least.
US Coronavirus Infections Parabolic Trend Forecast Update - 16th March 2020
The penny appears to have finally dropped in the US! Where even uber skeptic President Trump has finally had someone read the writing on the wall to him, with the US appearing to start to swing firmly in the right direction, though as the following graph illustrates the damage is likely already done, so the US WILL pay a heavy price for Presidential & Congressional Governmental and CDC NEGLIGENCE that borders on CRIMINAL. Where the US wasted THE WHOLE OF FEBRUARY! The US could have nipped this in the bud, but instead supreme arrogance in monitoring and capability reigned until the stock market started discounting the trend trajectories that were starting to unfold. Remember that the stock market DISCOUNTS the future, it's not going to wait for 100,000 deaths before it nose dives as we have just witnessed take place.
Will the US authorities act in time to save America from a catastrophe the likes of which are only seen in disaster movies? With the potential to be perhaps 100 times worse than September 11th! At least that was limited to just 1 day, this is going to be like a September 11th every other day in terms of economic paralysis.
In determining how bad things are and how bad they are likely to get then I turn to my trend forecast of 29th of February modeled on US competency closer to that of South Korea than China's. Forecast expectations for a trend to 13,000 infected by the end of March resulting in about 180 deaths. Which was expected to deliver a bear market of sorts resulting in buying opportunities for my Top 14 AI sector stocks (analysis towards the end of this article).
Though with each passing day and update, Increasingly became alarmed by the unfolding trend that was materialising that was many times worse than forecast primarily due to western arrogance that mature democracies were far more capable at handling a little bug than a totalitarian state such as China. 
The latest data shows that both US infections (despite lack of testing) and deaths are going parabolic on a far steeper curve than forecast. With little sign that measures enacted to date are having any impact which does not bode well for April and May.
In terms of trend trajectories, US Infections of 4677 are 312% of forecast (1500) by this time, which as I warned in my last update suggested to expect over 40,000 infected by the end of this month. However what's really worrying are the number of deaths, where 87 is now 420% of my forecast of where the US should be by now were it handling the pandemic in a competent manner, which now suggests over 750 deaths are likely by the end of March! That's in just 2 weeks time! And the trajectories suggest far worse to come for April, towards which I will resolve in a trend forecast before the end of March, by which time hopefully there will be some good news as the actual trend attempts to converge towards my forecast and thus be less catastrophic than what today's trend suggests i.e. if we continue on this path then there would be more than 2 million US deaths by the end of the April! Note this is not my forecast, rather it's the current trend trajectory that will likely moderate as the US acts to quarantine and slow the spread of the virus.
UK Entering Coronavirus Mass Deaths Stage, Schools Remain Open to Spread Herd Immunity
If you thought the US was bad at handling the coronavirus despite fore warning from the experience of a string of nations including China, South Korea, and Italy then wait till you here what the Chief Scientific Advisor to the Boris Johnson Government cunning plan (sarcasm) to defeat the virus entails.
What do you think the governments solution is to Coronavirus crisis?
It's to allow the virus to INFECT 60% of the population so that they become 'immune' and thus it would become much harder for the virus to spread to the remaining 40% of the population. The Herd Immunity Protocol! Why would they do this? Because it's the cheapest and fastest way out of the Coronavirus crisis, saving lives costs time and money!
How are they going to achieve this?
Unlike most of europe, the UK is not enforcing bans on mass gatherings, just suggesting that people should avoid social contact. 
This ensures that things will get far worse during April and May, as the UK now looks set to experience a death toll far greater than that of the 2100 where Italy currently stands, greater even then China's 3,213 deaths! That will be the consequences of implementing the Herd Immunity Protocol where the primarily mechanisms is through infecting Britains school children who are expected to go on to infect their parents, the assumption being that stats are good for children surviving the Wuhan flu, with usually mild symptoms, whilst their parents could get a worse illness, nevertheless if under age 50 then should also survive. It's when one starts creeping past age 60 or have comorbidities or any health issues either past or present i.e. if you used to smoke heavily that's when you start going above a 10% risk of death.
Don't believe me? Think I've gone all conspiracy theory on you all? Then watch the following video and you can hear it from the horses mouth of what the governments cunning plan is.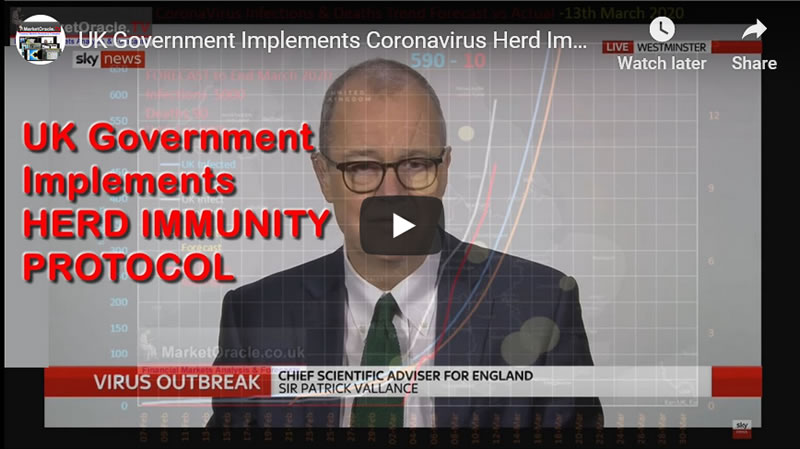 I am sure the governments PR department has had lengthy sessions with the Chief Scientific Advisor so as to better mask the governments actual plan to combat the Coronavirus.
In terms of the daily change in the number of infected, the UK appears to have pulled off a minor miracle as today's increase in the number of infected was substantially lower than yesterdays, only recording 152 new cases against a rise of 330 the day before. So has the UK pulled of a Coronavirus miracle? I'm afraid not because last Thursday the Government announced that it would STOP TESTING ALL THOSE INFECTED who were told to self isolate at home and would only be testing those who actually end up in hospital, which would estimate to be between 12% to 20% of those who are infected. This is AGAINST WHO recommendations of how to fight the pandemic, a message of TEST, TEST, TEST!
However, whilst the government can start pumping out fake infection numbers China style, unfortunately it will not be able to hide deaths. Which have leapt more than 5 fold in just the past 4 days rising from total deaths of 10 on the 12th of March to 55 today! Which translates into a case fatality rate of 3.6%, up from the 1.8% that the UK had been hovering around. Which suggests that when the dust finally settles, the probable case fatality rate should be around 1%. Which is still about 20X as deadly as the seasonal flu!
UK Coronavirus Trend forecast Update
The total number of infections continues to exceed my trend forecast, now by 268%. My original forecast as of 14th Feb 2020 was for the number of infections to target a parabolic trend to 5000 by the end of March 2020. Whilst the actual trend trajectory now suggests that the UK is heading for more than 12,000 officially recorded infected numbers by the end of March.
Whilst the number of deaths at 55 exceeds my trend forecast by 531%, which does not bode well for what is about to transpire that I am sure will spark much panic amongst the general population as this now implies that the UK could be heading for over 500 deaths by the end of March 2020!
How bad could things get if the government continues with it's "Herd Immunity" plan?
Even if the death rate from such actions is 1/10th the probable 1%, that would still mean of the 39 million infected about 40,000 would die and likely triple that again from all those infected during the 3 months it would take to build 60% herd immunity. Never mind the chaos of having upwards of 8 million ill trying to get any kind of treatment from the NHS which would result in even more deaths.
So it looks like by July the UK death toll could exceed all other nations put together, unless that is if the US also follows the UK's example. Which I am sure would be appealing to President Trump so as to get the Coronavirus out of the way before November's election.
Should You Send Your Child to School?
As long as one is aware that the governments objective is to get school children infected as soon as possible and then their parents so as to achieve 60% herd immunity! 
So if you or your child have ANY health concerns, weakness in terms of immunity i.e. maybe you used to be a smoker, then you should NOT GAMBLE WITH YOUR LIVES AND SO STOP SENDING YOUR CHILDREN TO SCHOOL! 
Thus the UK has been giving advice to the elderly and weak to self quarantine themselves for the next 3 months as the virus is encouraged to rage through the general population towards the stated goal of achieving herd immunity that undoubtedly will cost many tens of thousands if not hundreds of thousands of lives if the mad scientists advising the UK government have their way!
Trend Outside China
Briefly the world outside China infections continue to go parabolic, targeting triple the number of infected forecast to 388,000 by the end of March. Where 90% of the spread in infections is coming from Europe..
CoronaVirus Stocks Bear Market Trend Forecast Implications 
First a reminder of my stock market trend forecast going into April 2020 that expected PAIN going into late March before the markets were expected to discount a recovery of sorts during April.
Coronavirus Dow Stocks Bear Market - March and April 2020 Trend Forecast 
Therefore my forecast conclusion is for the Dow to be targeting a VERY VOLATILE MOVE lower to between 22,500 and 23,00, with a risk of spikes or even flash crashes lower, that it could achieve any where from a matter of days to a couple of weeks, but definitely before the end of March.
After which I expect the Dow to enter into a volatile trading range as bargain hunting rally's give way to selling in the wake of more Coronavirus infection bad news as the markets basically attempt to ride out the worst of the Coronavirus storm as illustrated by my trend forecast graph.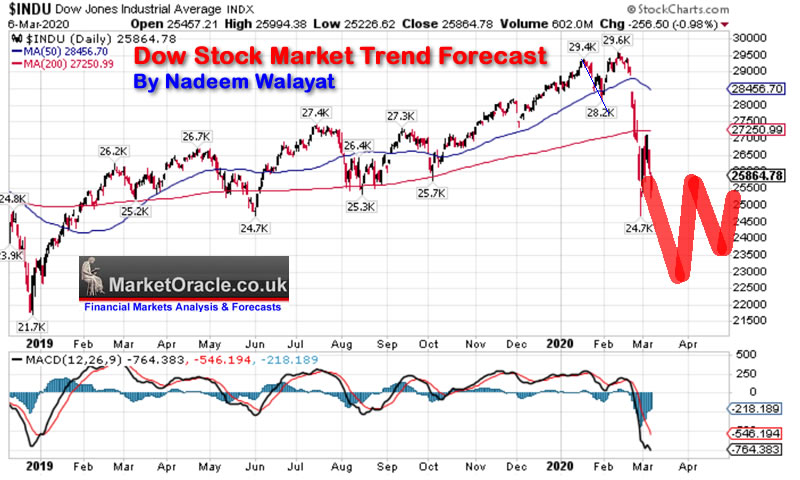 The bottom line is that the Stock market IS heading lower but that it will bottom WELL BEFORE we hear the worst of the Coronavirus Infections numbers in the news. Whilst the risks to the forecasts are to the downside, i.e. FLASH CRASH uncertainty. 
Monday was another blood bath day for the stock market where the markets basically ignored everything the US government and central bank threw at it.
Which given my coronavirus analysis should not be so surprising. For some reason in those running the show STILL DON'T GET it that YOU CANNOT TREAT THE CRTIICALLY ILL PATIENTS WHO ARE INFECTED WITH THE CORONAVIRUS INSTEAD ALL THAT TENDS TO HAPPEN IS THAT THEY FILL UP BEDS WHILST WAITING TO DIE!
That's what happened in Wuhan, that's what is happening in Italy and that is what looks like is gong to happen in the UK and US. People are just NOT taking the Coronavirus seriously enough! IT IS NOT THE FLU! ONCE YOUVE GOT TO THE PNEUMONIA stage then the chances of survival are virtually zero! All that ventilators do is keep people ticking over for 2 or 3 more weeks before the hospitals fill up.
The Dow crashing to 20,0 is a consequence of gross negligence in the handling of the Coronavirus pandemic! 
Google closed at $1073 yesterday! What was I doing ? The same as I have been doing for the past 6 trading sessions BUYING AI stocks, for I continue to view this PANIC sell off as being TEMPORARY.
It's just that right now there is little sign of effective action in the UK and US to contain the virus and so the stock market pain could start to extend into April.
Yes I could pluck a support level out of the air such as Dow 20k. But to reiterate once more the markets are not being driven by technical's or fundamentals but stock analysts of various pools of capital are resolving towards similar conclusions to mine that the UK and US and most others don't have a clue what they are doing, no lessons learned, instead of containing the virus they are cutting interest rates and printing money! Which is going to do nothing to counter the out of control pandemic that worse in the UK Boris Johnson's government is secretly encouraging the spread of!
The bottom line is that unless the virus is such that a working vaccine is impossible, then the Coronavirus market panic of 2020 is TEMPORARY!
So if I expect the AI stocks to eventually trade back TO NEW ALL TIME HIGHS, and it does it matter how low they trade during this panic or whether one buys Google at $1200 or $1100 or $1050, as in the long-run it's not going to make that much difference, the main thing is to be INVESTED, and the Coronavirus despite the palpable FEAR it is generating for genuine reasons, is still giving ALL a golden opportunity to pick up stocks selling typically 1/3rd cheaper than a a few weeks ago.
In the meantime, with each passing days increasingly grim death statistics continue to expect increasing pessimism. 
AI Q1 Stock Buying Levels 
Firstly don't expect to be able to catch a falling knife, and secondly understand that there is NO SUCH THING as a MISSED market move! The only thing that matters is the price one enters at and the price one exits at, what the market does outside those two prices does not matter! I think this is one of the biggest factors that effect investors in their decision making process, i.e. because a stock was trading lower a few days ago they think they MISSED the bottom and should have bought! So wait for the bottom to repeat, which it may or more likely may not do! So fail to act and then kick themselves for the next several years! Well this bull market was 10 years old so all those who thought of buying during 2009 but thought to wait for a fall, after all the likes of Nurial Roubini were repeatedly calling for stocks to crash lower. 
And that's the point of having a list of stocks and levels at which one would start accumulating when the opportunity presents itself..
Also remember that whilst the current spread of the Coronavirus may be exponential, so is the AI mega-trend. And who do you think is going to profit from the current crisis? Amazon, Google, Facebook, that's who! i.e. the coronavirus is reinforcing the importance of the virtual world.
All of the stocks except AMD have now moved below their Q1 buying levels, and many stocks by a significant degree! The most notable biggest bargains of the bunch are Google, Intel, Facebook and IBM, especially when compared against their Q1 highs.
The recent panic sell off also acts as an important indicator of underlying relative strength of Apple and Amazon. One would have imagined that these two stocks having greater exposure to the real world than the virtual world would have faired worse then the likes of Google, i.e. being disruptive to Apples production of iphones and Amazon's supply chains. But no, so far they are showing that the market is already starting to discount recovery for these two stocks. And if one thinks about it then it makes sense that China will lead the V shaped economic bounce back by a couple of months ahead of the West, and thus improve the prospects for Apple and Amazons supply chain.
That and so many people choosing not to risk catching Coronavirus will increasingly put greater demands on Amazon for all sorts of goods and services. Though I have noticed a number of their prices have started to creep up over the past week or so.
What would I Buy to today?
Google, Intel and IBM, and finally gain some exposure to AMD.
AI ETF / Funds
In the past patrons have asked me to name a few funds that hold AI stocks. 
Whilst my preference is to invest in the individual shares, as that way I get to hold exactly what I want to hold as the tendency is for funds to dilute holdings of key stocks by holding too many stocks that range anywhere from 50 and 100 holdings.
Nevertheless as requested here are 3 AI funds that come to mind of which I personally have small exposure to PCT
QQQ - Nasdaq, I only view favourably about half the the total holdings of this fund.
XLK - NYSE Arca - Apparently at the present time this fund does not hold any Google!
PCT - LSE - £2 bill market cap, so a small trust, again I only favour about 50% of the funds holdings.
As of writing the futures are up about 300 points so should open up, but the market is febrile as market participants try to come to terms with what looks like a disastrous response to the Coronavirus, listening to an Italian doctor yesterday saying that of the 170 patients in her hospital ICU's not ONE has recovered says everything one needs to know about just how deadly this virus really is!
Lets all hope that our great nations finally start to get their acts together over the coming weeks, LEARN the lessons from South Korea and the WARNING that is Italy! And let's hope the UK government stops taking advice from mad scientists with their "herd immunity" experiment!
And do continue to use this remaining short window of opportunity to bolster your immune systems so as to ensure we all survive the Coronavirus Pandemic of 2020 so that we are still around to reap the AI mega-trend rewards of 2021 and beyond!
Vitamin D3 - 25 to 100mcg per day
Vitamin C - 1g per day
A good multi-vitamin
And get plenty of sleep! 
Your analyst
Nadeem Walayat 
Copyright © 2005-2020 Marketoracle.co.uk (Market Oracle Ltd). All rights reserved.
Disclaimer: The above is a matter of opinion provided for general information purposes only and is not intended as investment advice. Information and analysis above are derived from sources and utilising methods believed to be reliable, but we cannot accept responsibility for any trading losses you may incur as a result of this analysis. Individuals should consult with their personal financial advisors before engaging in any trading activities.
---
released this post 18 days early for patrons.
By becoming a patron, you'll instantly unlock access to 60 exclusive posts
By becoming a patron, you'll instantly unlock access to 60 exclusive posts