US and UK Coronavirus Trend Trajectories vs Bear Market and AI Stocks Sector
The world is increasingly going into LOCK DOWN, with the latest being India (a lock down mostly in all but name). Still Europe is in lock down, large swaths of the US are increasingly going into lock down that saw a fumbling in the dark President Trump first suggest a quarantine for the entire state of New York and neighbouring states, only to back track a few hours later when the adults in the White House had a quiet word with him thus saving the US from another 10% down trading day Monday! 
What's just as worrying as the Coronavirus are the Gestapoesk powers being handed to the Police, it won't be long before the powers start going to their heads and abuse of power starts takes place. At least in the UK usually the worst ordinary citizens are going to face is being tasered, expect far worse in the US a case of shoot first test later policy!
Meanwhile the coronavirus rages on in both the UK and US as the potential catastrophe that I have been warning of since early March is fast becoming a reality as the parabolic trend trajectories of early March when the UK had just 100 cases and the US about 200 were screaming DANGER, have continued to worsen with each passing day, a curve which has literally gone ballistic for US as each updated numbers warned of the catastrophic consequence of our criminally negligent governments having done NOTHING, only starting to act when it was TOO LATE!
It was simple, this could have been fairly nipped in the bud in January. Just quarantine everyone flying in from China! But they would not do that because it would shaved a few percentages off of airline profit margins and upset the Chinese totalitarian state who had been lying through their teeth to the number of infected and deaths. So now what? Shave how many percentages off of global GDP? About 1000 times more costly in economic terms and 10,000 times as many lives lost outside of China due to the UK and US governments not being fit for purpose! And I am not saying this with the benefit of hindsight as my following January video illustrates -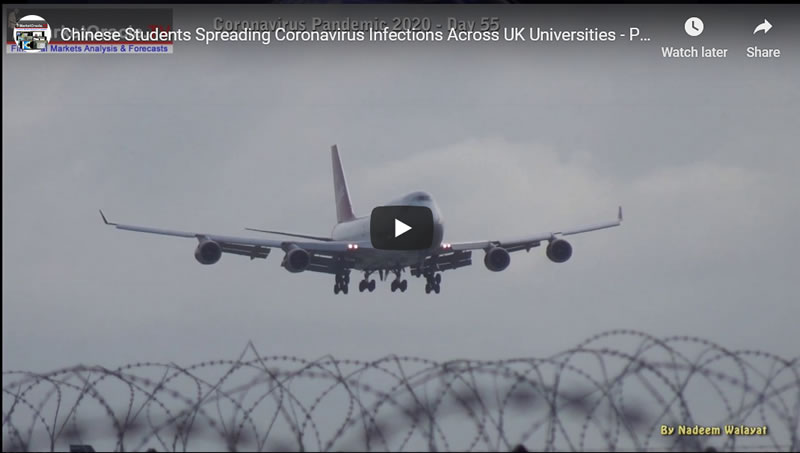 And so because Governments basically did nothing until recently means we are all now going to pay heavy price for what amounts to CRIMINAL NEGLIGENCE, All whilst the clowns in the Number 10 and the White house prance around like prize bulls, playing at being in charge when both 'leaders' have shown themselves to be lacking! For actions speak louder than words in that respect all we got for the whole of February were photo opportunities and publicity stunts. The Clown in No10 couldn't even protect himself so how is he going to protect the nation? Instead he's gone on to infect the Health Secretary and the Chief Medical Advisor i.e. all those leading the fight against the virus are now ILL after failing to practice what they have been preaching about hand washing and social distancing as the following first minute of this video illustrates.
And it's EVEN WORSE in America as the CDC instead of doing their jobs during February were busy sending out FAKE test kits that DID NOT WORK! CRIMINAL! It's as though they wanted the virus to spread the only logical reason for which would be to foster herd immunity.
AND NOW WE PAY THE PRICE!
So the governments have PANICED! Swung from the one extreme of doing nothing to other extreme of shutting down most of the economy and movement of people. it was clear to anyone with half a brain cell of what needed to be done as South Korea lit the way, instead they did nothing until it was too late!
As I have been iterating for the whole of March, this Pandemic WAS NOT INEVITABLE, and thus what is now coming to pass is MASS MURDER. A warning to the electorate choose very carefully who you elect into power!
Unfortunately it's too late now as my analysis of a week ago concluded that the damage had already been done regardless of what actions were taken as there is a 2-3 week lag between cause and effect, therefore all we can do is attempt to determine how bad the actual trend trajectories are so as to look for either positive or negative deviations against the trend, where a several weeks ago I had hoped that the morons in charge would see what was happening in Italy and thus STOP WASTING TIME AND TAKE IMMEDIATE ACTION!
Instead we are left with fast developing hotspots of London and New York, New Jersey and Birmingham, Detroit and Sheffield, and likely several more to emerge over the coming week.
UK Coronavirus Trend Trajectory - Deviation Against Forecast
So Boris Johnson is infected and self isolating, Matt Hancock the Health Minster is infected and self isolating, Chris Whitty the Chief Medical officer is infected and self isolating. Westminister is now turning into a hottest of UK hotspots as the officials and MP's failed to practice that which they preached. Maybe with these idiots out of the picture the nation can act more competently in containing the pandemic. Meanwhile the government representative at the daily briefings has started mentioning that if the UK can keep deaths below 20,000 than that would be a good thing! What's South Korea's number? 150! CRIMINAL! That's what the governments response to Coronavirus has been CRIMINAL! Now there are even reports that the government is under reporting the number of deaths perhaps in attempts to average out the numbers over a month rather than to post spikes that would panic healthcare workers and the general public.
Of course the hidden agenda all along has been one of fostering HERD IMMUNITY amongst the population with the goal of achieving a 60% infection rate as my video from several weeks ago illustrated. Which is why they kept the Schools open for a good 2 weeks longer than they should have done, only closing on the 20th of March, a decision that will cost many thousands of lives!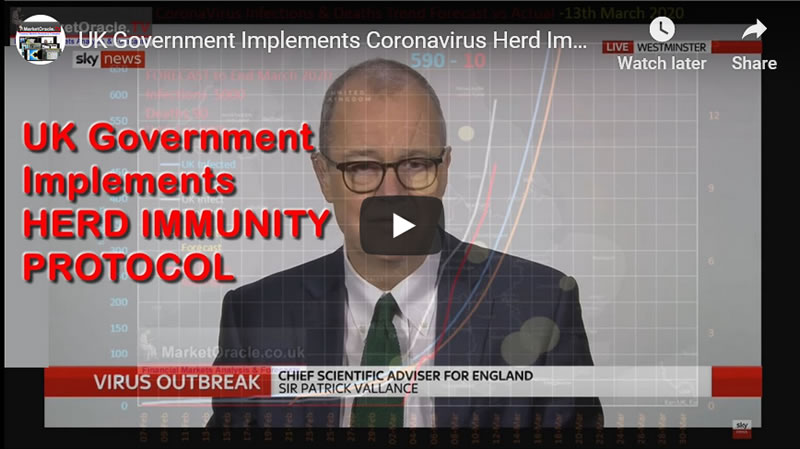 On the plus side the UK began work on converting large exhibition centres across the UK into huge field hospitals, all named as Nightingale hospitals, with beds ranging from 2000 to 5000 each. Though don't be under much illusion that they will be able to treat at anywhere near same level of regular hospitals, instead high concentration of viral particles will mean people sent there will be at a higher risk of dearth.
However, every action the government has announced to date is a case of chasing the curve rather than being proactive in containing the virus, for if they had been competent and contained the virus South Korea style than this weeks total shutdown and the panic building of temporary hospitals with thousands of beds would have been completely unnecessary!
Even worse, the UK has barely enough ventilators to cope with the current load, let alone for what is to come. Where Dyson the vacuum cleaner says they are going to build 10,000 ventilators, which would be great news were it not for the fact that they state first deliveries will be in about 100 days time! Which where this pandemic is concerned is about 90 days too LATE! 
So it's more probable that simpler devices will emerge over the coming week rather than full blown ventilators which clearly are not as easy to make as the Health Secretary was propagandising barely a week ago before he fell victim to Covid-19 due to not following his own social distancing advice.
The NHS staff have been badly let down by an incompetent government, though most governments have proved incompetent other than that of South Korea and Germany which has nearly 7 times the number of critical care beds per head of population as does the UK, which is being reflected in a far lower number of deaths despite having more people testing positive.
My trend forecast as of 22nd of March concluded in the UK trending towards 123,000 infected tested positive, and 8,100 deaths by the end of April 2020.
The latest number of infected is 19,522 which is marginally better than forecast (21,777). Whilst actual deaths reported of 1228 is also marginally better than forecast (1447). 
So it appears that the UK is on track for about 8,000 deaths by the end of April which is better than what the governments spokesman started announcing this weekend (for the first time) that if the UK achieved less than 20,000 deaths then that would be considered a success.
US Coronavirus Trend Trajectory - Deviation Against Forecast
The only adult in the White House Dr Fauci has started stating what sort of death toll to expect for the Untied States over the coming months of between 100,000 to 200,000 deaths as a consequence of the Coronavirus pandemic. 
President Trump implemented the Defence Production act mobilising US industry into producing tens of thousands of ventilators, which whilst good is however TOO LATE as the actions the US is taking today should have been taken a month ago! 
How long is it going to take for these ventilators to appears? 1 month? 2 months? Probably 3 months! Where 1 Month is TOO LATE! The US needs tens of thousands of ventilators THIS WEEK! That and the medical staff to operate them.
On the plus side the US does have several floating hospitals that can house thousands of patients, and New York city and state governments appear to have gotten the message and are scrambling to bring their ballistic pandemic trend trajectory under control. 
Which brings us to my trend forecast that projected the US trending towards 531,000 tested as infected by the end of April, resulting in 26,550 deaths, as it was hoped that remaining valuable time would not be squandered on political bickering during this national emergency.
The latest data as of 29th March has the US infections going ballistic to 133,000 which is well beyond the forecast trend trajectory of 94,000, where if this deviation persists then would imply 750,000 testing positive by the end of April. Whilst the number of deaths is also running well ahead of forecast at 2363 vs 1646 that implies to expect 38,000 deaths by the end of April.
So the US has WASTED PRECIOUS TIME on political bickering, back and forth stupidity all whilst the virus has raged on. This is going to inflict even more economic damage and cost thousands more lives as it appears the US is slow to fully woke up yet to what is about to come to pass.
Coronavirus Stock Market Trend Implications
Whilst the UK's trend trajectory appears to be stabilising, which offers some light at the end of Britains' dark coronavirus tunnel. However, the key driver for stock market trends, the US is still accelerating away which means more uncertainty that the stock markets are likely to seek to discount as the markets are seeking numbers that are first stabilising in the rate of increase and then to start decreasing on a daily basis, instead were still in the DOUBLING ever 2 to 3 days phase!
This implies to continue expect a bearish trend trajectory despite Fed panic actions, and the US sending $1200 checks to every american who earns under $75,000 per year, with likely several more payments over the coming months. Though Dr Fauci putting a number of 100k to 200k deaths may shock americans and the markets, especially given Trump's ramblings of how it will all be over by Easter. Nevertheless gives a number against which the general public and markets will be measuring relative strength and weakness. For instance the US is currently trending towards 38,000 deaths by the end April in the face of which the markets could out perform if the number of deaths is seen to far under achieve the bottom figure of 100k.
So is the stock market discounting the current trend trajectory?
I don't think so, as currently there is no sign that this trending well for the US, thus the general stock market indices such as the Dow are likely to trade lower over the coming week or so to trade back down to Dow 20k, and likely dip below, though I don't see a return to the recent low of 18,200.
Coronavirus Global Recession 2020
This one graph says it all as to the magnitude of the consequences of the Corona lock downs, economic shocks that rippling out across the western world that are several orders of magnitude greater than the Financial crisis of 2008.
I could continue with a myriad of other graphs but they would just paint a similar picture of economic activity in many sectors of the economy coming to a virtual standstill all as a consequence of gross negligence in handling of the Coronavirus pandemic. 
However, to counter this economic catastrophe is the fact that ALL nations are viewing the the Corona crisis as being temporary and thus are going out of their way to take equally unprecedented actions far beyond that of 2008 aimed at keeping as much of their economies intact as possible as we ride out the Pandemic waves as the populations and the economies gradually become immune to the consequences of Coronavirus. 
For instance no one would ever have thought that a Labour government let alone a Tory government would be making announcements to finance of 80% of the pay of ALL employees AND self employed upto £2,500 per month who are forced to stay at home as a consequence of the lock downs! 
Similar the US has announced the first of a series of bailouts that starts at $2 trillion that make the 2008 Financial Crisis bailout of $787 billion look like a pin prick in comparison to. 
So as I stated in my update of early March, yes ALL western nations are heading for SHARP economic slowdown and contraction starting Q1 and continuing into Q3. However I still view this as a V shaped short sharp shock as with each week and month of the lock down will result in ever increasing pent up demand to be unleashed once we start to return to normality which at a worse case scenario would be early 2021, but more likely during Q4 of 2020.
In terms of the prospects for the stock market trend then the extreme INFLATIONARY measures being deployed to keep economies alive during the lock down coupled with known prospects of first herd immunity and then treatments and finally vaccines, all of which show a clear path towards an end to the corona crisis. Then the stocks markets SHOULD be discounting this future reality for don't forget that no matter how bad things get over the next few weeks, the stock markets DISCOUNT THE FUTURE, so much of the bad news has already been discounted.
Existing Stock Market Trend Expectations
My existing forecast as of 9th March is for the Dow to make a low late March and then to target a volatile uptrend into the end of April 2020.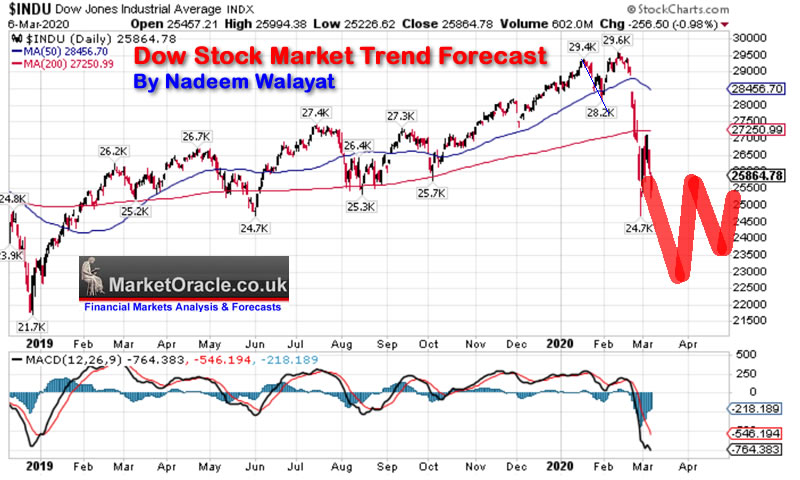 The trend to date has tracked my forecast remarkably closely, which suggests that it is highly probable that we have seen the Coronavirus stocks bear market bottom at Dow 18,200, though do bare in mind that the US infections trajectories are currently worse than my forecast which means the current rally is likely to resolve in the Dow revisiting at least 20k as being the immediate direction of travel over the next week or so.
Therefore I see no reason to undertake a more in-depth technical analysis at this point in time, just that as the US is currently tracking less than half the number of deaths that Dr Fauci has stated then this should also resolve in a stable trend with an upward basis. Though the trend will continue to be very volatile.
AI Stocks Q1 Buying Levels Current State
If you have taken one message away thing from my articles during the past month then it should have been that this Coronavirus stocks bear market is presenting investors with a BUYING OPPORUTNTY OF A LIFE TIME in AI stocks! For instance the last time I updated my AI stocks table on the 16th of March I wrote: 
All of the stocks except AMD have now moved below their Q1 buying levels, and many stocks by a significant degree! The most notable biggest bargains of the bunch are Google, Intel, Facebook and IBM, especially when compared against their Q1 highs.
The recent panic sell off also acts as an important indicator of underlying relative strength of Apple and Amazon. One would have imagined that these two stocks having greater exposure to the real world than the virtual world would have faired worse then the likes of Google, i.e. being disruptive to Apples production of iphones and Amazon's supply chains. But no, so far they are showing that the market is already starting to discount recovery for these two stocks. And if one thinks about it then it makes sense that China will lead the V shaped economic bounce back by a couple of months ahead of the West, and thus improve the prospects for Apple and Amazons supply chain.
That and so many people choosing not to risk catching Coronavirus will increasingly put greater demands on Amazon for all sorts of goods and services. Though I have noticed a number of their prices have started to creep up over the past week or so.
The updated AI stocks table shows that many of the AI stocks have already significantly deviated strongly to the upside since the 16th of March, which in itself was not the low for AI stocks, i.e. if you were nimble footed then you could have picked up stocks at even cheaper levels.
 Current state of the AI stocks as of 27th March relative to 16th March and Q1 Highs. 
Google at +3% from 16th March and -27% from it's Q1 high is still cheap! Don't blow this long-term opportunity!
Amazon at +15% and -11% illustrates what I stated on the 16th of March is coming to pass, investors are waking up to realise that the big winner here is Amazon! And you could have picked up Amazon 20% cheaper than where it closed Friday. And before you ask, no I don't think we will see Amazon trade anywhere near back down to below $1700, if were really lucky we might see $1830.
Microsoft at +11% and -21%, again similar performance to Amazon, another stock I doubt we'll see trade anywhere near it's recent lows.
Intel at +18%, -24%. Still trading well below it's Q1 buying level, and offered plenty of opportunities to buy Intel at dirt cheap prices of as low as $43! At best going forward we could see $48.
Apple at +2%, -24%. It might not look like it but Apple has performed much better than I expected it would, after all it is reliant on manufacturing output rather than cloud services and so should have suffered more. Similarly I don't expect Apple will see 212 again, at best 238.
J&J at -3%, -20%. It was pot lock which of the Big Pharma's had treatments in the pipeline going into the Corona crisis, unfortunately J&J is not one. But Roche my 2nd Pharma on this list is!
And Similarly for the remaining stocks on my list most notable of which are AMD and NVIDIA both of which have rocketed by 20% and 29% since 16th of March, with plenty of opportunities to pick these highly leveraged to AI mega-trend stocks.
The bottom line remains, the Coronavirus continues to present a buying opportunities of life time in AI Mega-trend stocks, whilst it will clearly take some time for the general stock market indices to recover to anywhere near their all time highs. However, I would not be surprised to see financial press headlines in a few weeks time stating that the Amazon stock price just set a new record high with many of the other stocks on this list not far behind.
So I continue to view any market PANICS during April as BUYING OPPORTUNTIES. As I continue to view this coronavirus stocks bear market in AI stocks at least as being TEMPORARY! Which is being reflected in the likes of Amazon now just 11% away from their Q1 high. SO BUY FEAR! And given the current Coronavirus trend trajectory there's likely to be many more fear opportunities ahead against this we have investors increasingly starting to wake up and start buying AI stocks on this list which means don't waste time waiting for dips, scale in because the trend trajectory for most of this stocks on this list is towards new all time highs, this year!
Your out of disposable gloves analyst and still waiting for the UV-C lamp from China to land.
Nadeem Walayat 
Copyright © 2005-2020 Marketoracle.co.uk (Market Oracle Ltd). All rights reserved.
Disclaimer: The above is a matter of opinion provided for general information purposes only and is not intended as investment advice. Information and analysis above are derived from sources and utilising methods believed to be reliable, but we cannot accept responsibility for any trading losses you may incur as a result of this analysis. Individuals should consult with their personal financial advisors before engaging in any trading activities.
---
released this post 17 days early for patrons.
By becoming a patron, you'll instantly unlock access to 62 exclusive posts
By becoming a patron, you'll instantly unlock access to 62 exclusive posts