Can you imagine how loud the purring would be omg heaven
Pledge $0 or more per month
Everyone
Pledge $0.01 or more per month
Patrons Only
Thank you!
$1 or more per month

∙ 181 patrons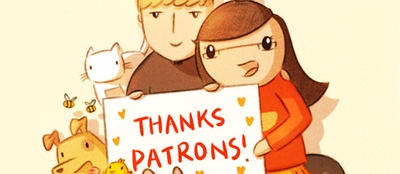 Thank you for supporting exocomics! 

Behind the scenes
$5 or more per month

∙ 132 patrons
- Artwork progression shots: see development of artwork from initial sketches to finished piece.
- Sketchbook doodles: I'll share silly drawings and doodles from my sketchbook.
- Writing: I haven't done a lot of writing in the past, so I'd like to use this space to talk more in depth about my work, creative process, and other behind the scenes stuff.