Pledge $0 or more per month
Everyone
Pledge $0.01 or more per month
Patrons Only
Space Cadet
$5 or more per month

∙ 2 patrons
Welcome aboard!  Enjoy access to exclusive patron-only content: Sneak peeks, behind-the-scenes info, bonus contend and Grafeneck knows what else.
Model Citizen
$10 or more per month

∙ 1 patron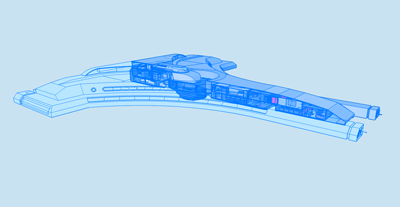 Westward is produced using a combination of 2D art and 3D models.  Some of the models, like that of
Westward
itself, represent hundreds of work hours and contain many hidden details that are never seen in the comic.  At this tier, you will be granted access to download
Westward
and other models in the easy-to-use
Sketchup
format.  Literally walk the corridors of the ship, exploring every nook and cranny from the brig to the space lift!
Model Citizens will immediately be given access to the expansive Westward model.  Over time, more models will be made available from the vault: Currently used models, models from the archive, and even never-used concepts!
Exemplary Character
$20 or more per month

∙ 1 of 10 patrons
If sneaking into the model for Ed Schult's cabin isn't immersive enough for you, why not be part of the comic itself?  In addition to the perks of previous tiers, Patrons at this tier will be sent a simple biography form, which I will use to add an actual reoccurring character to the comic strip in your likeness!  This isn't a background extra bit; it's a role that will be significant over the course of multiple strips.  Adventure awaits!