What the UK Economy Predicts for General Election 2019
It's the economy stupid! The party in government tends to lose elections to the opposition on the basis of where the economy stands at the time of the general election. So whilst Boris Johnson's "Get Brexit Done" headline grabbing mantra sounds like it could deliver the Tories enough votes to win. However, if the economy is on the slide then all slogans and promises will be ignored, much as was the case for Theresa May's 2017 all about getting Brexit done election campaign. 
So the focus of this analysis is where the economy stands and it's direction of travel relative to where economy stood in the run up to the June 2017 General Election as one of the 9 key election forecasting lessons learned from the outcome of the 2017 general election.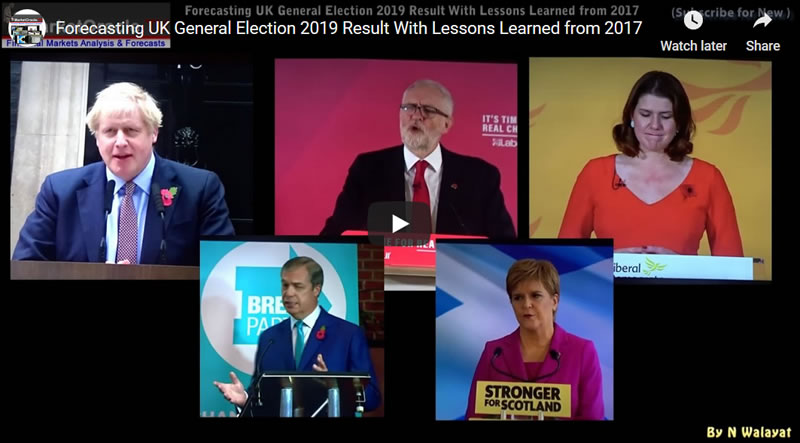 UK General Election Forecast Analysis 
The aim of this series of analysis is to further fine tune my core election forecast based on the single most accurate predictor of UK general elections, house prices momentum that concluded in a forecast of 322 seats first made available to Patrons who support my work on the 24th of November 2019.
UK Economy General Election Impact
Marginal Seats, Social Mood and Momentum Election Impact
Opinion Polls and Betting Markets, UK General Election Forecast Conclusion
My last analysis on the Manifestos pushed the seats forecast in favour of the Labour party, putting the Tory seats tally stands at 311 ahead of my final forecast that I aim to complete several days before polling day (12th December).
UK Economy - GDP Growth 
At the top of prospective voters wish lists is a government that can competently manage the UK economy. In which respect the last Labour government failed in spectacular style by delivering the worst recession since WW2! Which Jeremy Corbyn hopes that 10 years on most voters will have forgotten just how catastrophically the last Labour Government ended.
The electorate clearly favour the party of Government to be typically delivering GDP growth of at least 2% per annum if they want to be rewarded with a significant re-election majority.
2015
That was the case in 2015 with the last GDP statistics before voting day coming in at a +2.4% which was sustained during the period of Vote which resulted in the Tories being rewarded with a 'surprise' majority government.
2017
Saw 2% GDP going into the election which implied a smaller majority total than the 330 of 2015. 
2019
What about 2019? We'll Poor old Boris Johnson is lumbered with a GDP growth rate of just 1% to Q3 (Sept 2019) AND FALLING! Which implies that the Tories could do WORSE than in 2017!
UK INFLATION - CPI / RPI / REAL
The primary remit of the Bank of England is price stability, one of keeping UK CPI inflation at 2%, the closer the rate is to 2% the more successful the Governments inflation policy is deemed to be. Despite the fact that CPI inflation tends to grossly under report REAL inflation, which is why most people prefer the RPI measure that the government has been gradually phasing out over the past decade and where the most recent announcements are to even change its methodology to the point where it closely matches CPI. 
So I have always taken the official inflation indices with a giant pinch of salt which is why I constructed my own demand adjusted inflation indices that aims to provide an inflation measure more inline with with the actual experience of most people. And thus should give a more reliable view on where voters stand in terms of their actual inflation experience as opposed to manipulated government statistics.
2015
As is the case with most fake statistics that they tend to throw up anomalies that don't reflect reality. Which was the case in the run up to the 2015 General Election where the ONS was reporting negative CPI of -0.1%. Meanwhile the more reliable RPI was suggesting an inflation rate of 1%. Whilst REAL inflation was at 1.5%. Furthermore the trend was for falling inflation. Thus RPI and REAL inflation were signaling economic competence to the electorate for which David Cameron was rewarded with an 'surprise' increased majority.
2017
The Inflation indices were rocketing higher In the run up to the 2017 General Election with CPI at 2.9%, RPI at 3.7% and REAL Inflation nudging 5%. Which were thus SCREAMING economic incompetence. So much for "Strong and Stable"! More like "Weak and Feeble". And so Theresa May paid the price for inflationary incompetence.
2019
Current CPI stands at 1.5%, RPI 2% and Real Inflation at 2.8%. With the trend downwards. Thus signaling economic competence to the electorate. So a vote winner for Boris Johnson, signaling better than 2017 but worse than 2015. 
UK Unemployment Fake Statistics
Britain's headline unemployment figure is now at an historic low of just 1.3 million as the below graph illustrates, far below the trough before the financial crisis hit Britain. So surely this should boost the prospects for the Tory government?
However there is a fly in the ointment and that is the official unemployment statistics have been manipulated lower by successive governments all the way to the point that on their own they are pretty much meaningless. For instance there are over 8.6 million people of working age who are ECONOMICALLY INACTIVE, that's another word for unemployed!.
So as I have been iterating fore MORE than a decade(01 Jul 2010 - UK Unemployment Forecast 2010 to 2015), REAL UK Unemployment is far higher than the official statistics state it to be, currently probably more than triple the official figure that puts real UK unemployment in the region of 5 million and not 1.3 million.
To illustrate this point the above graph also shows that the number of people claiming unemployment related benefits (claimant count) which has risen from 730,000 in 2016 to 1.2 million today. Whilst at the same time the number of people officially classed as unemployed has fallen from 1.7 million to 1.3 million today. 
So what has changed that is apparently automatically reclassifying an increasing number of the hidden from statistics in receipt of benefits unemployed to be officially being recognised as being unemployed?
Well there is one Tory government policy that stands out which is the roll out of Universal Credit. As most of the hidden unemployed are claiming supposed in work benefits such as working tax credits, child tax credits, housing benefit etc... Where a large percentage of whom are actually NOT working! An industry of fake employed and fake self employments has grown up that number in their millions all to avoid having to undertake the duties of looking for a real job as required for those registered as unemployed i.e. in receipt of Job Seekers allowance. So as many as 4 million additional unemployed are claiming benefits without any requirements to look for work.
The unintended consequences of Universal Credit is to expose the 'fake' workers, and so most of the people transferred over to Universal Credit tend to be reclassified to their actual state of unemployment which is probably why there are so many protests against Universal Credit as it threatens to end the gravy train that many millions have been on for decades.
The relative trend trajectories also suggest that claimant count is set to surpass the unemployed number within the next 6 months, which will illustrate just how fake Britain's economic statistics truly are that more people are claiming out of work benefits than are recorded as being unemployed! Though what is actually likely to happen is that the Government will CHANGE the methodology for calculating the claimant count numbers so as to reduce the number to roughly 800,000 below the Unemployed total as has been the case before the roll out of Universal Credit began.
How do the Fake Unemployment Statistics impact the General Election ?
Obviously the Tory government can continue to use the fake unemployment statistics for propaganda purposes, to bang the drum of having cut UK unemployment towards record lows despite the fact that the real number of unemployed being more than triple the official figure!
So the Tories gain some propaganda value for being able to pump out low unemployment graphs based on official statistics that paint them in a good economic light.
REAL TERMS AVERAGE EARNINGS
And last but not least is the second most accurate predictor of UK general elections after house prices - Real Terms Average Earnings, that in 2017 correctly predicted that the Conservatives instead of gaining seats were actually set to lose seats!
Basically real terms average earnings condenses ALL of the economic data down into a single prescient indicator that answers are average workers / voters richer or poorer than they were a year earlier. If poorer than they are unlikely to vote for more of the same! If richer than they will tend to be content with the status quo and vote for the party in government,
The real terms average earnings NET of RPI more accurately reflects the real terms pay increase experienced after inflation of most workers. 
2010 -4%
A -4% in the wake of financial collapse ensured that Labour had no chance of getting re-elected.
2015 +3.2%
Net average earnings of +3.2% was SCREAMING that the Tories were heading for a majority government, something that ALL of the pollsters and pundits missed! Hats off to George Osbourne and David Cameron for either having the intellect or luck to engineer peak earnings growth for the 2015 general election that I am sure they had planned towards for several years.
2017 -2.2%
Theresa May, the worst Prime Minister in British history conceivably picked just about the worst time to hold a general election in recent years, that she would have been far wiser to have held some 6-9 months earlier, at least then she would not have lost the Tories their majority.
2019 +1.1%
Which brings us to the present. Data to September 2019 converts into a +1.1% real terms earnings score for Boris Johnson. Which implies to roughly expect BJ to achieve roughly the half way point between David Cameron's 330 seats and where the Tories currently stand on 315 i.e. 322. Which is PRECISELY the same as what UK House Prices are forecasting!
What the UK Economy Predicts for the Election
The economy is weak but growing, inflation is low and falling, official unemployment is low so good for propaganda purposes. And average earnings are bullish for Tory prospects. All of which resolves in the Economy projecting 324 Tory seats.
UK General Election Tory Seats Projections:
UK House Prices 322
Manifestos Bribes 311
Economy 324
So my analysis to date is still not resolving an outright majority for the Tories, unlike the pollsters such as Yougov projecting 359 seats, though in reality the Tories only need 322 seats to govern on their own.
My remaining 2 pieces of analysis in this series:
Marginal Seats, Social Mood and Momentum Election Impact
Opinion Polls and Betting Markets, UK General Election Forecast Conclusion
That I aim to complete well before polling day (12th December). Beyond which will be analysis of Gold and the Dow. 
Your Analyst
Nadeem Walayat 
Copyright © 2005-2019 Marketoracle.co.uk (Market Oracle Ltd). All rights reserved.
Disclaimer: The above is a matter of opinion provided for general information purposes only and is not intended as investment advice. Information and analysis above are derived from sources and utilising methods believed to be reliable, but we cannot accept responsibility for any trading losses you may incur as a result of this analysis. Individuals should consult with their personal financial advisors before engaging in any trading activities.
By becoming a patron, you'll instantly unlock access to 59 exclusive posts
By becoming a patron, you'll instantly unlock access to 59 exclusive posts