What would you like to see more of in 2018?
Morning Dandies!
It's the dawn of a new year, and I wanted to thank you all so much for sticking by me and supporting me last year. I'm so grateful to all of you and I'm looking forward to growing our community and PCCC as a whole this year.
I need your help, though! I want to know what you would like to see more (or less) of from me this year? 
More downloadable rewards
More sneak peeks/first looks
More discount/coupon codes
More of something else (comment bellow)
Poll ended Jan 8, 2018
2 votes total
Pledge $0 or more per month
Everyone
Pledge $0.01 or more per month
Patrons Only
Welcome
$1 or more per month

∙ 11 patrons
Starter Pack!
You get a starter pack full of cute random goodies and
a special button that when shown to me at conventions gets you a free goodie pack!
[Can only be redeemed for the duration of your patronage!]
 Starter Packs can be mailed ($5+ tiers) or picked up at shows ($1 tier.)
You also get:
★Free Sketch Requests during Twitch request streams
★Monthly Coupon Codes
★Monthly Downloadable Coloring Page!
★Sketchbook Pages and WiPs! From doodle dumps to character design/creation
★First Looks/Sneak peeks at merch in the creative process before it's announced on social media
★Watermarked Completed Artwork
★Access to the Patreon/Twitch Sub Only Discord
Sticker Club
$5 or more per month

∙ 9 patrons
 Previous rewards plus: 
★Special themed monthly Stickers! Each month I will have 1 high quality vinyl sticker (unless another material is mentioned!) mailed straight to you!
[Please Note: All rewards and Starter Packs are shipped First-Class by USPS without tracking and I cannot be held responsible for missing/lost packages!]
Happy Mail Club
$15 or more per month

∙ 3 of 20 patrons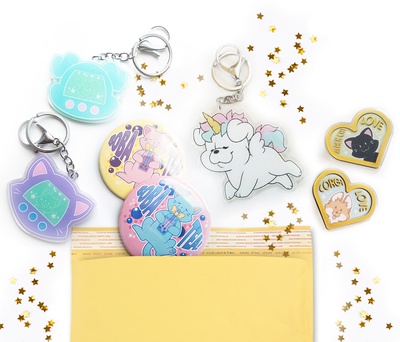 Previous rewards plus:
★Special themed monthly goodie(s)! Each month I will have 1 to 2 charms/key-chains/button sets/mini prints mailed directly to you! [International shipping will need to be paid separately via paypal.]