White House access: Why Mike Cernovich is being taken seriously in DC
In Washington, all that matters is access.
***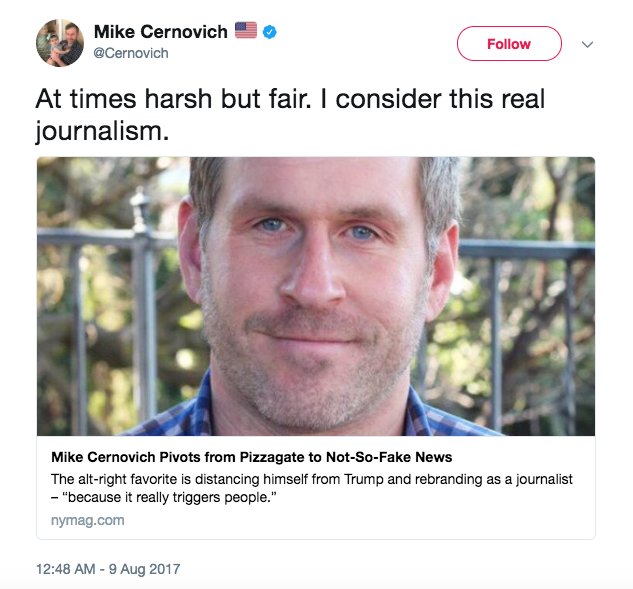 The "alt-right" movement--whose hate rally in Charlottesville last weekend culminated in the murder of anti-fascist organizer Heather Heyer--has been legitimized and mainstreamed in the corporate media following the ascension of the Trump administration. 
That's because the faded luminaries of the movement are close to the White House. In corporate media's view of the world, access is everything.
There's nothing the corporate media loves as much as closeness to power, and far-right personality Mike Cernovich is close to the Trump administration; he was the first, for instance, to break the story that Reince Priebus was out as Trump's chief of staff in late July. 
Cernovich, for the uninitiated, is a newly minted journalist whose previous work includes promoting the baseless "Pizzagate" conspiracy theory--which claimed John Podesta ran a child prostitution ring out of a DC pizzeria--endorsing the use of questionable vitamins and denying the existence of date rape. 
But today, Cernovich is the talk of the town in D.C. He's breaking news from inside the White House about staff shakeups. He's a leading figure in the alt-right led drive to oust Trump national security advisor Gen. H.R. McMaster. Cernovich is everywhere--and that means he is avoiding some necessary scrutiny. 
That was made clear last month when New York Magazine published staff reporter Olivia Nuzzi's profile of Cernovich, a hagiographic review of his improbable rise to fame as a breaker of news in the Trump era. 
It's hard to know why Nuzzi didn't ask Cernovich  about his past comments for her profile. They're not secret. Cernovich said "date rape isn't real," wants women to be taught "to stop lying about rape," that Trayvon Martin "got got before he was able to rape anyone," and believes that "white genocide is real." 
In 2012, Cernovich tweeted, "After abusing a girl, I always immediately send a text and save her reply."
It's not just Nuzzi. Cernovich has been avoiding questions about those remarks for the past month as his closeness to the Trump administration has reaped him rewards by scooping the corporate media. None of this, apparently, is important context for the corporate media--because now that he has access to the White House, that proximity to power is all that matters. But it mattered once--only months ago.
In April, Cernovich was the subject of a number of articles after the White House promoted his reporting and the president's son suggested he should win a Pulitzer. Cernovich had reported that former President Barack Obama's National Security Advisor Susan Rice had requested the names of Trump campaign officials whose names had surfaced in foreign surveillance. 
"Among other things," wrote Jesse Singal at New York,
Cernovich has said that "date rape does not exist"; has presented all sorts of interesting theories about the potency of some men's semen; has spread made-up rumors about Hillary Clinton's health; and once claimed that "There is no oppression" of Syrian refugees, and that "the media lied" about their plight — based on the fact that he saw a group of them playing soccer in Budapest.
At the Washington Post, Abby Olheiser wrote that "Cernovich falsely accused a comedian who repeatedly mocked him online of being part of a secret pedophile ring," and pointed out the alt-right figure's history of racially offensive remarks. And in the New York Times, Liam Stack told readers how, among other things, Cernovich "has long been criticized for his argument that date rape is a liberal fiction."
By July, however, Cernovich had enough access to power that his racially insensitive comments and misogynistic, pro-rape rhetoric no longer merited discussion. Outside of reporting relentlessly on the Pizzagate conspiracy theory, you'd think Cernovich was just another right-wing journalist with a flair for the paranoid. 
Olheiser, writing about Cernovich in July, said that while "Cernovich has previously gotten a high-profile scoop from a White House-connected source," the alt-right journalist's reporting should be taken with a grain of salt because he "has also helped publicize the Pizzagate conspiracy theory, which has absolutely no basis in actual facts." Cernovich's views on rape and race, apparently, had no bearing on his reporting, now that he had access to the White House. 
Nuzzi, too, could have asked Cernovich about his past remarks. But she did not mention Cernovich's history in her essay on his evolution from alt-right conspiracy monger to access-happy right-wing reporter. Nuzzi's profile never mentions Cernovich's sordid history of endorsing sexual violence, or his racist comments. Instead, she focused on his role in promoting Pizzagate and his claims that Hillary Clinton was near death in September 2016. 
When Axios reported that pro-Trump media was getting harder to ignore in August, the Politico offshoot presented a "both-sides" tag at the end that concentrated on conspiracy theory but, once again, left Cernovich's more offensive views behind:
The flip side: Cernovich spearheaded the 'Pizzagate' conspiracy theory and claimed that Hillary Clinton had Parkinson's.
Nuzzi too ignored Cernovich's past, with two exceptions: his role in promoting the "Pizzagate" conspiracy theory and Cernovich's claims that Hillary Clinton was near death in September 2016. Notably, each of these hinged on tearing down people in power. And Nuzzi uses Pizzagate mainly to show how Cernovich's rise was improbable — because now that he has access to the White House, that proximity to power is all that matters.
And now, as Cernovich is spearheading the movement to take down McMaster from the outside, everyone understands that he represents one wing of power inside 1600 Pennsylvania Ave. Note how he's referred to in stories about the internal dispute: as a "provocative right-wing blogger and activist" by The Atlantic, a "controversial nationalist" by Axios, and a "far-right blogger" by CNN.
Once you have access to power, there's a lot corporate media will forgive. The reality is that Cernovich is being given a pass because the political culture in Washington has changed such that it necessitates the inclusion of white supremacists in the modern discourse. 
Cernovich has made it from the Infowars desk to 60 Minutes; from the blogs of conspiracy theorists to the pages of New York Magazine. It's clear that there's no nuance and contextual explanation needed for Cernovich, at least not anymore. He has the inside track to the Trump administration, and that's all that he needs to be taken seriously.