Power Femme Tarot
is creating justice-centered tarot insight
Select a membership level
About
Hi there! Krystal of Power Femme Tarot here!
I'm a queer femme witch, devotee of the Morrigan, and tarot reader based in New Orleans. My approach to tarot bridges intuition and intellect as well as the spiritual and the political. Ultimately, tarot is a tool and it is up to us how we choose to use it. As a reader and teacher, I am committed to exploring ways the 78 cards can facilitate not only personal and spiritual development but also collective healing and social change.
My intention for this Patreon is to offer you engaging content that enriches your tarot practice. This is a more intimate space for us to be in community with one another.
Additionally, 50% of monthly contributions are redistributed to a social justice organization or initiative of our collective choosing.
All monthly contributors between $1-10 have
equal access
to my Patreon content (this is justice-centered tarot, after all!). These 10 levels energetically correspond with Major Arcana cards (following the Slow Holler Tarot titles), which in my mind are all of equal importance and wisdom. I invite you to consider the energetic essences of these corresponding cards as you select a monthly contribution that aligns with your wallet and your spirit.
$1-10 Patrons can expect…
Monthly Femmecasts: At the top of each month, I offer an energetic snapshot and channeled practical guidance for the month in both video and image/text format.
Two monthly posts that align with the schedule of the full and new moons. These posts include...

Tarot Incite: In this series, I offer my politicized tarot teachings. A verb associated with and used in political activism, "to incite" is to stir up, to provoke, to call to action. It is also a homophone for "insight," an understanding or perspective. As such, this series explores the tarot through the lens of social justice and my own personal gnosis. In each post, I discuss individual or small clusters of cards, how I understand them, and use them as springboards into critical reflection. This series may also feature spreads, activities, and other bits and bobs as inspiration strikes!
Tarot Talks: In podcast-style conversations, I'll be chatting with dear friends and community members about tarot and other relevant topics.
Other random goodies, including

Tarot spreads
Videos about my practice
Snippets of my in-class workshops and lectures
Coupon codes and patron-exclusive offers
Paywalls only exist at the highest two contribution tiers because their perks include monthly one-on-one personalized tarot readings. Spots at these two levels are thus limited.
Like the $1-10 tiers, these levels energetically correspond with Major Arcana cards (following the Slow Holler Tarot titles).
$18: The Moon | cycles, mystery, embracing darkness
All of the $1-10 content
A monthly 1 card tarot reading delivered during the Dark Moon as an emailed PDF. Focused on releasing, healing, and intuitive development, this reading invites you to embrace darkness as you prepare for the start of a new lunar cycle. Includes a clear color picture of your card, details on the deck and assisting tools used for your reading, and at least 150 words. (Please note that your reading will arrive in your email inbox following the lunar cycle rather than the Gregorian calendar; it will thus arrive on different calendar days each month. Dates will be posted on Patreon).
$21: The World | interdependence, leveling up, service to collective
All of the $1-10 content
A monthly 2 card tarot reading focused on self-care and community care. Delivered by the 1st as an emailed PDF, this reading will provide you personalized guidance for your self-care practice and how you can best be of service to your communities in the coming month. It is my hope that these readings will help you consistently prioritize self-love and community action so that you can better show up for yourself and others. Includes a clear color picture of your cards, details on the deck(s) and assisting tools used for your reading, and at least 200 words.
50% of monthly contributions will be redistributed to social-justice organizations and initiatives. As a collective, we will decide where these fund go each month. I will evidence these donations on Patreon.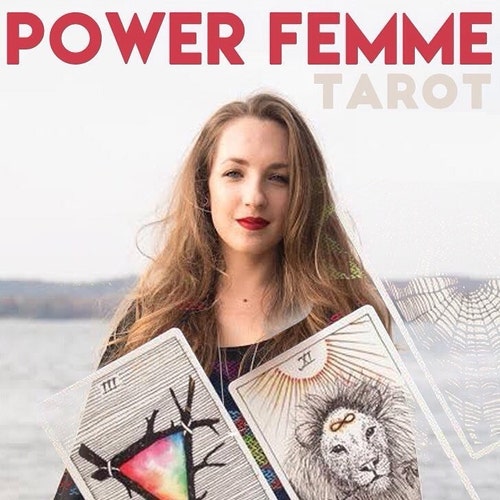 I look forward to being in community with you!

Contact

powerfemmetarot.com
[email protected]
IG: @powerfemmetarot
By becoming a patron, you'll instantly unlock access to 91 exclusive posts
By becoming a patron, you'll instantly unlock access to 91 exclusive posts
Recent posts by Power Femme Tarot