Select a membership level
Outlanders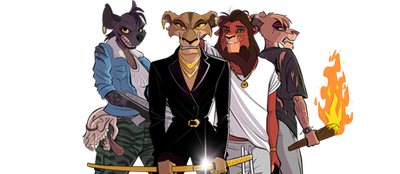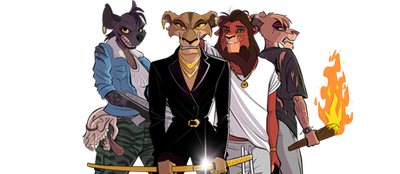 Welcome, Team Hyenas! You are a supporting character in this world, watching the mayhem from a safe space. You know when to step back and when to get your hands dirty! We need your cunning mind and your loyalties to keep things interesting. While you can't vote in polls, don't let that stop you from enjoying high resolution and Patreon-community only content. Welcome to Pridelands, Team Hyenas!
Includes:
Patron-only community
High-res content (desktop / phone wallpapers)
Pridelanders
Welcome, Team Pridelanders!
You are in the thick of the story and your characters impact a lot of the behind-the-scenes drama so we are giving you voting power! Yes, you! And you get access to the Works in progress (WIPs) and give direct feedback to the creators. You also get coloring pages. Let's get it! Welcome, Team Pridelanders!
Includes:
Voting power
Work-in-progress/BTS
Coloring pages
And everything in the previous tier
The Royal Family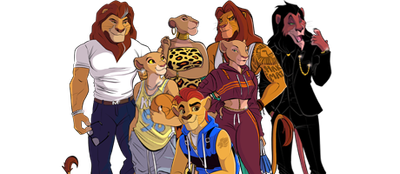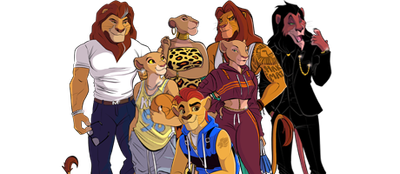 Welcome, Your Majesties! You are the official Royal Family of Pridelands. You are the kings, queens, princes and princesses of the story and this Patreon. In your royal position, there is some responsibility as the kingdom needs strong, consistent rule. The longer you stay, the better the kingdom becomes. Being royal does have its perks. You get a one-time 11x14 print of YOUR choice. When you hang it in your palace, make sure you tag us, your humble servants, on social media. You also have access to everything in the lower tiers, including voting power. Your voice and input is strongest here. Enjoy your throne! Remember, everywhere the light touches is your kingdom.
Includes:
One-time print of your choice
random Gift drops
And everything in the previous tiers
About Pridelands
Every great story has an origin story--this is ours. Pridelands was birthed in the mind of Los Angeles-based artist Marco Bernard after imagining Scar, from Disney's the Lion King as a character on the Netflix original series, Beastars. This passing thought evolved into the now familiar anthropomorphic drawing of Scar in a black suit that has circulated the internet, trending on Twitter, and appearing in numerous publications such as Buzzfeed and Popsugar. Naturally, the fans demanded Scar had some company, so the rest of the Pridelands family was born, including Mufasa, Simba and Nala, Sarabi, Shenzi the Hyena, Rafiki, and many others characters that are now familiar parts of internet history, on t-shirts and hoodies, stickers and your imaginations.
Pridelands, in spite of a rapid fan response and massive internet footprint, was still only beginning to evolve. Ashlea, a longtime college friend of Marco's and writer, decided the characters deserved a modern story to match their new modern introduction to the 21st century world. Her story was a present-day gritty tale where Mufasa and Scar ran a multi-billion dollar company called, Pride Rock Realty, in California. When Mufasa, without consulting Scar, makes a decision that will forever change Pride Rock Realty, an innocent story of two self-made brothers becomes of tragedy of death, infidelity, fraud, betrayal and the family will never be the same. Pridelands still, however, had more to give to the fans when animator, Marquise Staton, and character design artist, Jonathan Edwards, breathed life literally into the Pridelands characters through motion. In this new light, the fan base made the request--no, demanded--for more and that's why this page exist. When the fans speak, the creators listen.
We are the Pridelands Mastermind Team: Marco, Ashlea, Quise and Johnny. You are entering a world that is new, wild, and filled with twist and turns, but that was designed completely with you in mind. This is your escape, and this is your story. We read your messages. We saw your tags, posts and reposts, videos, tweets and we are answering you. "What's next? Where's the rest?" you asked us over and over and finally we are answering. This story is yours. We have all grown up and are still growing, so our familiar characters are growing with us. You will be in your feelings. You will feel great joy and laugh. You may get frustrated and pissed off (Sorry in advance). You may get upset and cry (Also, sorry about that). You will also feel like you can't get enough (Not sorry). We need you to build Pridelands with us, step by step, page by page, character by character, we want you to write the story with us. This is yours so feel free to share this page, give and invite your friends and family to give. You build the Pridelands world with your contributions so we thankful to you for giving and we are listening to you. Look out for the polls and post and respond so we can hear you even louder and clearer. Leave comments and make sure you follow the team on social media. This is our world now. Get in, buckle your seatbelt. Welcome to the Pridelands.
Creator: Marco Bernard
Writer: Ashlea Archer
Animator: Marquise Staton
Character Designer: Jonathan Edwards
This page may contain material that is copyright protected and may not have been specifically authorized for use. We believe that the use of any materials constitutes 'fair use' and parody and any such copyrighted material (referenced and/or provided for in Section 107 of the US Copyright Law. In accordance with withTitle 17 U.S.C. Section 107, the material on this site is distributed without profit to those who have expressed a prior interest in receiving the included information for research and educational purposes. More information available at
www.copyright.gov/fls/fl102.<wbr>html
If you wish to use any of the copyrighted material from this site for purposes of your own that extend beyond 'fair use', please contact the copyright owner for permission. If you are the copyright holder, and believe this does not constitute 'fair use', please contact us so we can make corrections, modifications or if proven necessary take it down.
The owners of this page, administrators, representatives, and associates will not be held responsible or liable for any damages (actual or consequential) for any post by third parties which may violate any law.
By becoming a patron, you'll instantly unlock access to 91 exclusive posts
By becoming a patron, you'll instantly unlock access to 91 exclusive posts
Recent posts by Pridelands
How it works
Get started in 2 minutes