ProDM
is creating professional TTRPG adventures.
Select a membership level
Apprentice Tier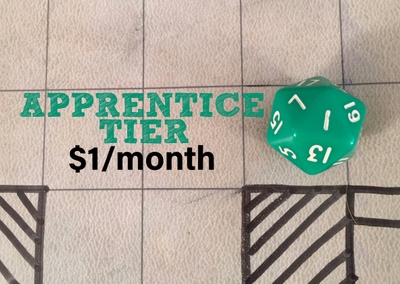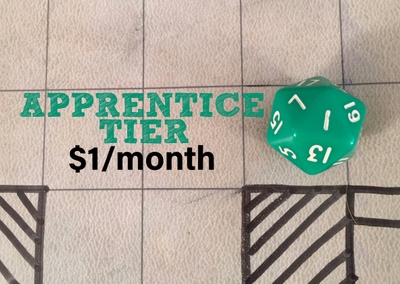 – Daily Bestiary: For some crazy reason, I've decided to design a brand-new homebrew monster every weekday! Is this too much? Maybe! As a patron, you'll get access to the Bestiary, a Google Doc that lists them all in a deliciously searchable format.
– Discord Role: Patrons get to hang in the swank Patron Lounge and can even invite their friends to the fun. Thinking about getting a foosball table in there. Real rec room energy.
– Early Episdoes: When All Hail Yog (or our untitled secret podcast project) returns, enjoy the podcast three days before everybody else!
Heroic Tier
– All Apprentice Tier benefits
– Monster Club: To help me decide which monsters to design for the Daily Bestiary, I post a weekly poll – one you get to vote it. Plus, by leaving a comment, you can commission me to design a monster for you. Need a CR 2 celestial with smiting powers? Lemme know and it's yours!
Paragon Tier
– All Apprentice and Heroic Tier benefits
– Consulting DM: Once a month, I'll design something for your game – a magic item, a monster or a map. I'll even hop onto for a 30 minute call with you to discuss your campaign!
About ProDM
Hello! I'm
Timothy
from
XP
and I'm a
professional Dungeon Master
.
I've been running TTRPGs for the past two decades. I wrote, produced and starred in a D&D-themed webseries called
Experience Points
. I run an actual play podcast called
All Hail Yog
and I manage a vibrant
Twitter
account. This Patreon is where you can show your support and even – hire me to run a game for you!
At the lower tiers, patrons get access to weekly homebrew content, worldbuilding streams and early podcast episodes. In the middle tiers, patrons can commission me to help them design their adventures, monsters, maps and even campaigns. At the highest tiers, you can snag a spot in my monthly patron one-shots or even hire me to run a weekly game!
Ready for an adventure?
$300
-
reached!
per month
At $300 a month, I can purchase the audio equipment I need – new mics, new mixer, new adapters – to finally finish Yog and begin the next actual play campaign!
2 of 2
By becoming a patron, you'll instantly unlock access to 291 exclusive posts
By becoming a patron, you'll instantly unlock access to 291 exclusive posts
How it works
Get started in 2 minutes