Project Atticus
is creating videos while Sailing Around the World on a Small Sailboat
Select a membership level
Swab
Welcome to our Patreon Family! As a Swab, you'll get: 
An invitation to our exclusive Patron-Only  Facebook Group where we post real time updates and live streams about our daily dilemmas and adventures. We don't hold back from our Patrons in this group. That means no make-up, no edits, just quality time with you! We also rely heavily on YOUR input to make important decisions about our channel. As a swab, you'll get to participate in these discussions & polls to help us steer the ship. 
Access to our Dolorme tracking link and travel plans so that you can see where we are every step of the way. 
Deckhand
Thanks for taking your contribution to the next level! You're awesome! As a deckhand, you'll get:
A personalized thank you at the end of an episode. Jordan and I will write your name on an INDEX CARD and say your name as we hold it up!
Look for your name after you have supported at least 5 episodes. 
And you'll have access to all rewards associated with being a Swab!
Yacht Master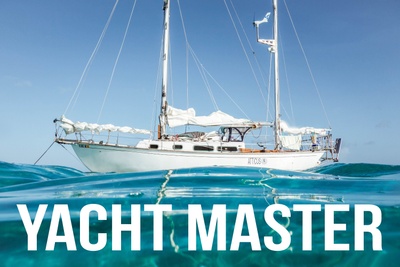 Thanks for believing in us! As a Yacht Master, you'll get:
A personalized thank you at the end of an episode. Jordan and I will write your name on OUR BODIES in sharpie pen and say your name at the end of an episode
Look for your name after you have supported at least 5 episodes. 
And you'll have access to all rewards associated with being a Swab
About
You are amazing! Thank you for stopping by our Patreon Page!

THE 3 YEAR REFIT
If you've been with us from the beginning, you are freaking awesome! THANK YOU! For the newcomers, we're two hard-working people who share a goal of sailing around the world on a budget. We live on Atticus, our 30-foot sailboat which we
bought for $5,000
and spent
3 years refitting
. You can read the
full story here
.
MAKING $ WHILE CRUISING
Once we completed our refit in 2016, we cast the lines and headed for the Western Caribbean where we spent a couple of months cruising before we settled down in Isla Mujeres, Mexico to
figure out how to find work using our new boat maintenance skills
. Over the course of a year, Jordan built five rudders from scratch, a swim deck extension for a 60ft motor yacht, and started writing for 
Cruising World
on the side; Desiree became the go-to seamstress for cruisers and did freelance social-media and photography work. Meanwhile, we paid for our dock slip in exchange for boat maintenance and sewing work. Before long, we had saved up enough money to start cruising again.
PATREON. FULL TIME VIDEO CREATORS
Around this time, we also decided to launch a Patreon page and we began to refocus our time and energy on video production with the goal of one day becoming full time video creators. Thanks to our amazing, kick-butt, flipping awesome Patrons, we reached our goal of earning enough money on Patreon ($500 per episode) to support our extremely frugal and minimalist lifestyle that we've been living for years (just enough money for groceries, basic boat maintenance, and clearance & travel fees) so that we can dedicate all of our waking hours to making epic videos.
What does this mean for you?
Your contribution will enable us to focus all of our passion and energy into Project Atticus so that we can:
Continue to release weekly feature episodes, plus as many additional bonus episodes as we possibly can.

*WE WILL NEVER CHARGE MORE THAN 1 EPISODE PER WEEK*

Host Live Streams (when internet is good) to get to know YOU better!
Collect feedback from YOU to help us become your favorite youtube channel!
WHERE DOES YOUR $ GO?The Boat Fund
Atticus is fully equipped with brand-new (for the most part) gear necessary for circumnavigation thanks to all of the hard work we put into her refit in Key West. However, subjecting a sailboat to circumnavigation puts a lot of stress on her and will require constant maintenance and repairs, as well as eventually an all-out overhaul once all of her elements start to reach their life-span (sails, rigging, chainplates, etc.). So we'd like to start a boat fund to be able to prepare for and anticipate the financial setbacks associated with maintaining Atticus through circumnavigation and beyond.
The Video Fund
As far as our camera, editing, and data storage capabilities right now, we have a pretty basic, bootstrapped package. However, if any of our current gear gets stolen or damaged along the way, we don't have any redundancies in our budget. We'd like to upgrade some of our camera and editing gear to improve the quality of our videos and we'd love to add redundancies in our gear so that nothing can stop us from filming in our tracks. We can also begin to streamline our video production process with better tools. This might mean hiring a virtual assistant, or hiring a web developer to help us with our content creation process. Bottom line, we will constantly invest your contribution back into Project Atticus so that we can continue to create awesome content for as long as we possibly can.
The Lifestyle Fund
We love living on a budget. We probably always will. But, we would love to be able to put a little bit aside to be able to handle any health emergencies we encounter along the way. We also want to have a BOAT BABY sometime in the next couple of years! We'd love to take you with us as we struggle through all of the challenges of raising a kid on a 30 foot sailboat!
REWARDS
Don't see a reward on here that tickles your fancy? Shoot us a note! We can make it happen!
It's not you, It's me…
If you're not quite ready for a long term commitment with us on Patreon, no hard feelings! We still want to be friends! If you want to chip in a one-time contribution to give us a boost 
click here!
Or if you'd like to support us by wearing some Project Atticus Swag around town, check out our
Store
!
The rates for crossing the Panama Canal will increase substantially this year. We will not be able to finish all of our boat projects before they raise the rate, so we will be anticipating a larger cost than we originally budgeted for to transit the canal. Any help we can get from our patrons will help us so much!
3 of 3
By becoming a patron, you'll instantly unlock access to 194 exclusive posts
By becoming a patron, you'll instantly unlock access to 194 exclusive posts
Recent posts by Project Atticus
How it works
Get started in 2 minutes