ProjectMQ
is creating a global community of indie game fans.
Select a membership level
Unfortunately, we didn't have the time to deliver all of the benefits from the previous rewards, so we've removed them for now, and we're using this one as a replacement instead.
We're going to publish content as often as possible, and hopefully maintain our weekly schedule. However, with all the work at our day jobs plus the new esports and educational project, we don't have the bandwidth right now to guarantee that we can deliver specific goals to everyone.
What we can promise, is that if you pledge, you'll get:
An invite to our Discord, and 
Access to our patron-only content in the future. 
If/when we get more time or bandwidth, we'll add the other tiers back. Patreon requires that we set a price on the tier, so we've lowered it to the minimum $1 amount.
About
Hey family, friends, indie game developers, and indie game fans!
Indie games are incredibly creative and diverse, and developers need help connecting to the global gaming community so they can grow. Due to discoverability and other issues, the average indie game developer made
less than $500 in sales in 2014
. It's now more difficult than ever for indie studios to reach their potential fans.
That's where ProjectMQ comes in!
If you've read our
blog
, you know that ProjectMQ's mission is to connect, support, and grow the global indie gaming community. Every week, we volunteer to help indie game developers around the world by:
Promoting innovative games for FREE!
Teaching best practices for building communities.
Sharing FREE advice to help devs create more engaging content.
Backing 300 indie game projects on Kickstarter.
Recognition
We've built steady momentum with ProjectMQ over the past few years. Some of our recent accomplishments include:
We appreciate that recognition, but we're most proud of the indie games we've helped launch. Their success is a win for the indie game community, and we've provided free support to hundreds of indie games around the world. One of those is the indie game "
Dead Cells
", made by Motion Twin, an indie developer based in France. Recently, Dead Cells won 
"Best Action Game" in the 2018 game awards
, with tough competition from AAA studios like Activision, Ubisoft and Capcom.  
We certainly don't take any credit for the excellent game they made, but we're honored to have supported their Early Access launch. It's an honor that they've described us "a valued partner by any studio looking to make a splash in the video game industry". You can read their full letter of recommendation for ProjectMQ below:
Some Other Indie Games That We Love
You may already know this: popular video games like Minecraft, League of Legends, Rocket League and Clash of Clans were all created by independent game developers. They're are thousands of other awesome experiences like them out there, waiting to be discovered and enjoyed. We're honored to have supported many excellent indie games over the past few years, including:
EVERSPACE

EVERSPACE™ combines fast-paced combat with roguelike elements, great visuals and a captivating story. It takes you on a challenging journey through an ever-changing, beautifully crafted universe full of surprises. Shoot, craft and loot your way to victory while the odds are stacked against you. You can get it on 
Nintendo Switch
, 
PS4
, 
Xbox One
and 
Steam
.
Into The Rift
Into The Rift is a pixel art metroidvania. It's centered around exploration, melee combat and parkour. For the combat we're borrowing heavily from the NES Punchout mechanic. Your opponent will block much of the time. You must dodge one of their attacks which sends them into a dazed, vulnerable state. Then you can counter attack. Into The Rift is currently in development, and you can follow their ongoing updates on 
their Twitter account
.
New Partnerships
Tencent (Games)

Epic Games. Activision-Blizzard. Riot Games. Supercell. Take-Two Interactive. Those companies produce some of the most popular games in the world, like Fortnite and Clash of Clans. Do you know what they all have in common? Each of those companies is part of Tencent's gaming portfolio. China-based Tencent is the eighth largest company in the world, and the world's largest gaming company. We think it's safe to say that they know a thing or two about the gaming industry, so we're thrilled that they're launching a new program to support indie developers around the world. We enjoyed working with them in the past, and we're honored that they've invited us to partner with them on their new initiative. We'll share more details about that soon!
iHeartMEDIA
C.A.G.E Fright Night
from
ProjectMQ
on
Vimeo
.
If you visited our site/blog, or follow us on Twitter, you may have already seen this recently: ProjectMQ is iHeartMEDIA's official esports partner. They're the #1 media company in the United States, and we're building out all of their gaming events in the 150+ markets nationwide. Check out the video above, for a recap of our Atlanta event for Halloween weekend on October 27th.
Loot Play
Loot Crate is one of the biggest names in gaming, and we're excited that they're now actively supporting indie games. With their new 
Loot Play
service, gamers get access to 5 awesome indie games every month. With our new partnership, our backers can get between 10% and 20% off their new indie games Loot Play subscription.
Taking ProjectMQ to the next level!
Back in 2017, ProjectMQ was ranked as the top influencer for indie games on Twitter:
http://share.itrend.tv/tdpe1
. We've made amazing progress with ProjectMQ in our spare-time, but we're eager to do so much more. With your financial pledges on Patreon, we will expand the support we're able to provide, including:
Organizing a group of streamers to regularly promote indie games.
Supporting more indie games on Kickstarter, Good Shepherd, and Fig.
Growing ProjectMQ beyond Twitter, to sites like SoundCloud, Vine, and Instagram.
Dedicating more resources to finishing our site, so we can launch the alpha and beta.
Teaching FREE virtual marketing/crowdfunding "How-To" bootcamps for indie developers.
Creating "Top 10" lists, to help gamers easily find the best free indie games and kickstarters.
The Sky's the Limit for Indie Games!
That's the plan, in a nutshell. We've provided tremendous value to indie game studios and fans worldwide. To support even more indie developers, we're asking for a small pledge of $5/month to help us continue growing ProjectMQ; we're thankful for any amount of funds you can donate. If you can't pledge any money, you can still support us by sharing this campaign on Twitter or Factbook.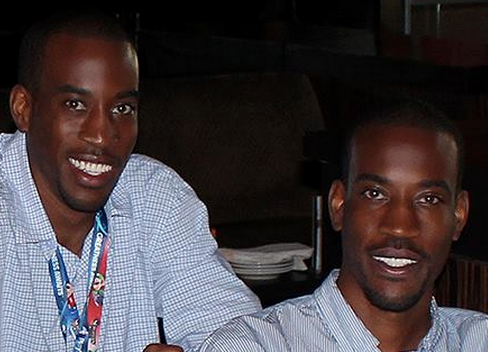 Discover EPIC Indie Games on Twitter
If you're on Twitter, don't forget to check out
#IndieFeatureMonday
and
#IndieFeatureFriday
. We created those hashtags to highlight innovative and award-winning indie games, and raffle awesome indie games to our fans each week. Since then, we've provided FREE promotion to nearly 1000 indie studios. Thanks to our generous sponsors, we have also given away more than 300 indie game keys/prizes.
Please share this with your friends on social media, and feel free to ask us any questions.
Thanks again for helping us support indie games!
Digitally,
Marcus and Malcolm
Malcolm and I got Super Mario Bros. 3 for Christmas when we were six, and we've been playing video games ever since. We took the picture above when we attended the Electronics Entertainment Expo (E3) in 2014. For those of you who may not know, E3 is the world's largest trade show for video games, and it's hosted in Los Angeles each Summer.
That trip to E3 cost us every spare dollar we could scrape together, but it allowed us to find awesome indie games and indie developers from around the world. We are dedicated to doing everything we can to help make the indie game industry sustainable.
Add Daily content from ProjectMQ to Instagram and Imgur

The majority of our marketing is on Twitter right now. With this goal, we'll expand to Instagram to help indie developers reach an even larger audience.

2 of 10
By becoming a patron, you'll instantly unlock access to 40 exclusive posts
By becoming a patron, you'll instantly unlock access to 40 exclusive posts
Recent posts by ProjectMQ