ElectricGecko
is creating Puck, a weekly webcomic
Select a membership level
One dollar gets you access to the large back catalog of bonus pics and goodies from Puck, including wallpapers, pinups, bonus comics and some never before seen material.

New bonus material will also be popping up here, including alternate jokes to comics, WIP previews of coming comics, and other stuff!

Five dollars a month lets you into the inner circle: become a Master of the Puck Incentives!  Patrons who donate at or above the five dollar amount get an active say in determining what the Puck voting incentive images will be.  The setup might take various forms depending on the month, but I'll usually be asking for potential suggestions, or presenting a few options.  Then the $5+ patrons can vote on which Puck-related images they want me to draw!  I draw between one and four incentive pics a month, so get brainstorming!

Everyone at this level also gets access to all the older back catalog of voting incentives as well as the newer bonus content, just as the $1 supporters do. 
About ElectricGecko
Hi there. I'm ElectricGecko, and I am a terrible salesman.
I'd like to sell you on what I do, talk about
Puck, my weekly webcomic
, and say why it's great and all that, but that likely wouldn't work because of the aforementioned 'bad at sales' thing. All I'm going to say is that I churn out a weekly webcomic. The webcomic is called Puck. It's about a
redheaded unemployed mother with anger management issues
. (Said redhead mom also happens to have elf ears and is theoretically a fairy, but that never really plays into the plot much.) If you're here, it's probably because you already know about my webcomic. If didn't already know about my webcomic, then I suggest 
you CLICK HERE and check it out
before actually giving me any cold, hard cash. Caveat emptor. Just sayin'.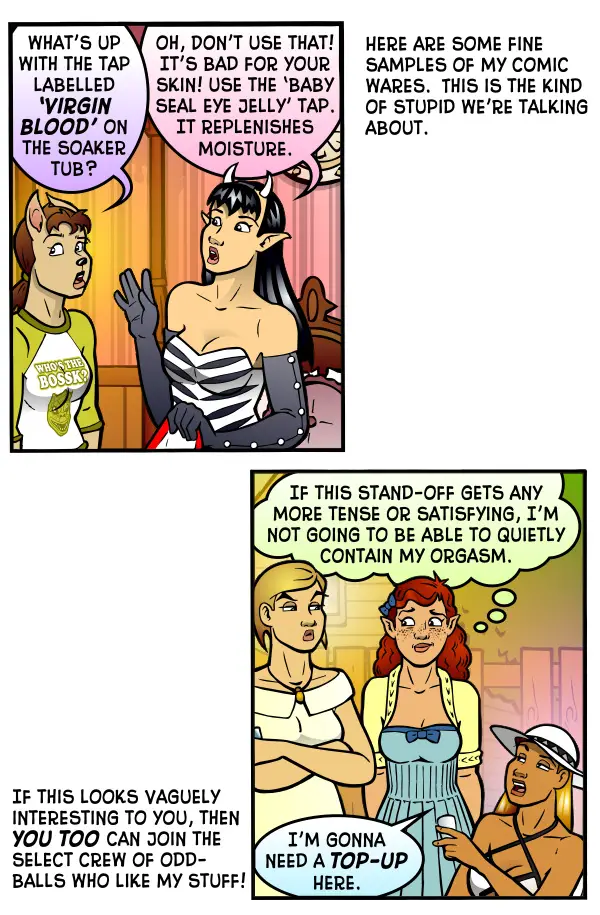 So what do you get if you become a patron of Puck? Well, at the moment, if you pledge the
low, low price of one dollar per month
, you get access to the growing back catalogue of
crazy extra pics
that I've run on TWC over the years. This includes tons of pinups, cosplay pics, gags and extra comics that have been used as voting incentives in the past. They're available for you, now with commentary. They'll be popping up over the next many months in a steady stream, so stay tuned!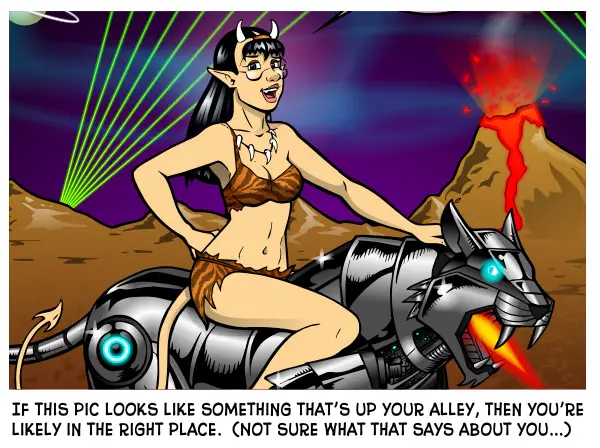 Be aware that nothing ever gets really NSFW. Things might get a little naughty now and then (with a heavy focus on bikinis), but things generally keep within the PG-13 limits.
$1 a month also gets you access to the high-res image of each new Puck comic as it comes out.  See Puck as it was meant to be seen: big and clear and not squashed down to some tiny JPEG!   
If you want to up the ante and be an even bigger supporter, $5 gives YOU a say in what Puck voting incentive images I draw for the future! The possibilities are endless! You could suggest a joke or gag! You could request a cosplay costume for Phoebe! You could send me a pic of an outfit that you'd like a character to wear! Whatever!
If you want more information, here's a Five Buck Tier FAQ:
Q: How does the suggestion system work?
Right now I collect suggestions every month or so, and we have a little dialogue about possibilities.  I usually go with the suggestions that sound the most interesting, or the ones I'd like to draw.   Some months might also be themed, so I'll give the theme (like 'Disney', say) and people could suggest what they want to see on that theme.
Q: What kind of pictures can I request? Can I request anything?
The pics will need to be Puck-related (it's not a commission thing, so I'm not drawing someone's OC) and I'm not going to accept every suggestion, but I'll try to work with people and accommodate where I can.
I'll want to draw pictures that I think lots of readers would enjoy seeing, so weird and obscure cultural references would probably not be my first choice. Also some pictures might be simply too much work. An elaborate pic with eight characters in a complex environment might be a bit ambitious. I'd prefer to stick to single character or two-character images most of the time, though if the idea's really good, I could make an exception.
Q: How naughty can the suggestions be?
Let's just say 'reasonably naughty' is fine by me, but we're probably going to keep within the vaguely PG-13 confines of the existing incentive pics. Probably.
If you have any other questions, just ask!
By becoming a patron, you'll instantly unlock access to 689 exclusive posts
By becoming a patron, you'll instantly unlock access to 689 exclusive posts
Recent posts by ElectricGecko
How it works
Get started in 2 minutes