Purity Sin Gaming & Chaotic Stories
is creating Let's Plays, Art, Comics
Select a membership level
Get exclusive patron-only merch
Art Request Contest/Uncensored Fun
Want to see my animations before anyone else? well all of you in the 5 dollar and up range get to! That's right you will get to the first to do things such as comment "first" and all that fun stuff. Plus you get exclusive access to my mature let's plays totally uncut plus as an added bonus you will get to put in for a chance to have your art request done each month!
Early access to my work
Monthly Art Request Contest
Uncut videos
Voice Clip!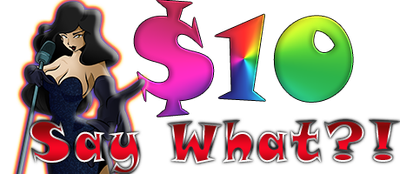 As a patron, you'll be recognized for making my work possible.
Plus all previous rewards
Plus you get to send me a private message for a voice clip from me. 
About
                       You've reached the spot for Purity Sin Gaming and Caotico Comics!

So I bet your wondering just what you've stumbled onto? Well let's break it down and tell you a little something about this page!
What is Purity Sin Gaming?
Purity Sin is the name of my youtube channel. With my cute adorable mascot Lily the toon unicorn I try to bring you everything from Indie games to the more unique games out there in the world!
About Caotico Comics
Caotico Comics was started in early 2018 as a way to bring the stories of writer Purity Sin to life. After showing some of her characters to fans through video thumbnails,streams, and two animatics fans began to ask for more. After one other animatic both a fan and the artist behind Caotico Comics suggested making comic books instead and so Caotico Comics was born. Now Caotico Comics works on such comics as Chaotic Stories as well as Stunning Shock. We hope through this Patreon to bring you other fantastic comics and series as we continue to grow and maybe someday return to animation to really bring our stories and yours to life!




Our current goals on the Patreon are pretty simple ones. If you want to see a more indepht explanation that rather long video down there explains it all but hey...atleast theres a sexy voice!

Issue 2 of Chaotic Stories
Another Stunning Shock comic short
Make lots more videos.
Bring guest artist on to Chaotic Stories.
Introduce everyone to more characters.

                                              "What can I get from this Patreon?!" 
You ask yourself as you read all this funny and weird text? Well that long little video down there does explain it but here are some colorful bullet points to make you read it! Come on reading is fun right?!

Uncut Videos


Early Access Videos

Art Request Contests

HD versions of the ar

t

First Looks and releases of the Comic

The Ability to give ideas for the comic

Your name at the end of videos

Your channel/Video be featured on the channel

1 on 1 gaming sessions with Purity

Multiplayer gaming Sessions with Purity/Cohosts

Sound Bytes and story readings

Requesting Sound Bytes and Readings

Exclusive Livestreams

Artwork of hot girls

Special Rank on our Discord!

My eternal undying love!

Thank you so much for reading all this and check out the video at the bottom for a bit more of an explanation. If you have any questions private message me!

Some links where you can find us!


Youtube Channels


Main Youtube channel
Second gaming channel
Chaotic Stories channel
Artist's Youtube Channel

 Other Social Medias
Purity's Instagram
Bosco's Instagram
Purity's Twitter
Bosco's Deviantart
Purity's Deviantart
Bosco's Facebook
Purity's Facebook
Merch Shop

1)Swimsuit issue= Summer fun has never been as chaotic as when a certain god decides they want to throw a summer beach party.
2) et's play of the patrons choice.
3)An issue of full insanity! To go with the swimsuit issue we will be doing another special comic full of utter laughs and sexiness.
4)Two new Characters!
A special Pokemon Shield Pinup Poster of lily.
6)An Artbook with art of the girls from all kinds of artist including our animator from the Forgotten Toon doing a special page with Bosco!
1 of 2
By becoming a patron, you'll instantly unlock access to 514 exclusive posts
By becoming a patron, you'll instantly unlock access to 514 exclusive posts
Recent posts by Purity Sin Gaming & Chaotic Stories