Rest for Resistance
is creating Emotional support resources – by Queer & Trans POC, for Everyone
Select a membership level
QTPoC Readers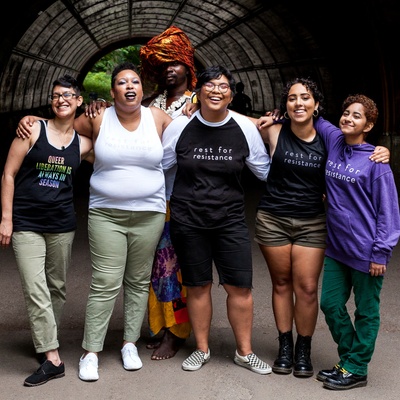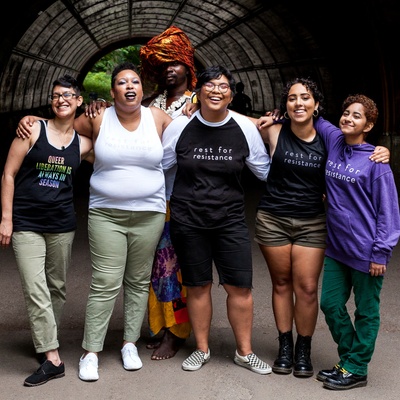 This tier is for QTPoC readers who want to offer ongoing monetary support for our community healing work.
We're happy you're here with us. Your existence is valuable, regardless of what you do or don't do. <3
QTPoC patrons will get a shoutout on social media, so please tell us what you want to promote.

Includes
Social media shoutout (please DM us to claim!)
Readers of Privilege
Rest for Resistance publishes writing & art by QTPoC. If you are not a queer / trans person of color, you have greater access to resources than our creators.
Please consider contributing at least $10/month to support us in representing marginalized mental health concerns, while creating jobs for QTPoC.
At this level, you'll get the warm fuzzy feeling of knowing that marginalized people are slightly less isolated while struggling with intersectional oppression.
Includes
Dedicated Reader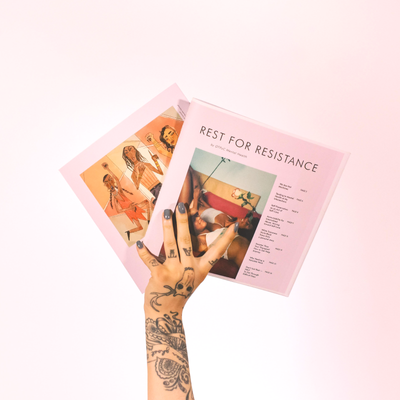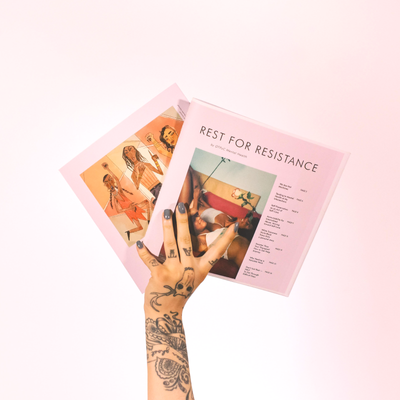 At $15/month, you're covering the cost of one original article per year. That extends to support the mental health of thousands of marginalized people. Thank you! 
About Rest for Resistance
Rest for Resistance (R4R) is a creative outlet by queer and trans people of color, created as part of QTPoC Mental Health. Find our original resources on restforresistance.com.
Every $1 we raises enables our community-led healing work to reach 10 marginalized people, who may otherwise struggle to access emotional care and connection. 
One-time donations
can be made through our website; yet what R4R needs to thrive is a community of sustainers who find pride in sharing resources with queer and trans folks, people of color, disabled folks, and other individuals who fall in the margins of social support.
--------
ABOUT QTPOC MENTAL HEALTH
Since March 2015,
QTPoC Mental Health
has been addressing these gaps in community health care. We have hosted monthly QTPoC Meditations in NYC, run an online peer support space with 5000+ members, share intersectional mental health resources on social media & create original resources on Rest for Resistance too. :)
We are deeply committed to creating community healing spaces and developing free-to-access resources that help us survive. Check out this list of
intersectional mental health articles
we've rounded up for you to learn more about these issues. And please share!
--------
WHO ARE WE?
Our team consists of queer & trans people of color (QTPoC) who are passionate about creating emotional support for our many diverse communities. Since QTPoC is inclusive of all genders, all religions and spiritual practices (and lack thereof), all sexual identities, all levels of ability, and every region on the planet, the resources we create have the potential to help millions of people.
"Study after study shows that having a good support network constitutes the single most powerful protection against becoming traumatized," explains
The Body Keeps the Score: Brain, Mind, and Body in the Healing of Trauma
. Yet many QTPoC are affected by inherent isolation in complex identities, meaning we have fewer loved ones who can understand our challenges when we need help, all while we face undue stress. It's no wonder our communities are so affected by depression, anxiety, and chronic suicidality.
--------
Please donate to uplift those who experience emotional distress and too often go without affordable, accessible support. Help us create more resources for individuals and communities who are struggling to survive.
You can also support our community by purchasing Rest for Resistance hoodies, tees, bags, and more on 
shop.restforresistance.com
.
This covers the cost of publishing original articles, including art, writing, editing, and web hosting fees. Browse everything we've done so far in the Rest for Resistance archives.

1 of 2
Recent posts by Rest for Resistance
How it works
Get started in 2 minutes