Quentel the Cryptid
is creating Music + Visual Media
Select a membership level
Flower Eyes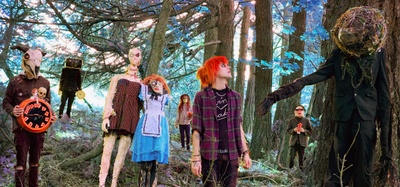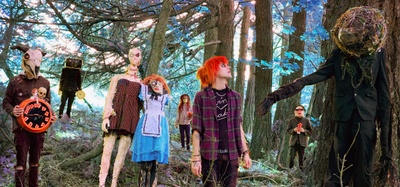 Your support means the world to us!  Get access to exclusive updates and behind the scenes content. Thank you for helping us to continue doing what we love.

Winchester
Be the first to receive updates and previews of new projects! Help guide us along our path to discovering the next strange and colorful idea.
OHNOGOD
Is there a specific idea you would like to see?  Got an idea for one of the characters?  We'll make it happen!
About Quentel the Cryptid
Hi! My name is Sean, and this is my project- Quentel the Cryptid.

While that name primarily refers to my solo musical output, visual media and surrealist storytelling have been major components of the QTC blueprint from the beginning. I started this project in 2011 in Pennsylvania (which is where I am originally from), and though it has transformed many times over, a lot of the ideas, characters, and even some of the songs have been with me for over a decade now (some even dating back to earlier projects and bands). In 2016, I moved to San Francisco, which is where I met Elly. Elly and I work together on all of the visual elements for the project, and our collaborative effort is called WitchCentipede (which is also the name of an entity in one of our ongoing narratives). Together we make animations, videos, posters, collages, dossier files, and more stuff related to our expanding cast of characters who inhabit the WitchCentipede universe. Elly also designs and illustrates all of the cover art for my albums, EPs, and singles. If you've seen any of our work online, chances are it was probably made either in the Bay Area or in Portland, Oregon.  Those are also the locations that I most frequently play shows, but I'm always looking to branch out and play new places. if you're interested in doing a show together, please reach out and get in contact. If you want to see more, go check out our website and social media. You can find my music on all streaming services, or on Bandcamp (where you can also purchase CDs and other merch). If you'd like to get involved, go to our website and select "Join Us". There you can learn more about our flier campaigns and other projects. Doing any of those things means the world to us, and we appreciate you taking the time to watch this video. You can also support us here, through Patreon. We're constantly working on new projects and embarking on new adventures, and we hope to see you along the way!

By becoming a patron, you'll instantly unlock access to 13 exclusive posts
By becoming a patron, you'll instantly unlock access to 13 exclusive posts
Recent posts by Quentel the Cryptid
How it works
Get started in 2 minutes