Quoted Magazine
is creating a platform for New Yorkers to free their truth
Select a membership level
Coffee Date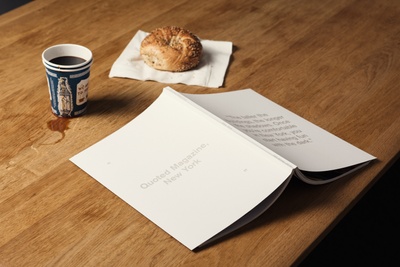 It's ok, we get it. Living in New York is not cheap. So if you're romantically broke, but you love Quoted and want to show your support, this is the option for you. For less than the price of a coffee in NYC, you'll help us grow (and get to watch the process!)
What you'll get on this option:
Behind-the-scenes content and weekly posts
Friends with benefits
If you enjoy Quoted and want to take this friendship to the next level, this package is for you. In addition to behind-the-scenes footage, you'll have a subscription to our magazine, access to a community of other Quoted fans and New Yorkers, and you'll even have a say in our creative process (!!!).
Sugar Daddy
Pour some sugar on us! Our top tier offers you the very best of Quoted -- from all the perks of our lower tiers to invitations to exclusive Quoted events to even more goodies. Our events range from our issue launches to casual hangs to cultural adventures, and everything in between. Those are some #relationshipgoals right there.
About
Quoted is a love letter to New York from the people who live here. (
www.quotedmagazine.com
) 
Our mission is to contribute to the city in a real way: by giving locals a platform to free their truth and bridge the gap between native New Yorkers, transplants, and visitors. We want Quoted to challenge our perceptions of the people we think we already know and accept as a natural part of New York City life. Hopefully we foster a dialogue. Hopefully we forge a deeper bond. Hopefully you're prompted to reach out to a total stranger and get to know them a little better.
How do you want to $upport our mission? 
There's a lot that our social media and our magazine offer. Here, however, you get a behind-the-scenes look at how we choose our subjects. You will see how a new issue is born in New York. For only $3 a month you can have access to something cool and you'll be helping us grow. You'll help us take our mission to more people, including the people who would not otherwise be able to afford our $20 cover price. We also want to bring you opportunities to meet other New Yorkers, even the Quoted team IRL. How many magazines do that? There are goodies involved, as well. There are opportunities to free your truth. This is a platform of exchange, support, and growth. That's what New York used to be and what it will be again soon.
When we reach this goal we will create an issue of Quoted made entirely by our patrons, with no ads, just great content :)
4 of 4
Recent posts by Quoted Magazine
How it works
Get started in 2 minutes