Raman Frey
is creating Community, Conversations & Writing
Select a membership level
FRESH DRINK MIX
FRESH DRINK MIX

5% discount on GP Dinners
Invitations to Rally Point Gatherings
Newsletter
Chat community
TOMATO ROAST
TOMATO ROAST

20% off GP Dinners
Exclusive content
Patron-only voting power / requests
And everything in the previous tier
BUBBLING FRITTATA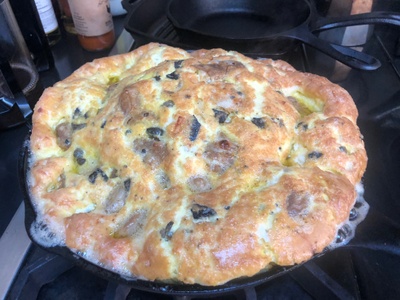 BUBBLING FRITTATA

1 hour/month consultation on building and benefiting your network of contacts
One free GP Dinner spot per quarter
10% off GP retreats.
Livestream recording or Q&A
And everything in the previous tiers
About
Why are we, particularly in big cities, so starved for genuine connection?
The lifestyle marketing we encounter every day insists that implicitly, everything that matters in life can be purchased. Isn't it obvious that love, respect and community are not for sale?
In 2012 we set out to get clear on how to remedy loneliness and bring folks back into a more vivid version of their own lives. This lead to us launching
www.goodpeopledinners.com,
a community built around meaningful conversations and delicious feasts, a moveable social club for those who value authenticity, civil discourse and amazing food. Since then we have hosted almost 250 dinners, overnights and retreats, with a variety of speakers, chefs and hosts. Our community has grown and contributed in meaningful ways to the richness of thousands of people's lives.
Then, in January of 2020, things started to slide. By March, attendance at our gatherings collapsed with the arrival of the COVID-19 pandemic.
What to do?
We thought about it and decided, it's time to give our community a recurrent way to support our activities, relieve some financial pressure and allow Raman, our founder, the breathing room to finish his book, tentatively titled Mount Commerce: Beginnings of Incentive System Design. More info on Raman's background in art, philosophy and technology, and this book in particular is at
www.ramanfrey.com
If you believe in the vital importance of civil discourse, substantive and candid discussions with a wide range of people; if you believe in the importance of reinventing food systems and demonstrating to people the nutritious and delicious possibilities of farm to table feasts; if you deep down know that there are far better ways for us to design the systems that shape our behaviors as a global civilization; if the promise of new economic and governance paradigms excites you, but you know it won't be funded by our current forms of government or capitalism; if you can imagine vividly a world where generosity rules the day and people tear down fences and build longer tables; if this sounds like a world you want to bring more into being, please consider supporting our work on this Patreon page.
By becoming a patron, you'll instantly unlock access to 11 exclusive posts
By becoming a patron, you'll instantly unlock access to 11 exclusive posts
Recent posts by Raman Frey