The Rational Heathen
is creating A Heathen Blog
Select a membership level
Get exclusive patron-only merch
Monthly Patron
$5 a month buy you? How about exclusive content you won't see anywhere else which includes The Muse is a Bitch series? Published for your enjoyment. So, you get news and cool stuff.
Unlock exclusive content and join my community of patrons. Thank you!
An eBook copy of The Wight Stuff: Neither Rational Nor Heathen, Volume 1. A $10 value!
Access to a feed of patron-only content
Access to a special patron-only forum which gives you a direct line to The Rational Heathen (me) and my other patrons. Way cool! Chat all you want!
Rational Heathen
Lots of people love to have rune readings, which is why I'm offering a free three rune reading (for entertainment purposes only) after your first paid month. I've been told I'm accurate, but YMMV. Contact me and we'll set up a day for a rune reading where you can ask questions.
Will provide a 3-rune reading.
Access to posts before they're released to the general public.
Plus all previous rewards.
Show off your Lone Wolf Heathen status w/ Rational Heathen!
Heathen Collaborator
I love my patrons, and if you're in my $25 a post category, you get a special shout-out as my patron in one of my posts after the first month. That is way cool! I'll even put an ad up for your business on the blog free of charge for a month.
For a $25 donation, you get:
Shoutout in one of my posts.
An ad for your business up on The Rational Heathen blog for a month.
Plus all other previous rewards.
Includes
Exclusive Mug -

Have your tea or coffee with The Rational Heathen daily!

Exclusive Sticker -

Show off your Lone Wolf Heathen status w/ Rational Heathen!
Top Patron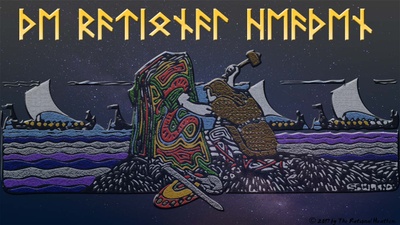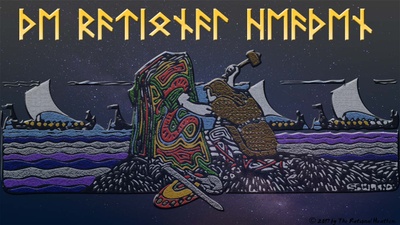 How cool would it be to have a new Heathen wallpaper delivered to you every month (including the one above)? These wallpapers are in high resolution and are yours for your personal use.  
So you get:
New desktop wallpapers each month
Plus all previous rewards
Includes
Exclusive T-shirt -

Wear your Lone Wolf Heathenry proudly with this custom shirt

Exclusive Mug -

Have your tea or coffee with The Rational Heathen daily!

Exclusive Sticker -

Show off your Lone Wolf Heathen status w/ Rational Heathen!
About The Rational Heathen
Why Would You Read This, or How a Skeptic Became a Heathen
The Rational Heathen is a wildly popular Heathen/Asatru blog.  You can
check it out HERE
and note how many hits it has. It is a snarky, sometimes irreverent, and seemingly controversial blog that points out the truths as I see them. 
I am not your typical religious fanatic. Hel, I'm not even sure I am a religious fanatic. Why anyone would give a shit and read my blog is beyond me. I do not hold my truths as being the only truths, but I do follow Tyr, the god of truth and laws, so don't be surprised if I get a little insistent at times.
I do not proclaim myself a priestess, gothi, gythia, or whatever the name is when somebody speaks of them. If you're looking for someone to lead you, it ain't me. Deal with it.
I am a skeptic. I was raised Catholic and even went through parochial school for a time, but that was pretty much enough to beat religions out of me. One thing that did secretly attract me was Norse mythology, which I suspect was Tyr calling me.
When I grew up, I put aside foolish notions of religion and became an engineer. I worked on rockets (yes, I was a rocket scientist). The more I read from the Judaeo-Christian religions, the more I hated them. It's not the message of Jesus, per se, it's everything else around that message and the total lack of logic of the entire Christ story. Anyone with half a brain could see through the arguments. The other part of the Bible is full of a hateful, vengeful god. That isn't a god I would follow. I will, however, follow a god who would literally give his right hand to ensure our existence. The other problem with Christianity is that there are so many people who cannot accept science as fact and look to the Bible as a textbook.
I accept science as fact. Science changes because our knowledge of the universe changes, but it is the way we learn about our universe. The facts as we see them today may not be the facts of tomorrow. Science deals with facts and observations, but it is not Truth. The nature of facts tend to be fluid, which is why people often run to religion. They want something that they can point to and say: "This is true." It's hard to do that when we don't have all the proof to our facts.
So, why do I believe in the gods? The reality is that I struggle constantly with the concept that there may be gods. And the gods tell me in no uncertain terms that they exist. So, I accept their guidance and their help, even if they may just be the figment of imagination from a crazy woman. They don't tell me to do harmful things (why should they?) and they know damn well I use my reason to discern right from wrong.
I love the Havamal. In particular, I love the
Cowboy Havamal
, which I could totally see Odin get behind. Like everything in Heathenism, it's more guidelines than actual rules.
You may have already noticed that I have a sense of humor. I believe you have to have a sense to deal with our world. If you read any of the stories about our gods, one feature that appears prominently is a sense of humor, something that the Judaeo-Christian god lacks. Yes, our stories have vengeance, anger, cruelty, jealousy, but there is also humor, kindness, forgiveness, and self sacrifice.
I've been known to quote from popular culture as well as from pretty heavy hitting sources. I blend them as I see fit. Don't be surprised if I quote from scientists, religious texts, and Doctor Who all at once. In fact, just expect it.
I have been called intense by those who know me. I also have the uncanny ability to work with animals that has been called by others "fucked up." (That's a technical term.) Basically, if there is a domesticated animal present, it will seek me out. Dogs and cats are more likely to be attracted to me. (Honestly, I do shower every day.) Occasionally, I've had other animals -- wild animals -- attracted to me. No clue.
As the old Indian said in Little Big Man, "Sometimes the magic works, and sometimes it doesn't." I have scars from when that magic doesn't work. (It occasionally, though rarely, doesn't.) Usually it's my own fault. And usually with spectacular results.
Oh, and I have a hard time believing in magic. So, I am really a ball of contradictions.
Why I Called This The Rational Heathen
If you've read this far, I'm sorry. I have no clue why I call this blog
The Rational Heathen.
Maybe it's because I hold up beliefs to the light of Science and hope I can come up with some clever rational explanations. Or maybe I just get tired of the woo-woo and I want some facts. Hel, I might even go back to agnosticism at some point. But I kind of doubt it. Tyr is persistent.
So Why Should You Be My Patron/Patreon?
If you like
The Rational Heathen
and like what you see on the blog, please consider being my patron.  I've been doing this for nearly free for a year, and though I have fans, I don't profit from this.  To be brutally honest, I could really could use the money.  Really.  I make my living writing, and some days I wish money would come in from this site.  Writing once a week takes time from writing the oh-so-exciting topics of dental care, shipping news, and the riveting subject of pest control, all which makes me more money than The Rational Heathen site makes for me.  It doesn't take a lot support The Rational Heathen, so even a few bucks is better than nothing.  I publish posts on average of one per week, so if you're worried about me breaking your budget, you can safely plan on about 50 posts a year (I do occasionally have things go on in my life that takes me away from the blog). 
Thanks for reading this far. If you decide to support The Rational Heathen, you have my gratitude.  Check out the rewards section and I might have something for you.
Earning $100 per month would allow me to continue The Rational Heathen plus allow me to put together a Rational Heathen book for reading runes.

1 of 1
By becoming a patron, you'll instantly unlock access to 166 exclusive posts
By becoming a patron, you'll instantly unlock access to 166 exclusive posts
Recent posts by The Rational Heathen
How it works
Get started in 2 minutes