Diana Nguyen (#DancingDiana)
is creating a fun & joyfool world via standup & snorting! #TheSnortCast
Select a membership level
A Plate "The SnortCast" of comedy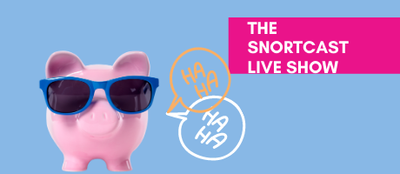 Thank you for saying yes to supporting snorting every month

Why $13.52?
Every year Diana receives a cheque from a comedy TV show (20 seconds) to reminder her how much she is really worth. This is how crazy comedy is.

With over 100 #JustDoingKaraoke interviews, Diana have dreamt of hosting a TV show interviewing people from all aspects of life and how they add/see the funny in life.

Keeping it snorting real.

With lots of funny people now unemployed, it is the perfect time for this show. Why comedy, how comedy and who the bloody hell are you?

This plate of JoyFool includes: 
🐽 A shoutout on the The SnortCast lives,
🐽 VIP access to podcast episodes.

Diana will be using the funds for production setup and marketing for "The SnortCast" livestream/podcast.
You are part of the #PhiandMeTV team!
About
*happy snort*, it's me, Diana.
Actor. Comedian. Video Content Creator. Joy
fool.

I am an actor, but with the lack of work (thanks COVID19), I jumped into standup to
STAND OUT.


I went onto LinkedIn to share my joy, and it paved ways for my first TedXTalk.
In the past 15 years of my emerging career in the Australian TV and entertainment industry,
I have created my own work so that my voice, my culture and my story could inspire a new generation of storytellers in Australia and the world.
I decided to be BRAVE.

Instead of waiting for 20 second bit parts, or one-page scripts, I have written, produced and performed my work all over Australia and internationally.
My work has included:
💃 Short Story - 5 ways to disappoint your Vietnamese Mother.
💃 Theatre show - Phi and Me
💃 Stand Up show - Naked
💃 Stand Up show - Dirty Diana
💃 Stand Up showing - Chasing Keanu Reeves (cancelled due to COVID19)
and
💃 I co-created the
FIRST
ever Vietnamese Australian family comedy webseries in the world.
The concept was first created in 2011, and performed at the Melbourne International Comedy Festival for 4 years, with a 4.5 star review by the Herald Sun. From theatre to a webseries, it took over 9 years in the making, we created Phi & Me.
>>>> 📽️ Watch Phi & Me webseries -
www.phiandme.tv
📽️
Fast forward to today... Despite the crisis, I'm going to survive (and you will too).

In my recent TedxTalk, I spoke about how my life is the arts. And how I have created creative content for my Linkedin community via dancing and talking about comedy.
This is my blood, this is my livelihood.
Now, I want people to be #BeBrave in their own stories, to use comedy, and be a #JoyFool in their own lives.
This is what inspired me to create this Patreon*
My goal is to raise funds and with your support, let's
💃 Set up a LiveStreaming/PodCast called "The Snort Cast - Keeping it snorting real." Interviewing funny people from all over the world in how they use comedy in their storytelling.
💃Build a community of brave souls who want to have fun telling their story.
💃 Create another season of Phi and Me.
And...
💃 I plan to eventually move to Los Angeles so I can continue to make art (and win that Oscar).
AND why is this important to me:

It's to increase fun and joy in this crazy world.
Let's be joyfool together.
💰 What's next?
Patreon is a membership community platform, you pick a tier/package that suits you.
In exchange for your monthly support, you will gain some epic packages.
For more information
www.diananguyen.com.au/patreon
about my work and story.
Become a patron to
Connect via private message
Recent posts by Diana Nguyen (#DancingDiana)