Rebecka Koritz
is creating change by providing content on self-directed learning
Select a membership level
Access to my newsletters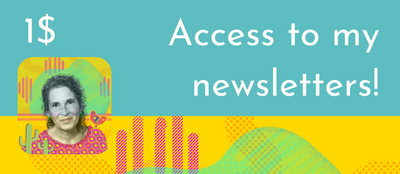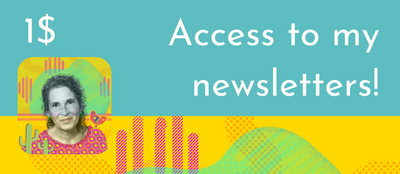 Every now and then I share what I'm up to in the world of Self-Directed Education. On Instagram you'll see me share pictures. On Facebook you'll see me share opinions. But it's really only on Patreon that I share what I'm doing in the self-directed world, how I feel about it and how I see that what I do makes a real difference.  


By donating 1 USD a month, you get access to all my newsletters. 

A youtube video answering your question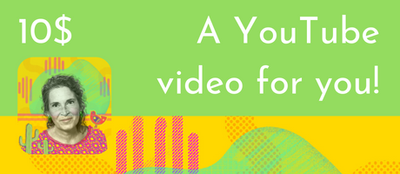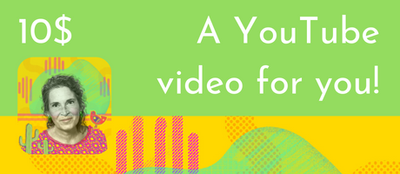 Many parents have questions related to peaceful parenting and free, self-directed learning.

By donating 10 USD a month, you acces my newletters AND you can send me one question of which and I'll reply through a short YouTube video in English, Spanish or Swedish.




Ask me and I'll answer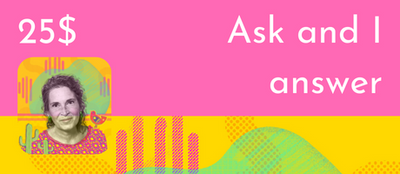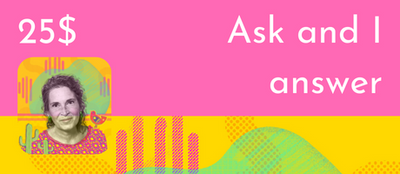 If you have a lot of questions about self-directed education or your parenting journey that my perspectives might help you with, this tier is for you!


For 25 USD per month, you can ask me two pressing questions every single month. I'll answer you through a personalized recording.  

About Rebecka Koritz
Empowering parents and teachers to trust children (español abajo)
I was born and raised in Sweden where I trained and worked as a teacher. Since 2003 I live in Mexico where I've been working as a catalyst for change by hacking the conventional school system from the outside. In 2008 I founded my first alternative school, then in 2012 my second, and in 2016 I founded Explora, Mexico's first Agile Learning Center.

Working with children, families and teachers for over 20 years, has made me see the effects that the conventional school system has on young human beings. It minimizes their capacity to take initiative and solve problems, and strips them of their creativity. Abilities that are absolutely vital in order to manage and succeed in this ever-changing world.

On the Latinamerican continent where most countries score poorly on the Index of Democracy, and where change within the system is prevented by corruption, a big part of my work consists of empowering parents and teachers to raise and educate children in a very different way: to trust the innate abilities that our children are born with and thus support them in growing into the magnificent human beings they are destined to be.

Easy access to free knowledge should be a human right. People of all ages have the right to make the most of themselves. Knowledge, empowerment and democracy are intimately connected.

There's plenty of information in English on self-directed education and peaceful parenting. But for the Latin American public most of this information is out of reach. The language barrier effectively prevents anyone interested in accessing even the most basic content. That is why I started creating supportive materials in Spanish in the form of articles and videos.

Huge results
Since I started, there has been a huge demand for more information. I've been contacted by individuals from all over Latin America that have read my articles or watched my videos. People from Mexico, Ecuador, Colombia, Venezuela, Peru, Brasil, Chile and Argentina have asked for personalized support, including trainings on self-directed education and agile learning.

As a result, there have been more than 20 trainings in self-directed education held the last two years. And as a direct consequence more than 15 new Agile Learning Centers have been founded all around Latin America - and more are underway.

I believe that, in order to empower children, we first need to empower the adults. Seeing parents transform and begin to support their children's self-development in partnership with their children and all the marvelous consequences that come from it, is proof to me that my work produces real results.

My work crosses the Atlantic
Interestingly enough, my work started to reach the public in my birth country Sweden: a country where schooling is mandatory, and where all children are obliged to learn exactly the same content no matter each school's pedagogical inclination. In spite of more and more Swedish families leaving the country in order to be able to offer their children better circumstances for the freedom to learn, only a tiny minority of the Swedish population has any knowledge on self-directed education. 

This has pushed me to produce videos and articles in Swedish too, the goal being the same as for the Latin American families: produce content that simply doesn't exist. My personal objective in Sweden, is to to everything I can to inspire to a change in the educational law so that it would encompass free learning, learning through consent and pedagogical diversity.

I am committed to continue supporting this growing community of self-directed families in Latinamerica and in Sweden, by continuously producing articles and videos for them. Last year a couple of my friends and I started up a podcast in Swedish (Fria Barn - or Free children in English), and now I'm starting up another one in Spanish with two other friends (Semillas de Libertad). I'm forever grateful for the support that I get from people who value what I do. Thanks to them I can continue to bridge the informational gap for the Latin American and Swedish communities and give them the tools to become empowered individuals, active learners for life and capable of creating the lives that they want.

Me in a snapshot
I am passionate about self-directed education and peaceful parenting. I have an extensive and unique path within alternative education: as an ex-student in the Montessori system, co-founder of two Waldorf initiatives, and the founder of Explora, Mexico's first Agile Learning Center. I dedicate my time to giving workshops for parents in Spanish and Swedish (both online and IRL) and creating articles and videos in in order to support families who are embracing self-directed education. At the same time I accompany my teenage old son on his journey in the world of self-directed education. I love empowering other human beings to experience and create freedom in their own lives.

Empoderando a madres, padres y maestros confiar en los niños
Yo nací en Suecia donde estudié la carrera de pedagogía práctica para volverme maestra. Desde el 2003 vivo en México donde he estado trabajando como catalizadora para el cambio a través de hackear el sistema educativo convencional. En el 2008 fundé mi primera escuela alternativa, luego en el 2012 la segunda y en el 2016 fundé Explora, el primer Centro de Aprendizaje Ágil en México. 

Trabajando con niños, familias y maestros desde hace más de 20 años, me ha hecho ver los efectos que tiene el sistema educativo convencional en los seres humanos jóvenes. Minimiza su capacidad de tomar iniciativas y resolver problemas, y les quita por completo su creatividad. Estas son habilidades absolutamente fundamentales para poder lidiar con la vida en este mundo que está constantemente cambiando. 

En un continente donde la mayor parte de los países llegan muy bajo en el Índice de Democracia, y donde un cambio dentro del sistema se obstaculiza por la corrupción, gran parte de mi trabajo consiste en empoderar a madres, padres y maestros para educar a los niños de una manera muy diferente: confiando en sus innatas capacidades con las cuales nacieron y de esa manera apoyarlos a que se vuelvan los seres humanos magníficos que son destinados a ser. 

Acceso fácil al conocimiento libre debería de ser un derecho humano. Personas de todas las edades tienen el derecho de hacer lo máximo de sí mismas y de sus vidas. El conocimiento, el empoderamiento y la democracia están conectadas de manera íntima.  

Hay un montón de información en inglés sobre la educación autodirigida y la crianza respetuosa con apego. Pero para el público latinoamericano la mayor parte de esta información está fuera de alcance. La barrera lingüística impide eficientemente a las personas interesadas en acceder hasta el contenido más básico. Esta es la razón por la cual decidí empezar a crear material de apoyo en español en  forma de artículos y de videos. 

Resultados enormes
Desde que empecé, ha habido una demanda muy grande para obtener más información. He sido contactada por personas en toda Latinoamérica que han leído mis artículos o visto mis videos. Indivíduos de México, Ecuador, Colombia, Venezuela, Perú, Brasil y Argentina me han pedido apoyo personalizado, incluyendo entrenamientos sobre la educación autodirigida y el aprendizaje ágil. 

Como resultado, junto con un equipo de facilitadores de aprendizaje ágil, he impartido más de una docena de entrenamientos en un año. De estos entrenamientos han nacido diez nuevos Centros de Aprendizaje Ágil, y más están en camino. 

Yo estoy convencida de que, para poder empoderar a los niños, necesitamos primero empoderar a los adultos. Ver cómo se transforman las madres y los padres, cómo empiezan a apoyar el desarrollo de sus hijos en una relación equitativa con ellos, es una muestra de que mi trabajo produce resultados. 

Estoy comprometida a seguir apoyando esta comunidad creciente de familias hispanohablantes autodirigidas, a través de seguir produciendo material para ellas: artículos, videos y, ojalá en un futuro cercano, webinarios de acceso gratuito y un podcast. Estoy más que agradecida por el apoyo que recibo de la gente que valora mis aportaciones. Gracias a ellos, puedo seguir cerrando el abismo informacional para la comunidad latina, y brindarles las herramientas para volverse individuos empoderados, activos aprendedores por vida, capaces de crearse la vida que quieren.

Un poco más sobre mí
Soy una apasionada de la educación autodirigida y la crianza respetuosa con apego. Tengo una extensa y única trayectoria en la educación alternativa: como ex-alumna en el sistema Montessori, como fundadora de dos iniciativas Waldorf, y la fundadora de Explora, el primer Centro de Aprendizaje Ágil en México. Dedico mi tiempo a dar talleres (en línea y en vivo) y a crear contenido en español para apoyar a las familias en Latinoamérica que están en el camino de la autodirección. Al mismo tiempo acompaño a mi hijo adolescente en su camino en el mundo de la educación autodirigida. Me fascina empoderar a otros seres humanos para que vivan y crean libertad en sus propias vidas.
$123.24 of $500
per month
500 USD per month enables me to write two articles and produce several videos every month. 
1 of 3
By becoming a patron, you'll instantly unlock access to 19 exclusive posts
By becoming a patron, you'll instantly unlock access to 19 exclusive posts
Recent posts by Rebecka Koritz
How it works
Get started in 2 minutes