Who Am I?
Hello! I'm that guy who made a lot of those Portal maps, making mods, and currently working on a game. But why am I on Patreon? Am I starving? Well, let me answer that with another question;
Who wants to see more stuff from me to play and assets to use? 
History
The year was 2008, I was a fourteen year old still playing with LEGO with the hopes and dreams of being those people who go to conventions to build those giant cities with fully working trains and lights for the buildings. I always enjoyed making buildings and such out of them since I was in Pre-School, and when it came for those class projects involving LEGO, I was wanted by everyone else because of how well I understood LEGO. However, LEGO was expensive, so I only had a limited amount of parts and most of them where off brand pieces.  
I remember one day going downstairs and seeing my brother playing
this puzzle game
on his Xbox. I was so interested in it that I've started to play it myself. I also recall moving blocks around to alter the puzzles and saving the game as "new puzzles". After showing this to my brother, he told me that with PC version of
this puzzle game
, you can make maps for real. For my birthday that year, I got
that puzzle game
for the PC. And that puzzle game was
Portal.
Once I got a better computer to make making and playing the game much better, I remember coming home from school and wanting to learn more and more how to map, set up buttons and triggers, and I eventually got really involved in it. I also looked up other custom maps and creators of the time which just motivated and inspired me more. 
Around early July 2008, I released my first mappack to the community. This mappack was titled
"Blue Portals"
. As my first mappack, I got a lot of feedback of what I did right and wrong; mostly wrong, but it just made me want to make more maps.I was later asked to help make maps for a Portal mod in which I ended up creating about 18 maps with original puzzles. Sadly this mod was never finished, but it was time not wasted as I've gotten more experience from that project in the end.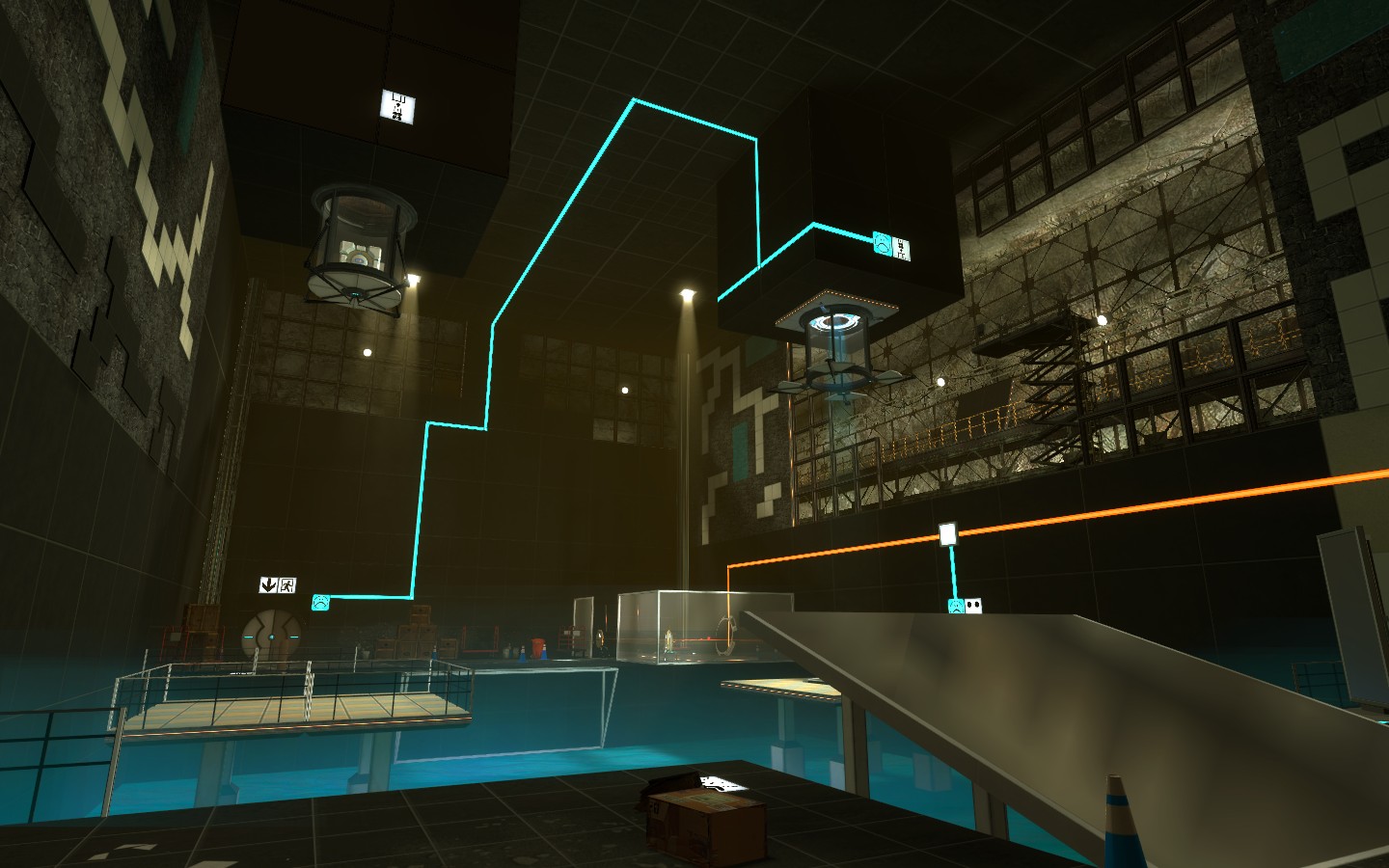 After that mod died down, I decided to revisit
Blue Portals
. I wanted to apply what I learned from the previous project to it and add new textures, music, and custom puzzle elements. This mappack was released with five chambers. It was more well received than the previous mappack. However, the mappack had a lot of custom content that people had a hard time installing it. In response, I decided to make it a mod as installing it as a mod would be much easier for people. And then I started to meet other talented people, the mod got more maps, better textures, more music and cooler puzzle elements. On November 28th, 2010, 
Blue Portals
was released in it's final form.
During the development of Blue Portals, I was posting my progress in video form on YouTube with the 
Hammer Notepad
playlist of experiments and things I was making using the map editor for Source. I noticed that this not only allowed me to gather more feedback, but it inspired others to map and mod for Portal which really brought me joy, and I loved when I had something to show. I also did a 
Portal map
that was during the
Portal 2
hype train which inspired a lot more people. which made me feel great. 
When
Portal 2
and the tools came out, I was eagerer to continue what I have been doing with the original game on the newer engine branch, and also a
Blue Portals 2.
But
Portal 2
was more difficult to mod than it's predecessor, making creating the stuff I wanted harder, and almost not worth the effort. Regardless, I ended up releasing two mappacks (
A Little Higher
, 
Tornate
), 
one standard map
, and released a 
video of the Blue Portals 2
project I was working on, but had to cut because of the large file size and the lack of knowledge and flexibility I had at the time. I was making less, but at least I was still releasing content and showing progress. 
Around 2012, Valve implemented Workshop support to Portal 2, along with a "easy to use" map editor. While this improved the product more, as a fellow map maker I felt that this made my work less valuable as anyone now can make a
Portal
puzzle very easily.  And on top of that, I was more interested in how the engine was actually worked, and wanted to code my own entities, and eventually make my own game. 
This is when mappacks from me stopped completely as I was working on a project called
PUNT
which was a source mod project with the goal of making a puzzle game like Portal, but along the way learning how to code, model, texture, and the overall nature of how games work. The mod ended up to be boring, and terribly coded, but it was another stepping stone of my passion of game development. 
After I graduated from high school, I was looking for some job in graphic design since I've been working for a trade certificate in that field; whether be shirt pressing, embroidery, or printing. Unfortunately, most of these places near me are family orientated, so I've expanded my search further over the past years with no luck. Due to my location, and other limitations I have, I'm having a difficult time nailing a job, even at a retail place that'll hire anybody. It was around this time I was getting the idea of
"I need to stop making mods, and start making games or something with a price tag if I want to do anything."
and I went under the radar with most of my content only popping out like a groundhog occasionally to show stuff. 
For the past three years, I've been (mostly) solely working on
Vectronic
, which like
PUNT,
is a first person puzzler with the hope that it will be a finish project that people can enjoy playing and making mods themselves as I used to. But a game is much more work than a mod, and I often find myself running around in circles, juggling what's important, how things should work, and improving the answer of "Is this fun?". I want this project to be the best I can physically make it. 
But, I miss making mods, and smaller content. I miss being able to focus on something for a month or so, sharing progress along the way; getting feedback and inspiring others which is something I really appreciated.  I get messages all from time to time from people who say that they love my work, and ask when something else will be released. 
Ok, but why Patreon?
With the whole "paid-mods" thing that seems to be over our heads, I've read people's posts and videos saying that they are 'OK with modder's getting some kickback, but it should not be a paywall'; which I fully agree! After a long thought, and a poll on Twitter, I decided to put up a Patreon so people who wish to support me can, and doing so will help remove my thoughts of
"I have to spend a long time on one thing to be able to afford gas in my car." 
You have a touching story, but what am I supporting really? 
While I wish to make more
Portal
maps, I do want to aid the indie/modding community with code snips, and other resources to make their life easier with things such like the 
Source SDK 2010 template
, and the 
Leadwerks Extended Executable
. I also want to make and showcase more prototypes which will be playable.
Along that, I have a long term goal of making all my maps and mods time resistant. File systems change, links break, websites go down, and it takes time to address these issues and to make sure that people can have access to them again. The first step of this is 
Blue Portals on Steam
as we can support the mod more easily, and get the thing running smoothly on multiple platforms. I'm also working hard to make improve the overall game play with skills I've developed since the initial release.
I'll never put any mods behind a paywall, and people should be able to get usable assets for free. I would very much appreciate and value each backer that supports my work, and efforts.