Regina Obe
is creating Software
Select a membership level
Autographed book
Limited (9 of 10 remaining)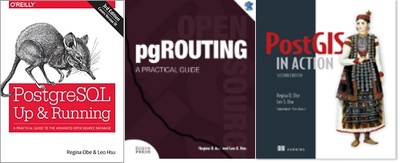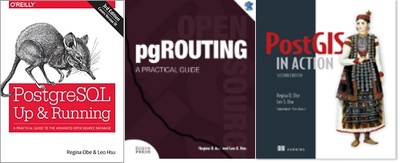 I will send you one of the books I've written autographed. Choose from PostGIS In Action 2nd, pgRouting: A Practical Guide, or PostgreSQL: Up and Running 3rd edition.
One hour of 1-1 mentoring
After your second month at the $75 tier, you will receive one hour of PostGIS / PostgreSQL mentoring
About Regina Obe
Hi, I'm Regina Obe and I'm a core contributor to the PostGIS project.

I do a number of things related to PostGIS.

I package PostGIS / pgRouting for Windows users both 32-bit and 64-bit which is distributed via EDB Application stack builder.
I maintain and enhance the PostGIS tiger geocoder.
I developed and enhance the ST_AsX3D out function.
I maintain the PostGIS Jenkins buildbots which do windows builds, source tar ball, and PDF/HTML documentation generation.
I do a lot of testing on various platforms.
I wrote a good chunk of the manual and continue to improve it.

I've co-authored several books on PostGIS, PostgreSQL, and pgRouting.

Unfortunately all of this work
takes a non-trivial amount of time each month that is not paid for by my client work.

This forces me to make a compromise of time to spend on these important
activities vs. getting paid for work.  This leaves me feeling guilty for letting these things slide.

If I got paid for this PostGIS work, I wouldn't have to neglect these PostGIS activities
and in fact would be able to do more of them.

On the horizon is:

1. Beefing up the PostGIS testing suite (have more bots, more OS, and more tests)
2. Working on a next generation geocoder that will not just support US but all of the
world and a companion address standardizer (which work has already started on by another developer)
3. Beefing up sections of the manual that are a bit outdated and adding workbooks.

Unforutnately I can't even think about horizon if I don't get support for the work I do already.



$208.55 of $800
per month
Infrastructure improvements in testing framework, support for testing on more OS, upgrade testing
Buildbot maintenance
General maintenance bug fixing, keeping up with PostgreSQL changes
Improving the manual
2 of 3
How it works
Get started in 2 minutes