Rhi Kemp-Davies
is creating a space to share sex positive information & my 'gender journey'
Select a membership level
Become A Patron
Join my community of patrons and get exclusive access to all my posts, updates and videos made just for you!
You will also get to be my guinea pigs for sex education packs, podcasts AND books before they go live.
Become a Bronze Patron
Get 20% off any items from the shop I own FOREVER and get access to bonus posts that won't be available for anyone below the $4 tier.
Become a Silver Patron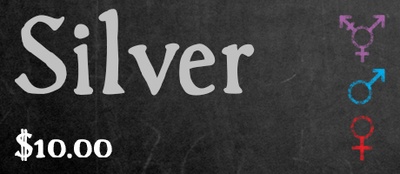 As well as what a Bronze Patron gets, you will get access to the bonus podcast episodes I create, including erotica readings.
You will also be a part of my Google Hangout chats once a month where we can discuss sex and relationship advice, sex education and physical pleasure.
About
Hello you gorgeous people, thank you for checking out my page.
I have been an official sex educator and sex coach for 4 years, and I did this through launching my sex toy consultation service business called 
That's The Spot,
which is now being run by an employee so that I can focus on providing sex education for adults and children. (Take a look at 
https://sexpositiveadvice.co.uk
for more information)
The original reason I came to Patreon was to get some much needed financial support as I was trying to break into the world of Sex Education, and I wanted to start an inclusive sex ed podcast. 
This has changed now, as I have found myself following a new path to providing sex and relationship therapy instead. I also, for some reason, couldn't find the right motivation to start my podcast, despite buying equipment and doing some practice podcasts. I'm still trying to figure out what that block is.
(I am also fortunate enough to be in a better financial situation, so my page doesn't have the desperation it used to, so it is going to be much more relaxed!)
This Patreon account is now a more intimate one full of people who believe in me and can afford to support me with as little as a dollar a month. I consider them my cheerleaders :-) 
I am now going to be writing up reflections on my learning as I complete a Level 4 Qualification in Relationship Counselling Skills and start a Level 7 qualification in Sexology -
this qualification is going to make me the first Sexologist in Wales!
I will also be sharing thoughts about my nonbinary and transmasculine-ness, which is currently taking up much brain space.
I remain a sex educator and I continue to try to be the change I want to see in the world. If you start pledging, though be prepared for very sporadic posts - there will be no rhyme nor reason!
If you have ever spoken with me and have valued our discussions around sex/masturbation/genitals/health/sexuality, or if you have seen any of my public speaking gigs, then $1 would be a lovely way to show your appreciation!
Thanks for taking the time to read this,
Rhiannon xxxxxxxxx
One note
- as Patreon is American, it makes us Brits pay VAT, so you need to expect to pay $1.20 at the lowest tier, which is only abut an extra 13p to be fair.
IF YOU WOULD LIKE TO MAKE A ONE OFF DONATION,
and in pounds, I also welcome this and you can do this via PayPal and send it to
[email protected]
This is for that lovely feeling that people are taking me seriously and want me to succeed in this endeavour. This is the amount of money that will spur me on to push even harder than I am now.
1 of 3
By becoming a patron, you'll instantly unlock access to 66 exclusive posts
By becoming a patron, you'll instantly unlock access to 66 exclusive posts
Recent posts by Rhi Kemp-Davies