Select a membership level
Driveway Strider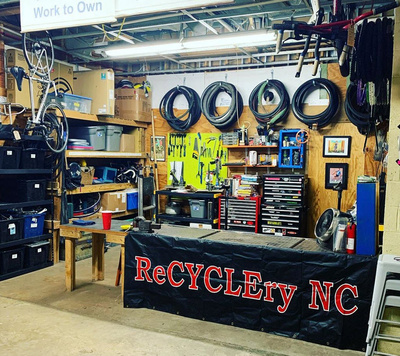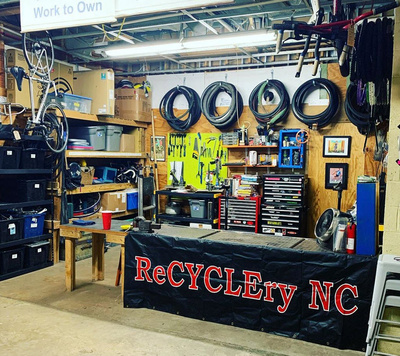 Everyone can contribute!

Three children's bike helmets per year or enough to fix eight sets of brakes.

Reward: Thank You postcard and a bunch of our fancy stickers!

Neighborhood Cruiser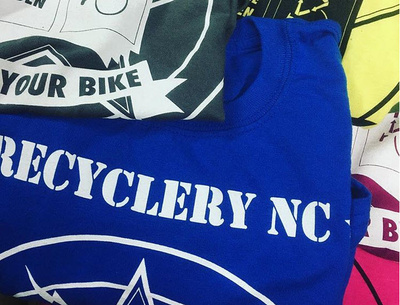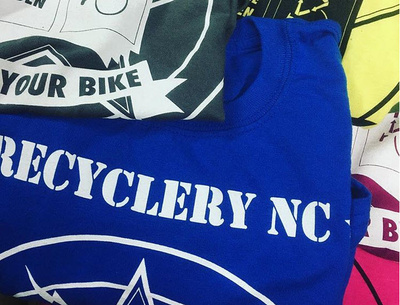 Enough tires, cables and brake pads to fix two bicycles for the community. 

Reward: ReCYCLEry tshirt and early registration for our Mechanic Classes.

Path Pedaler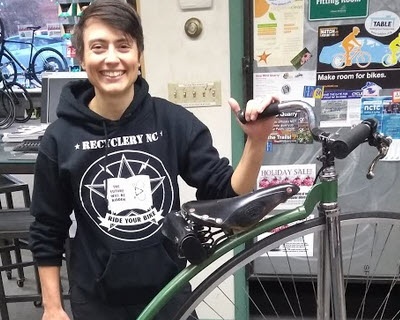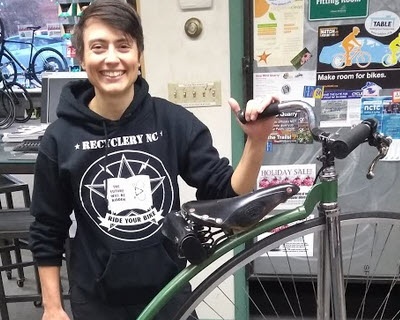 Supplies 12 locks, or 12 helmets for kids.

Reward: Previous level, plus one of our Black hoodies! Zip or pullover, you choose!

About ReCYCLEry NC
Remember your first bike? Remember the feeling of freedom when you jumped on it and rode away to meet your friends, flying over and down hills? Well, that feeling still exists... and it's been given to children and adults since 2000 at the ReCYCLEry.  That's 20 years now.

Truly inclusive. Never exclusive. No membership charges. No cost for basic parts ever. Use your bike for recreation? As your means of transportation? The ReCYCLEry loves whatever reason you choose to RIDE YOUR BIKE.

Pick one of our donated bikes during the Open Workshop hours, and one of our volunteer mechanics will teach you bicycle repair. By learning you can earn a bicycle of your own.

Already have a bike? Open Workshop hours are for you too!  Our mechanics are happy to help lead you through the repairs.

We also have DIY tool sets for people who prefer to work without mechanic supervision, and an outside tool set to use after shop hours. We are open to all cyclists--beginner, expert, or in between.

We also sponsor Kidical Mass bike rides, WTF (women, trans, femme, non-binary, and gender non conforming) mechanic nights, women and teen cycling teams, bike photography projects, bike share projects--because all cyclists are our kind of cyclists.

All of our organizers and mechanics freely volunteer their time -- we pay no salaries. This means every dollar goes directly to meeting our mission. This also means we rely on our community for support.

Every child deserves a bicycle. So does every adult. Help make that a reality by funding the ReCYCLEry, where The Future Will Be Ridden.

Our Mission Statement:
The ReCYCLEry NC is a non-profit organization whose mission is to encourage the use of the bicycle as a mode of transportation and recreation. This mission is accomplished by:

Providing bicycles by recycling otherwise unused bicycles into safe bicycles.
Teaching self-reliance through bicycle maintenance and repair.
Encouraging constructive community involvement.
Promoting bicycle safety.
When we reach 100 patrons, we will get gold colored versions of our logo stickers and hand them out to all patrons.  Additionally, we will have a Bike Portrait event for patrons only.

1 of 1
By becoming a patron, you'll instantly unlock access to 3 exclusive posts
By becoming a patron, you'll instantly unlock access to 3 exclusive posts
Recent posts by ReCYCLEry NC
How it works
Get started in 2 minutes