Kolle
is creating The Jim Riggs Archive and Reading Room
Select a membership level
Packrat Pack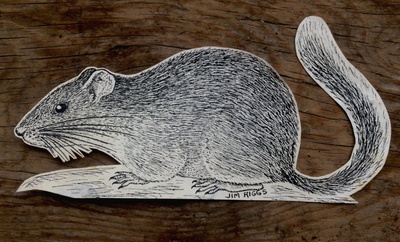 Access to monthly or nearly monthly updates of progress made, or at least funny stories about progress not being made. 
 I will most likely ask your opinion via poll on various building/construction and deconstruction scenarios.  We will discuss septic tanks, and digging holes, and power tools.  
 I will periodically post pictures of treasures found as I am organizing and sorting my dad's things, such as drawings he did as a kid, or drawings he did as a kid on acid, or neat animal encounters as documented in a journal, or neat rocks.  
You can count on me posting "what is this?" pictures, or "who made this?" pictures.   
You will receive a Thank You card with a quality printing of a Jim Riggs original drawing or photograph within the first 2 months. 
The Merry Magpies
 Everything from tier 1. plus original Jim Riggs willow animal  figures (may contain googley eyes) 
 Access to occasional(at least every 2-3months) high resolution downloadable/printable text or image files of articles or scans of artwork or photographs by Jim.
The Coy Coyotes
5 Everything from previous tiers.
an awesome new T-shirt designed by me but featuring Jim's original drawings, photos, or Jimisms.
About
The time is here, I am taking the family business by the antlers.  Asking for help is hard, but this Patreon deal is neat because I get to give you stuff too.  I had always imagined I would be able to take on my dad's legacy when I had found a little more gold (panning is not all that efficient), and had an existing museum to display his many wares.  Jim Riggs needs to have his memory and his amazing creative and prolific life's work cared for, and most importantly shared with his community…..YOU GUYS. So this is my way of asking for help to achieve this, at the same time maintain the connections and friendships he started long ago. And also you can't see me get all teary over the internet!
This space online is dedicated to the goal of preserving the multitude of writings, artworks, photographs, buckskins, stone tools, and the insightful observations of a naturalist, artist, writer, herpetologist, anthropologist, experimental archaeologist, excellent housekeeper, curmudgeon, father, tragically tone deaf music appreciator, great hugger, and teacher;
Jim Riggs

Follow me, Kolle, Jim's singular offspring, as I make the Jim Riggs Archive and Reading Room a reality.
                                                                    GOALS:
A digital archive of photographs, articles, essays, short observations written by Jim, artwork, and a comprehensive photo-documentation of his hand-crafted objects.
At his home, now my home, in Lostine, OR, there will be a building for people to come and see his vast collection of hand-made tools, art objects, and adornments made from wood, bone, skin, rock, and fiber, as well as a place to read Jim's many writings or the vast life-long collection of books and publications on Natural History, Anthropology, Ancient Cultures, Outdoor Skills, Archaeology, Art, and more.
A place of education and gathering for people interested in learning and teaching ancestral living skills and people that seek ways to lessen the divide between indoors and out.
I will publish an anthology of writing, artwork, photographs, and personal reflections of Jim Riggs. He came up with the title himself as I discovered in one of his sketchbooks;
The Experiential Jim Riggs Anthology
By becoming a patron, you'll instantly unlock access to 1 exclusive post
By becoming a patron, you'll instantly unlock access to 1 exclusive post