RN Estudio
is creating 3D Models for 3D Printing - Miniatures for RPG & Board Games
Select a membership level
Early Explorer
Limited (0 remaining)
Help us to grow our Patreon, be the first to join!
Receive everything from the Explorer Tier but for a few less money.
Explorer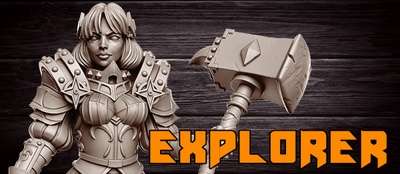 Support us and you get:
3D Miniatures we sculpt each month in STL format.
March release 
"Crossing Paths"
includes:
Nadhug (Orc Warrior)
Iletia (Elf Paladin)
Gorknod (Centaur Demon)
Nadia (Human Tamer)
Dragonthyr (Dwarf King)
Vulcan (Iron Golem)
Crescendia (Valkyrie)

Separated scenic sculpted base for each Miniature (7 pieces).
Additionally you get :  
Starter Pack , "Against The Shadows" (at the moment comes with 7 unique characters with separated sculpted bases, but this pack will be in constant growing, check the image for content)
Access to our community!  
Access to the polls, you will help us to decide what we sculpt next!
Stay with us 3 months to get the Fidelity Reward miniature.
Fast Merchant
Limited (6 remaining)
YOU CAN SELL OUR PRINTS
Receive everything from the Explorer Tier .
You can sell our prints.
You must stay in this level to sell our prints, as soon as you leave this tier you must stop.
About
By joining us in this new adventure you get instantly a cool pack of ready to print STL miniatures, which you can use in your favourite rpg, boardgame or wargame.
You can scale up them to get big figures. Print, play, collect and paint!

We're professional miniature makers with more than six years of experience, we love what we do and we want to keep learning and growing with your support.

Become a Patron today to instantly receive:
Monthly release "Crossing Paths" (7 miniatures with separated sculpted bases)
Starter Pack "Against the Shadows" (7 miniatures with separated sculpted bases)
"Crossing Paths"
Although from a savage breed and barbarian in nature, Nadhug is known throughout the realms as a warrior of honor. He wanders the plains looking for challenges and many a hotheaded youngblood and some veteran orc chieftain had to cease victory in the ritual arenas of the orctribes.
A highborn lady from one of the lesser elven houses, Iletia's path seemed to have been paved for her way before she was born. But this young elf denounced the comfortable life in a golden cage seeking the thrill of adventure. Her aloof personality is only superceded by her skill with her blade, as she gifts her opponents with a smile after she disarms them with a mere flick of the wrist.

This Centaur is rumored to have sold his soul in a pact with the dark gods in exchange for unholy power. It is said even in his younger days he was striding alone through the darkest parts of the forest rather than strolling through the prairies with his centaur kin. The dark gifts bestowed on him have increased his strength and his bulk and he wields his axe in the name of his unholy patrons.
Nadia is a warden of the southern guard. A falconer of exceptional skill, she is said to be able to understand the language of the birds she trains, be it falcon, hawk or eagle. These birds she sends on reconnaissance missions and uses them to carry messages from and to the lofty tower of the southern guard. No traveler passes the borders without being eyed by one of her avian friends.

This mighty dwarven king rules by hammer and axe. An axe he forged himself from the bones of the very first drake he killed and imbued with the power of ancient runes, it resembles the head of a dragon and literally bites his enemies. Dragonthyr has slayn more wyrmlings and drakes than any living dwarf. Even his beard is cut short and bound, so these thick strands of hair merely smolder when he fights the fiery beasts.

Son of a giant or an ancient smith god, there are many legends about this mysterious gladiator, who never shows his face or his feelings. Instead the evil grinning skulls and faces which decorate his thick armour and even his mighty hammer of war seem to taunt his opponents in the arena. Vulcan, as the crowd named him, crushes metall and bones alike. This hulk of a warrior is a force to be reckoned with in the dusty sand of the arena.
Amiable and sweet are the words to describe Crescendia by those who may call her a friend. The fact she even keeps her happy nature in battle when she charges smiling into the midst of battle together with her amazon sisters, raises their spirits and their confidence for victory. When the ancient gods waged war against each other using their mortal pawns, Crescendia walked among the greatest heroes of her time and either fought at their side or against them.
Support us with your any tier and get this pack now! This pack is our way to said thanks for your support!
"Against The Shadows"
Although this mysterious wanderer chooses to live in the woods, his noble features reveal his true heritage. A friend to Elves and Dwarves alike he fights the shadows with sword and bow whenever he discovers them. Legend has it Belevor may well be the prince of a kingdom lost long ago or the captain of a brigand band who share their loot with the poor.
Rosco Goodsong (Hobbit Explorer)

Being a Hobbit, Rosco enjoys good eating and good smoking. Not the typical type of explorer, there is much more to this little fellow than is seen on the first glance. His keen wit and play with words is almost as sharp as his short sword.
This wizard has struggled behind the scenes to set up an alliance against the shadows for years. His efforts were neglected by his superiors, which made him bitter, but at the same time more determined to fight on. Although a man of study he now walks the wilderness with his allies in order to counter the threat of the shadows.
Uddir Thunderaxe (Dwarf Warrior):
Uddir is known through the clans of the dwarves as a seasoned fighter and stubborn defender. This Dwarf has traveled far to join the alliance against the shadows, who have corrupted one of Uddir's ancestors with their darkness. Uddir has come to bring them to justice and rectify the name of his clan.
Evendil Gennala (Elf Warrior):
His words may be sparse but tell of the wisdom this elf has gathered in his long life. Almost an outcast to his own people he nevertheless will defend them against the shadows whatever the cost. His dual wielding swords have bested countless of the shadows' minions, now he is after their dark masters.
Ul-Agmoth (Shadow Knight):
If Ul-Agmoth was once a mortal who fell under the spell of the shadows or if he is darkness incarnate, not the wisest can tell. He wanders restlessly in the shady parts of the kingdoms in search of a trinket for his masters, whoever they shall be. His unholy quest remains a mystery to this very day. This servant of the shadows hungers not only for the accomplishment of his mission, but also the souls of those he strikes down mercilessly with his unholy sword.
The mistress of the enchanted forest is rumored to be as old as the trees, even though age does not alter her royal features. Hers is the power of the stars to give to those in the service of good. She bestows on them valuable phials containing water imbued with the light of her most beloved star. Miriel is an aspect of nature impersonated and well known for her wisdom, so even the most studied of wizards search her council.
Real 3d printed :
You can scale up!
Examples of printed miniatures:
Painted example:
Keep with us:

Every month we will release, at least, five iconic characters. Every miniature comes with a separate scenic base. Stay with us to collect an awesome set of high quality miniatures for your own purposes.
We always try to create the best models that we can, but for sure is hard that you are interested in every realease we do. We hope you will stay with us to support our work and to reward this, if you keep with us 3 consecutive months, you will get a FREE miniature. This miniature is in addition of your normal rewards and we try to make it awesome!
This is the first Fidelity Reward:
We have create
My Mini Factory
store to offer you past releases and exclusive miniatures in STL format.
As a member of our Patreon you get a
30% discount code
, you can
find your code here in this post
.
Also if you are interested on buy some of our
miniatures in resin
, you can enjoy a
30% discount code
here.
Community:

We want to keep in touch with you and made a very communicative community. For this, we need your feedback and we take in consideration every comment and opinion. Keep active in the polls to help us to create new and charismatic explorers!
Our work:

We have a long experience in 3d sculpt and 3d print, this made possible that we can give you the finest quality miniatures. During these years we have created miniatures for a lot of miniatures brands: CMON (Zombicide, Death May Die, Bloodborne, Project Elite, Blood Rage), Asteroid Games (Requiem), Carnevale Miniatures Game, Breaking War, Last Sword, Punkapocalyptic, Freebooter Miniatures, among others.
We do commissions:
You can contact us to create that miniature you dream. Use Patreon, Facebook or send us an e-mail to
[email protected]
.
You can download files as fast as you join us
.
You will be billed:
At the moment you join you'll get your first bill. After this the 1st day of every month.
If you only need one specific model:
All models will be available in our online stores, you can buy resin cast copies here:
www.rnestudio.com
STL files available at myminifactory:
https://www.myminifactory.com/users/rnestudio
RULES, TERMS AND CONDITIONS

By downloading content made by us, you accept this agreement. If you don't agree with these terms, don't download the content we provide:
1. The Stl files we provide are ONLY for personal use.
2. You can't share or sell these files (stl and shared links).
3. You can´t modify or create derivative works.
4. You can´t make molds of our models or any kind of mass production.
5. All copyrights belong to RNEstudio. Our designs are protected by intellectual property laws.

Thank you for helping us!
https://www.patreon.com/rnestudio
https://www.facebook.com/rnestudio
By becoming a patron, you'll instantly unlock access to 11 exclusive posts
By becoming a patron, you'll instantly unlock access to 11 exclusive posts
Recent posts by RN Estudio