Rod Martin, Jr.
is creating videos, books, blog articles and much more
Select a membership level
Basic Participation Level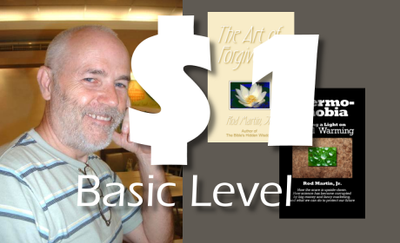 My deepest thanks for your support. Plus,
Patron-only activity feed,
A chance to give me your priority input,
PDF transcript of all videos,
PDF road map of future projects,
Exclusive, patron-only, early glimpses at selected sections of books and videos currently under production.
Ebook Level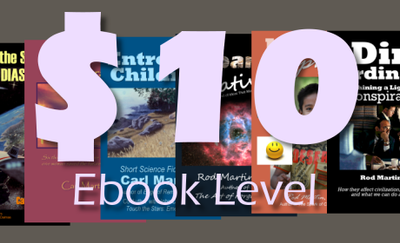 $10 per month gives you,
All rewards from lower level(s), plus:
A free copy of all new ebooks as they are published. You will receive a link allowing you to select the desired format—epub, mobi (Kindle), pdf, lrf, pdb, txt.
Early access to all videos, allowing you to comment without as much competition.
For this level, your name will be added to new books and videos as a Patron. This is for individuals only. I will use your Patreon display name unless you contact me to request a different name. This reward should not be for promotional purposes. No company or business names, please.
About
Howdy,
Thank you so much for taking the time to stop by. I have been so fortunate to have had success in so many areas of my life—visual art, writing, science, software development and teaching.
As I'm sure you know, creating takes time. Your monthly patronage means I get to spend more time writing books, developing videos, and building courses. I make a wide range of
creations
on an even greater range of subjects. My topics take on anything which excites my interest to explore. I hope you will explore them with me. Here are some examples:
Global Climate Change. Did you know that Global Warming made civilization possible 12,000 years ago? Why so many are promoting a fear of warmth made me curious. I discovered an epidemic I call "Thermophobia," and wrote a book by the same title to offer a cure. I also created a website and blog at GlobalWarmthBlog.wordpress.com to discuss these issues. And I created a number of YouTube videos to tackle sensitive climate issues head-on.
Astronomy and Space Science. I have been fascinated with stars and planets ever since the mid-50s. During the 60s, my late father worked for the space industry in the DC area. I painted for him a picture of the lunar excursion module sitting on the Moon, several years before Apollo 11. I've created dozens of what I call "spacescapes"—landscapes of other worlds. With my first programmable calculator, I created a procedure for calculating the distance between stars, in search of close neighbors for star-hopping. I wrote science fiction about space travel, publishing my first novel (as Carl Martin) with John Dalmas in 1983 entitled, Touch the Stars: Emergence. When personal computers became available, I created 3D astronomy space software, "Stars in the NeighborHood," and then opened up my first website, Ancient Suns. Later, I added a website to sell the space software.
Atlantis Facts. Ever since the late 50s, I have remained intrigued by Plato's story of a lost island empire named Atlantis. In the late 90s, I started researching the topic in-depth, and discovered far more evidence than I thought possible. Though none of it proves the existence of Atlantis, some of it proves an Atlantis-like event occurred right when Plato said the island collapsed in the North Atlantic. I created a video six years ago on "Why the Philippines Will Not Be the Next Atlantis." In it, I discuss the geological concerns in the research. Then, I created a website called Mission: Atlantis. From the research I've accumulated enough notes to write a book. Naturally, the name of it will be Mission: Atlantis.
Science Fiction. I've had a love of science fiction since the early 50s. This genre opens the door to all possible futures. What could be more exciting? After writing my first novel (as Carl Martin) with John Dalmas, I wrote another called Touch the Stars: Diaspora, then Edge of Remembrance: Gods and Dragons, and added an anthology of short science fiction called Entropy's Children. I have completed a sequel to one of these books called, Edge of Remembrance: Tales of Atlantis Lost. Future writing includes another in the "Touch the Stars" series, plus several other novels in various stages of development.
Conspiracy and the Criminal Mind. Did you know that there are at least 489 new conspiracies starting every second? When I did some teaching at a local Philippines college, I noticed that none of my students had the same knee-jerk reaction to the word "conspiracy" I had noticed from Americans. Not long afterward, I wrote and published Dirt Ordinary: Shining a Light on Conspiracies, and quickly followed it with Favorable Incompetence: Shining a Light on 9/11. Did you know that the top 6 military officers responsible for the massive security failures on 9/11 all received promotions instead of courts martial? Since when did the American military start rewarding deadly incompetence?
Spiritual Reality. Many people interested in science have zero interest in anything spiritual. To them, such a topic is worthy of only ridicule. That remains extremely sad. Any such attitude remains only an act of willful, self-inflicted blindness. Many people interested in spiritual topics reject science. That is also sad. As a scientist with a degree summa cum laude, I find most all avenues of exploration to be exciting, especially both sides of reality—cause and effect—creation and the created. I have created a number of websites to explore the spiritual side of reality and to relate my own real-life experiences with things like miracles. And, as a scientist, that's saying a lot. We all have so much more to learn. I have written The Bible's Hidden Wisdom: God's Reason for Noah's Flood, The Art of Forgiveness, and Watered Down Christianity.
Self-Empowerment. More than ever before, we each need help in gaining greater clarity, awareness, and critical thinking. We all want to be happy, but many find it difficult, if not impossible to achieve that happiness. I have revamped my personal website, RodMartinJr.wordpress.com, to help fulfill these needs. I have also written The Spark of Creativity and Instant Happiness to help people more easily achieve their goals.
I hope you will share the journey with me.
By becoming a patron, you'll instantly unlock access to 10 exclusive posts
By becoming a patron, you'll instantly unlock access to 10 exclusive posts
Recent posts by Rod Martin, Jr.