Ron Chan
is creating Comics
Select a membership level
Postcard Subscription
Access to the comic AND get a 5x7 postcard in the mail each month! I will select a postcard with my art on it from my postcard stash and send it to you with a quickie doodle on it. (US only)
3x6 Sketchcard Subscription
Limited (5 remaining)
Access to the comic AND get a 3x6 inch hand-drawn sketchcard commission in the mail every month! (US only) 
About Ron Chan
I'm drawing a graphic novel called EARTH BOY! Follow along weekly during its creation.
Hello, friends!
I'm a comic book and storyboard artist from Portland, OR. I'm known mostly as the primary artist of the
Plants vs Zombies
comics, written by Paul Tobin, and published by Dark Horse Comics. Paul and I have done seven volumes of
Plants vs Zombies
together, and now we are working on our own original graphic novel,
Earth Boy
.
Earth Boy is an all-ages story about Benson Chow, the only human student at an all-alien school: the Kayrus Galactic Ranger Academy.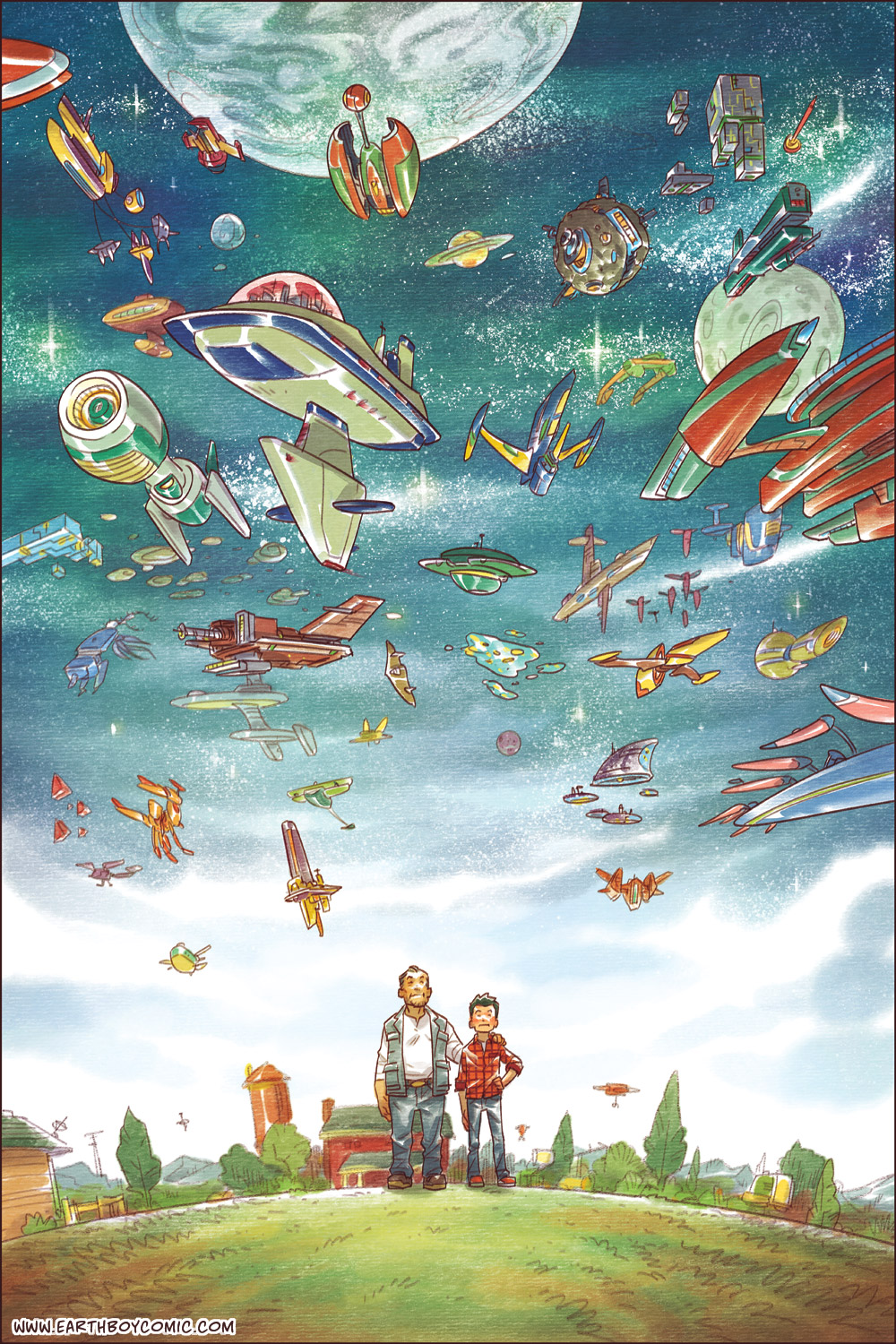 Farm-raised Benson Chow finds himself as the first and only person from Earth ever enrolled at Kayrus. In between studying for his language tests (there are 4132 "main" languages in the Galactic Federation) and kind-of-almost making friends, and getting "accidentally" stranded on alien planets during field trips, Benson discovers he was only offered his scholarship because he's a "quota" student, meaning that he wasn't offered a place because the school believes in him and his potential, but only because the Galactic Federation gives tax breaks to schools that enroll certain types of students, like the poor, backwoods, uncultured
Earth Boy
.
Paul has written a very fun script, and I will be spending the next year or so drawing, coloring, and lettering the artwork! Follow along and find out how Benson navigates friendships, bullies, teachers, classes, homesickness, and space adventures in this 123-page stand-alone story!
Full Disclosure:
Earth Bo
y does have a publisher already. This Patreon is for those who would like early access to read a
pre-releas
e version of the book one page at a time, like a webcomic, well before its official release. Once
Earth Boy
is completed and published, it will be available in regular bookstores and comic shops.
FAQ

If I subscribe to your Patreon, will I receive a copy of Earth Boy when it's finished?
Unfortunately, no. This is exclusively a first-look preview of the comic from me, and not intended as a purchase of the actual book.
You say this is to follow along as you draw it. If I join now, will I get to read from the beginning, or do I get dropped into the middle of the story?

Patreon subscribers will get access to new weekly page updates, as well as multi-page-posts catching up on the pages originally posted to Drip.
Wait, what's this about Drip?
I started out using Kickstarter's Drip (pretty similar to Patreon) service for this Earth Boy preview, but that service is shutting down, so I've relaunched on Patreon :)
By becoming a patron, you'll instantly unlock access to 74 exclusive posts
By becoming a patron, you'll instantly unlock access to 74 exclusive posts
How it works
Get started in 2 minutes