Roxie Zwicker
is creating Magic, the Wicked Curious Podcast & the Woodland Alchemy Film
Select a membership level
Water
Water is about being in the flow.  It heals us and allows us to release what doesn't serve us.  Join this tier level and we will give you a shout out on our weekly podcast Wicked Curious.  Flow with us!
Earth
Earth is about being grounded, focused and connected.  Join this tier and we will connect!  Your name will be placed on a list for a blessing ritual on the full moon each month along with a shout out on our weekly podcast Wicked Curious.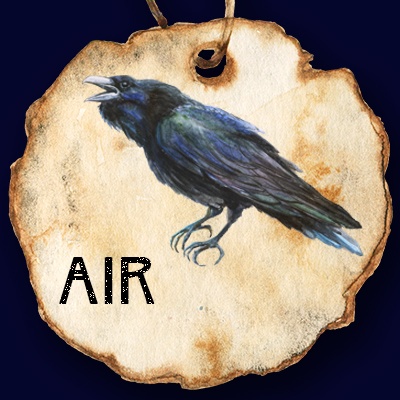 Air
Clarity and intellect can be found with air.    Join this tier and breathe easy.  Each month you will receive an email with a (mini one card reading) oracle card that I pulled specifically for you that will encapsulate your magical message for that month.  Your name will be placed on a list for a blessing ritual on the full moon each month along with a shout out on our weekly podcast Wicked Curious.
About Roxie Zwicker
Greetings to you, traveler! 
My name is Roxie Zwicker and you may have heard of me referred to as Maine's Mystery Maven or New England's Scary Godmother.  Creativity and curiosity are in my blood, always has been and is a way of life.  I want to share my creative projects with
you! 
Just under 20 years ago I began New England Curiosities, a tour and event company based in Portsmouth, New Hampshire, and it's given me the opportunity to connect with so many people.  For the past 15 years I've been serving the seacoast New Hampshire community as a metaphysical instructor and reader.  Two of the things on my path that I've committed to are to help empower spiritual seekers and to share stories from and with curious folks.  I know that community is powerful and we can create so much together.

Wicked Curious Radio -
You are curious aren't you? 
Join me for a unique radio show that asks, "what subjects are you wicked curious about?" Explore history, legends and a variety of curiosities on each show. Listeners can expect to take a journey through educating and enlightening stories and topics on every show.  From New England folklore, oddities and metaphysical topics each show is enlightening and entertaining!  Accompanied in studio by two always curious spirits the professor Lou Blasi and the amazing Ken Zwicker.  Wicked Curious airs every Monday at 12:10 pm on the Net, 102.9 FM HD2, Facebook live (New England Curiosities Page) and
with your help
coming soon to iTunes. 
Check out Wicked Curious Radio at this link
The Woodland Alchemy - 
The Woodland Alchemy is a film brings viewers to a place that resides on the edge of imagination, the unknown and the mysterious. With an original score that connects to the deepest emotions, come and take a journey of transformation where you will not only dive deep into your soul, but rise up and soar in a way you never thought you could. 
With your help we can continue this anthology with more films in the series.  Please visit the film's website at www.thewoodlandalchemy.com
Thank you for your interest in my Patreon page and my journey, I look forward to sharing this adventure with you.
To place Wicked Curious Radio onto iTunes.
We don't have advertisers on our radio show, so that we can offer more content to our listeners.  Each show is expertly produced in a radio studio that we visit in Massachusetts and do a live recording each week.  The technical aspects to have our show converted to an RSS feed, which requires a paid hosting system to allow us to make the show available to more people (and make it easier to access) on iTunes.  Thank you for your consideration!

1 of 1