RPG Research
is creating A Better World Through The Power of Music & Role-playing Games
Select a membership level
Tip jar
Tier 1: Tip jar. $1-4.
Thank you for your support to help further the goals of the RPG Research! 
Includes access to our Discord Chat server's Basic Patreons-only channel.
Includes Discord benefits
Aspirant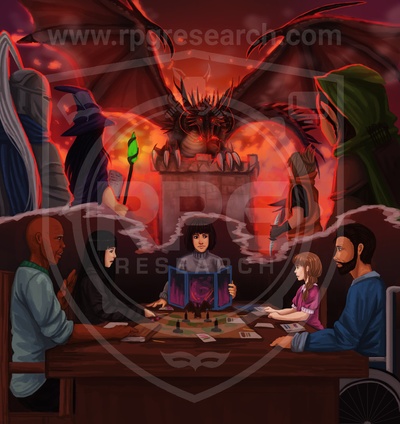 Tier 2  Aspirant: $5-9.  
Thank you for your support to help further the goals of the RPG Research volunteers around the world! 
Receive access to occasional all-Patron-levels-only content 1 or more days before the public (does not include more exclusive content from higher tiers).
Includes access to our Discord Chat server's basic Patreon-only channel (does not include higher tier Patreon Hero channel).  
Participate in all Polls.
Listed on "Thank you" credit as an "Aspirant" level 1 supporter on our web pages and published books in our "Supporters" section.
Includes Discord benefits
Adept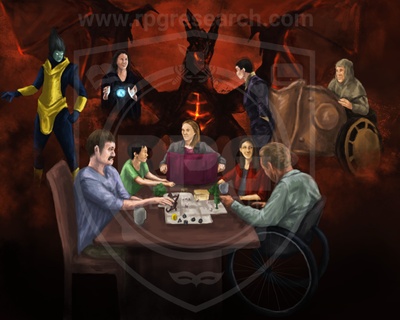 Tier 3: Adept: $10+.
BASIC MEDIA CONTENT: ENTERTAINMENT/EDUTAINMENT: Patrons at this level will receive 4+ weeks before the general public: access to recorded entertainment & edutainment related video and audio from RPG Research. This is usually broadcast live to the general public, but then the recordings are only made available to all Patreon supporters at this level or higher. 
Includes episodes of "Heroes of the Mist", "Applied RPG", special unboxing and playthrough episodes, and other more entertainment & edutainment related audio/video content.  
HERO POINTS 1: Supporters at this level or higher receive 1,000 bonus  Hero Points* per month per $10/mo.
Listed on "Thank you" credit as an "Adept" level 2 supporter on our web pages and published books in our "Supporters" section.

Plus the features of lower support levels.
Includes Discord benefits
About
"Improving Lives Through The Power of Accessible & Inclusive Music, Role-playing Games, Research, & Community Programs."
[About RPG Research's founder] "…Hawke is sort of the grandfather of therapeutic gaming. He has been tracking and involved in the therapeutic and educational application of role-playing games longer than anyone else." –Adam Johns, Game to Grow, Executive Director, Lead Facilitator.
All I can say is that you guys are AWESOME. My shy camper completely opened up for the first time … had the best time. … was his favorite activity from the camp! … Thank you for everything that you guys do. I'm forever grateful to you! " Emily, RPG Research program for Muscular Dystrophy Association, camper parent.
"This is a truly wonderful way of bringing tabletop RPGs to those who could benefit from them the most. Excellent work" --Perrin

"What an awesome way to serve these populations!" Barry

We are an international community of volunteers helping people heal, improving their quality of life, working with diverse populations around the world by providing accessible & inclusive, collaborative, research-supported, programs, using music and role-playing games.
Fast Facts:
Researching RPGs since 1983
Providing programs in schools since 1985.
Providing programs in therapeutic settings since 2004.
Online open research repository since 2004.
We are a 501(c)3 non-profit.
More than 50 volunteer staff members across multiple continents
Rewards Summary
Tier 1: $1+ = Tip Jar + Basic Patreon Discord Chatroom Access
Tier 2: $5+ = Aspirant + Polls + Published Level 1 Thank you
Tier 3: $10+ = Adept + Entertainment + Edutainment + Heroes of the Mist + Applied Gaming + Applied RPG + Unboxing + Playthroughs + Specials + 1,000 Hero Points + Level 2 Thank You
Tier 4: $20+ = Hero + Advanced Media + Talk Show + GM Workshops + Training + Lectures + News + 2,000 Hero Points + Level 3 Thank You.
Tier 5: $25+ = Theurgist + Research Content + Blogs + Essays + Reports + Panels + Presentations + Podcasts + Level 4 Thank You.
Tier 6: $50+ (limit 100) = Guardian + Player in Applied Gaming + 5,000 HP + Level 5 Thank You.
Tier 7: $75+ (limit 50) = Champions + RPG.Education 99-199 Courses + Level 6 Thank You.
Tier 8: 100+ (limit 20) = Wizard + Live Training Workshops + Special Thank You page.
Tier 9: 200+ (limit 10) = Superhero Sponsor + Mentioned as "Official Sponsor" + RPGSN + Special Sponsor and Thank You page.
Tier 10: $500+ (limit 5) = Deity of Benevolence + RPG.Education 200-499 Courses + Added as your custom deity to Worlds of Beru Multiverse campaign setting forever + Special Thank you page.
Our Accessible & Inclusive Programs Include:
Accessibility & inclusiveness advocacy, outreach, and training
ADHD
At-risk youth
Autism Spectrum (ASD/PDD)
Brain Injury
Cerebral Palsy (CP)
DD/DI
Deaf and Hard of Hearing
Depression
Drum circle facilitation training workshops
Game Master training workshops
Gifted & Talented children
Incarcerated populations
Long-term care faciities
Muscular Dystrophy Association (MDA)
Rehabilitation facilities
Trauma and PTSD
Social skills development
Social phobias
Substance dependency rehabilitation transition
Various Alternative School Programs
How Can You Help?
Help us achieve our
Mission
and
Vision
to grow the world's body of knowledge from research on the effects of all role-playing game formats, and growing our community programs improving participants quality of life.
Website:
www.rpgresearch.com
Email: info at rpgresearch dot com
Toll-free Phone: (833) RPG-INFO
Your support helps
spread the reach of the benefits from using music and role-playing games to help people achieve their educational, occupational, recreational, and therapeutic goals, especially those most in need.
Your financial support enables us to implement more research & community service programs. We share the research freely with the world to help others build on our programs, trying to improve the overall human condition.
Your patronage helps further the research project's goals, and helps other volunteers provide more free services to those people that benefit most, and with the Wheelchair Friendly RPG Trailer, with your help, we're able to bring even more services to those in rural and remote locations that normally have great difficulty getting any care.
Your support helps cover the cost of research, community programs, and the costs of using wheelchair accessible mobile facilities bringing services to people in under-served and un-served locations, including rural and remote areas.




Zombie Orpheus Entertainment Supports RPG Research
The creators of The Gamers, Journey Quest, Demon Hunters, and more, are generous supporters of RPG Research.


Reaching this level we can begin to start releasing 1 formal research essay every 6 months. These are much deeper than blog postings, with more formal content and writing style, but that much more helpful to people needing to find the information.
It helps us cover a small fraction more of our operations costs currently paid out of pocket by our volunteers and founder to run our website, community programs, research, etc.

6 of 13
Become a patron to
Unlock 128 exclusive posts
Connect via private message
Recent posts by RPG Research