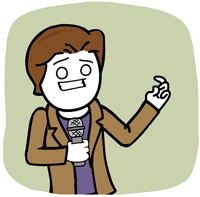 Hey there! I'm Ryan and I'm the dude who does the 
Channelate comics
. As a matter of fact, I've been doing Channelate for a whole decade now. Man, time flies. We're all gonna die someday. YEESH, anyway... My comics are always
free to read
, so I've had to find various ways to monetize Channelate and freelance on the side to supplement that. There have been periods of time when my posting schedule has been spotty and a few times where I didn't post for weeks or months at a time, usually due to demanding freelance. (some of it really fun, but ya know, still not Channelate)
My goal
is to be done with all that and just make
more comics for you
, more often. And with that focus, I want to make them better comics. Way better. So way better, man.
With your support on
Patreon
, that is exactly what I will be working to do. The comic will remain free to read, because I really want you to read them, but
Patrons
will get
additional content
(curated by my wife
Vee
) for helping keep the lights on in the comic factory.
If you'd like to support Channelate, but not physically with your muscles, or monetarily with your money, please
show my comics to a friend!
I bet they'd like em'. I know I would if you showed them to ME.
Thanks, pals. Ryan out.